The Mural In Ms. Marvel Episode 4 Means More Than You Think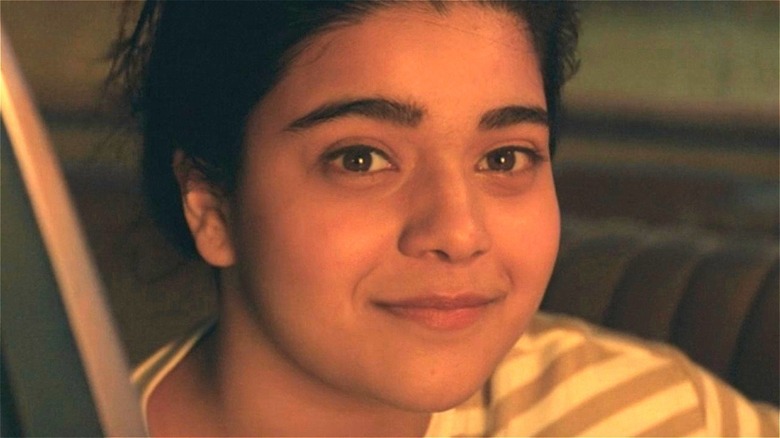 Marvel Studios/Disney+
"Ms. Marvel" is shaping up to be one of the most unique and well-realized Disney+ original shows that Marvel Studios has produced up to this point. Not only has the series proven to be truly stylistically inventive, but its telling of Kamala Khan's (Iman Vellani) superhero origin story has been riveting and unpredictable. 
In case that wasn't impressive enough, the show has also simultaneously succeeded at positioning Kamala's origin story as a modern-day tale while still dedicating a large part of her journey to her investigation into her family's past. The jaw-dropping time travel twist that comes at the end of "Ms. Marvel" Episode 4 may even prove one wild fan theory about the show to be correct.
Of course, as was the case with the series' first three installments, the fourth episode of "Ms. Marvel" is also littered with memorable moments and easy-to-miss Easter eggs. There's even a clever meta moment in "Ms. Marvel" Episode 4 that most Marvel Cinematic Universe fans likely missed, which pays homage to Vellani's real-life nationality. 
Additionally, there's also one Easter egg included in "Ms. Marvel" Episode 4 that manages to honor someone who has played an important role in building and establishing Kamala Khan's comic book legacy.
Ms. Marvel Episode 4's mural references a real-life comic book artist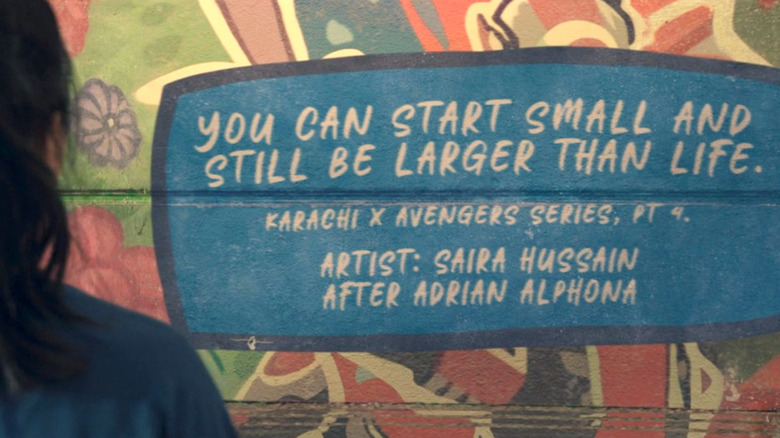 Marvel Studios/Disney+
About a third of the way into "Ms. Marvel" Episode 4, Iman Vellani's Kamala Khan makes a solo trip to a train station in Karachi that she believes may help her solve the mystery of the vision she saw near the end of the Disney+ series' third episode. While she's exploring the train station, she stumbles upon a mural that shows Ant-Man (Paul Rudd) standing next to a quote that reads, "You can start small and still be larger than life." When Kamala steps closer to the mural, it's revealed that it is credited to an artist named Saira Hussain. However, the mural's credit also reveals that it was inspired by the art of Adrian Alphona.
As some Marvel fans may already know, Alphona is a real-life comic book artist who is credited as one of the creators of Kamala Khan (via Marvel Database). Consequently, Alphona's prolific work has had a major influence on the look and style of the first season of "Ms. Marvel." Taking that into account, it makes a lot of sense that the creative team behind "Ms. Marvel" would choose to go out of its way to reference Alphona during Kamala's train station visit.
Of course, the show's train station mural isn't the first time that Alphona has been referenced in "Ms. Marvel." A school plaque in "Ms. Marvel" Episode 1, notably, features Alphona's name along with the names of Kamala Khan's other comic book creators. In other words, it seems safe to say that the creative team behind "Ms. Marvel" hasn't forgotten about the real-life origin of the show's titular hero.