Why The Plaque For Kamala's School In Ms. Marvel Episode 1 Means More Than You Think
Marvel Cinematic Universe fans have finally said hello to Kamala Khan (Iman Vellani) following her debut in "Ms. Marvel" on Disney+. The first episode arrived on the streaming service this week, bringing a new look into the MCU that hasn't felt this refreshing since Wanda headed on down to Westview. Have some changes been made for the young hero's on-screen story? Undoubtedly so, mainly regarding her powers, which have a different origin than they do in the comics. Thankfully, however, the show is making sure to acknowledge what came before in more ways than one.
Besides the gorgeous graffiti displaying the original designs of Kamala Khan in the comics in the credits, the first episode also houses an Easter egg that's a little harder to spot. If you're already well-versed in Ms. Marvel's adventures, you may see some crucial figures from her past make an appearance, ones that have had an embiggened hand in her journey from the pages of Marvel Comics to the universe that she'll undoubtedly make just as much of an impact in.
The creators of Ms. Marvel are at the top of the class in the show's first episode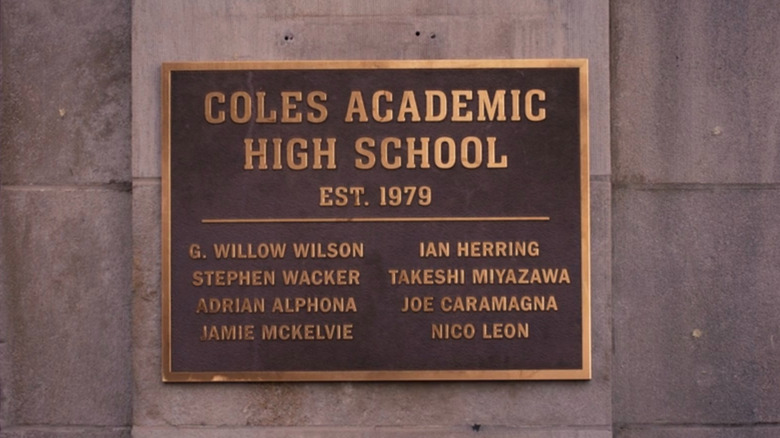 Marvel Studios/Disney+
The first episode of "Ms. Marvel" reveals the humdrum life before the heroism in Kamala's awkward walk through the halls of Coles Academic High School, and the establishing shot for this location features a plaque that lists a handful of names. These aren't just donors to Kamala's school, but some of the key creators who brought Kamala Khan to life in the first place.
Down the left of the plaque are the names of writer G. Willow Wilson, former Marvel editor Stephen Wacker, and artists Adrian Alphona and Jamie McKelvie, who created Kamala Khan in 2013 (via Marvel Database). Down the right of the plaque are the names of artists Ian Herring, Takeshi Miyazawa, Joe Caramagna, and Nico Leon, who also worked on the "Ms. Marvel" comic run (via Marvel Database).
It's a great little nod to the creators of the MCU's newest addition, whose contribution helped change Marvel forever. Here's hoping the live-action version follows suit when "Ms. Marvel" continues her journey on Disney+ next week.