Steve-O Had The Most Disturbing Experience With His Mom's Ashes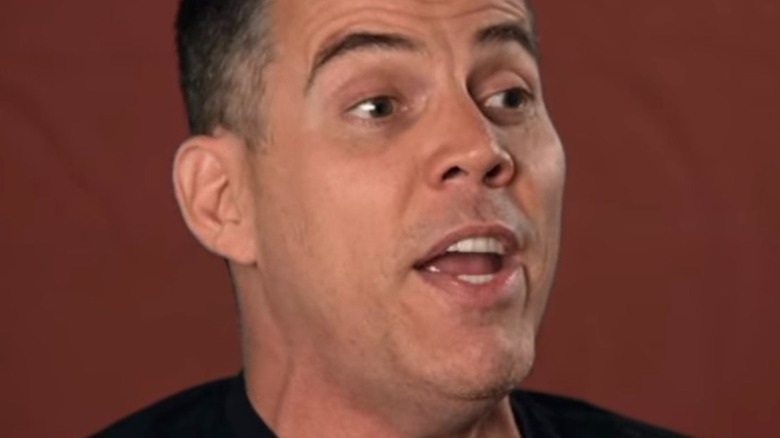 Paramount Pictures
Very few people in this big world have the types of stories Steve-O does. The comedian and "Jackass" star has lived a unique life. Whether you're talking about him wearing a Peruvian jellyfish as a hat on the "Jackass" TV series or overcoming his struggles with drug addiction, he's a fascinating guy (per People). These days, he has slowed down compared to the days when he was getting his own face tattooed on his back, mainly focusing now on the "Wild Ride!" podcast, where you can constantly hear Steve-O's distinctive voice telling tales of highs and lows throughout his life. 
That's not to say talking is all the man does these days, as "Jackass" is a franchise still riding high and headlined by most of its original stars, including Steve-O himself and Johnny Knoxville. The most recent chapter to be released to theaters, "Jackass Forever," managed to be a box office hit at a time when so many films are skipping theaters altogether, bringing in over $80 million worldwide on a slim $10 million budget (via IMDb). 
Steve-O has interviewed fellow comedy gurus like Jason Mewes and Bill Burr on his podcast, but he also goes personal with many episodes, including one with his sister, Cindy Glover, where the two discussed losing their mother. In the midst of the sibling bonding, Steve-O told a profound, yet somewhat disturbing story about the fate of his mother's ashes. 
Steve-O snorted his mom's ashes by accident
Steve-O revealed on his podcast that he snorted his mom's ashes — and it was not on purpose. After his mother died, he and his sister kept her ashes in a closet for years, not knowing what to do with them. After their father visited a psychic who said their mother needed to be set free, they decided to rent a charter boat and spread her remains at sea. 
While the "Jackass" star was in rehab in 2008, he actually joked about snorting his mom's ashes, he revealed, something that offended another person in a group therapy session. "I said, 'I never want to snort anything again in my life except maybe a line of my mom's ashes," he said, though he had no intention of doing so. Cut to 2011 and against choppy waters, Steve-O threw his mom's ashes to the ocean, only to find them blown back into his face — and up his nose in a "Big Lebowski" moment come to life. 
"I just started laughing. I just snorted my mom's ashes," he said. Disturbing? Yes. However, the comedian said he saw two separate rainbows at the same time while headed back to land, and ever since, he's been obsessed with surfing and always thinks of his mother when he sees rainbows and has the water beneath him. "From that point on, all I wanted to do was be in the ocean," Steve-O said.