This Jackass Forever Scene Put An End To Johnny Knoxville's Stunt Career
When "Jackass Forever" premieres in theaters on February 4, it will mark the fourth movie in the "Jackass" franchise and the first since 2010's "Jackass 3D." As usual, it will feature wall-to-wall death-defying stunts and gross-out gags. Without getting into spoilers, there will be bees, pogo stick injuries, animal bodily fluids, and all sorts of other defilement. In other words, it should give "Jackass" fans everything they love.
One way the movie will be different than its predecessors is that the main cast has gotten a bit bigger. In addition to the familiar faces like Johnny Knoxville, Steve-O, Dave England, Preston Lacey, and Wee Man, "Jackass Forever" is introducing a new crop of stunt devils, including stuntman Zach Holmes, surfer Sean "Poopies" McInerney, actor Eric Manaka, rapper Jasper Dolphin, and comedian Rachel Wolfson. Even better, some famous faces will be showing up, including musician Machine Gun Kelly and comedian Eric André.
It makes sense that "Jackass" is adding some new blood, given how much has already been spilled over the years. Many of the stars are now firmly middle-aged, and the toll on their bodies is more and more difficult to shake off. In Johnny Knoxville's case, one stunt from "Jackass Forever" convinced him to hang up the Chuck Taylors, at least for now.
It took Johnny Knoxville months to recover from the bull stunt
Johnny Knoxville spoke about the stunt in a new interview with Variety. While he didn't get into specifics for spoiler reasons, the stunt involved doing a magic trick in a bull ring. "I wanted to prank an animal, and that's what we came up with," Knoxville explained. The bull wasn't amused and plowed into him, flipping him over and knocking him out cold. A preview of the stunning moment is featured in the latest trailer for the upcoming movie to boot (via YouTube). "He was snoring for three or four minutes," said "Jackass Forever" director Jeff Tremaine. "It was gnarly." 
According to Variety, paramedics arrived and loaded Knoxville into the ambulance. When they asked him who the president was, Knoxville replied "Obama," which was unfortunately incorrect, given that filming occurred in December 2020. He then joked to Variety, "Maybe because that's who I was wishing for. 'Please, please, Obama!'"
Knoxville is no stranger to injuries, but even for him, the damage was severe: a broken wrist, a broken rib, a concussion, and a brain hemorrhage. When asked whether it was his first hemorrhage, he couldn't remember. After leaving the hospital, the "Jackass" ringleader worked with a neurologist to recover his cognitive skills, which took about three months. In the meantime, "Jackass Forever" producers and Knoxville agreed to scrap the rest of the stunts planned for the film. Knoxville noted that the thought of putting himself back in harm's way was no longer an option. He stated, "My family doesn't like me doing this type of thing. This is the most wicked bull hit I've ever taken."
Knoxville has racked up quite the hospital bill over the years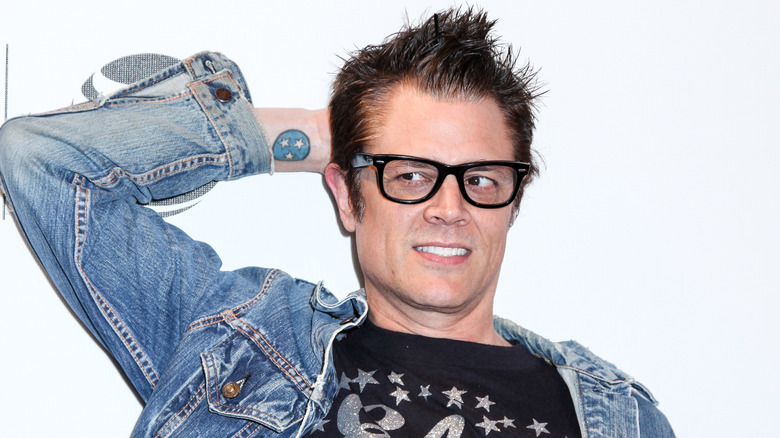 Miro Vrlik Photography/Shutterstock
It's arguably for the best that Johnny Knoxville is moving away from performing stunts. The bull stunt in the upcoming "Jackass Forever" feature is just the tip of the bloody iceberg when it comes to stunts the star has put himself through for the sake of good entertainment value. And although fans have no doubt enjoyed watching Knoxville test his limits on camera, he's certainly paid the price for doing so from a physical standpoint.
In September 2021, Nova Legal Funding (also per Hypebeast) put together a list of the cost of medical treatments necessary to treat a variety of serious injuries Knoxville has sustained over the years on "Jackass." According to the group's estimations on their site, Knoxville has had somewhere in the neighborhood of $25,000 worth of hand stitches. Additionally, $30,000 has been spent on face stitches; his crotch injuries have cost a total of roughly $120,000; and the broken hand and rib injuries have racked up approximately $200,000 in medical bills, respectively. Among the more exotic and costly injuries Nova Legal Funding, including in their list was an alligator bite that they say cost Knoxville $100,000 to care for, as well as a brain hemorrhage, which the "Jackass" star potentially spent upwards of $2 million to treat.
With all of his injuries, including that wicked "Jackass Forever" bull stunt, behind him, Knoxville sounds like he's more than ready to watch his friends go to the extreme from the sidelines. While speaking with Variety, he declared, "I've done enough. I don't have anything to prove. I have kids to raise. That's the most important thing."