Why Blue Bloods' Tom Selleck Believes He's Lucked Out Twice In His Career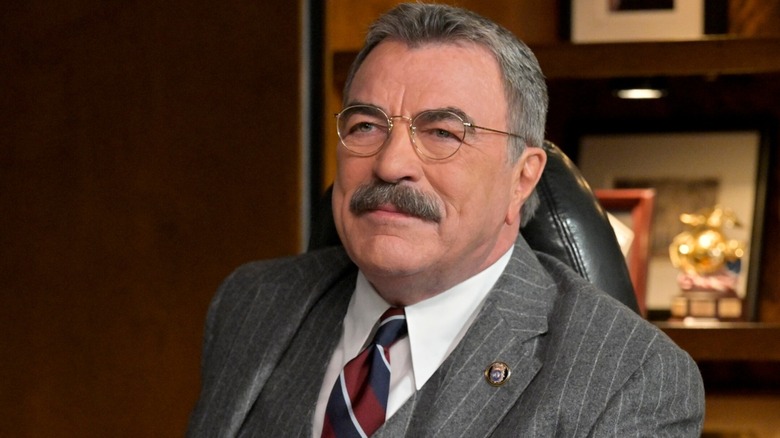 CBS
One of the select shows to cross the milestone of 250 episodes is CBS' "Blue Bloods." Even many of the most successful shows of all time don't stick around that long. HBO's "The Sopranos" ran for under 90 episodes, for instance. It helps that "Blue Bloods" has a wide range of characters, all led by the legendary Tom Selleck as New York City Police Commissioner Frank Reagan. 
"Great actors and great characters and good writing — that's why it's still on," Selleck bluntly told Rachael Ray about the long-standing success of "Blue Bloods" when it celebrated 250 episodes (per Country Living). The show's been a major success for Selleck and the rest of the actors portraying the Reagan family, but Selleck has been around the block more than most. With 86 acting credits to his name, though, it may come as a bit of a surprise that the actor believes he's only been lucky twice in his career.
This is coming from an actor who's been part of hit films like "Three Men and a Baby," as well as numerous successful jumps into television, including on shows he doesn't even lead, like a handful of episodes of "Friends" and the final season of "Las Vegas" in 2007 and 2008. Still, it's twice the actor thinks he lucked out big time.
Selleck has led two long-running shows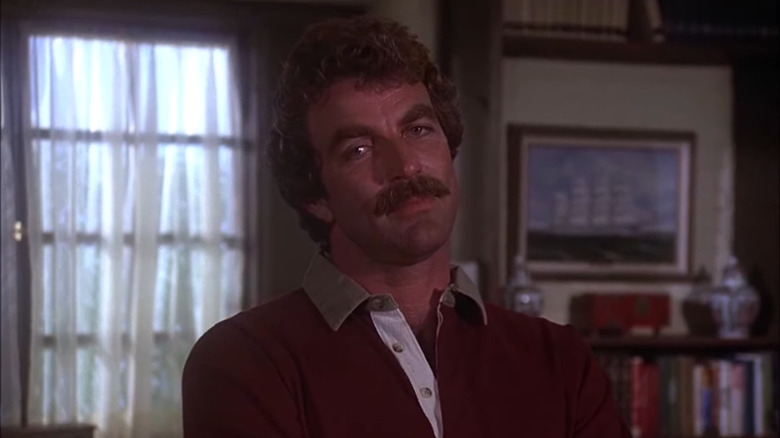 CBS/YouTube
The work Tom Selleck is likely best known for besides "Blue Bloods" is "Magnum P.I." The show premiered all the way back in 1980, but it's still arguably relevant in popular culture today. A reboot of the series even ran for four seasons on CBS, the same network that carries "Blue Bloods." 
"I don't know where the time went, but, yeah, we did 163 hours of 'Magnum' and I thought well okay, you can't get that lucky twice. It was a really lovely little celebration," Selleck told Kelly Clarkson on her eponymous talk show when "Blue Bloods" passed 250 episodes.
In a separate interview, Selleck said he never imagined "Blue Bloods" would go on so long when it premiered in 2010, but he's happy it has (via CBS Pittsburgh). 
It's strange to think, but "Blue Bloods" has surpassed the run of the legendary "Magnum P.I.," a show that only ended because Selleck himself decided to walk away, explaining he was seeking more of a balance between work and family life (per People). He seems to have found that balance today, but it's hard to not argue the point that he's only been successful twice in terms of television as there is one other long-running TV franchise the mustached legend has led. 
Tom Selleck has actually been lucky on TV more than twice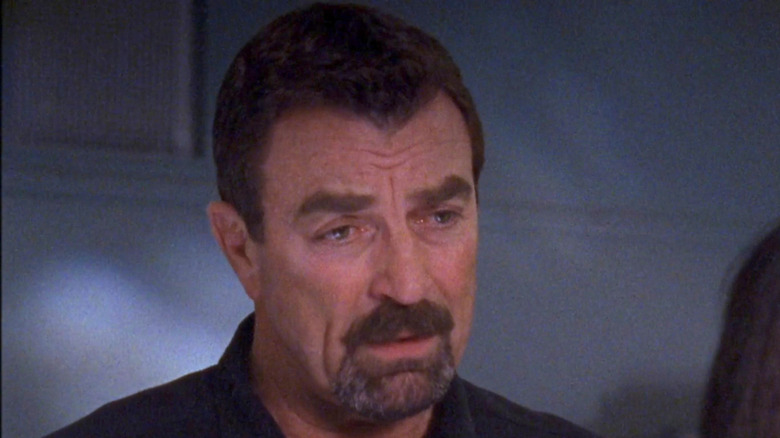 CBS/Amazon
On top of "Magnum P.I." and "Blue Bloods," Selleck also leads the "Jesse Stone" franchise. Based on the novels by Robert B. Parker, Selleck stars as a police chief in Massachusetts named Jesse Stone. There have been nine TV movies in total, running from 2005 to 2012. That's not 250 episodes, but that's a massively successful TV franchise. Selleck said he's also writing a 10th and final installment, as the series gets mentioned to him more than even "Blue Bloods" and "Magnum P.I."
"One of the first questions I always get from people I meet is, 'Are we going to see another Jesse Stone?' Yes, 'Blue Bloods' comes up and 'Magnum' and even 'Friends,' but first, it's, 'please do another Jesse Stone!'" Selleck said (via TV Insider). For those keeping score at home, that's three massively successful television franchises for Selleck. The "Jesse Stone" movies also find Selleck stretching more than his acting muscles as he's credited with producing all of them and writing six (per IMDb). 
One could argue the true luck of Selleck's career is that he seems to have taken on so many projects that manage to connect with audiences, something he acknowledges is rare for an actor. "It was a lucky accident that my appetites were compatible with what the audience wanted to see me in again. That's not often the case with actors," the actor said of his success.