The Real Reason Tom Selleck Left Magnum, P.I.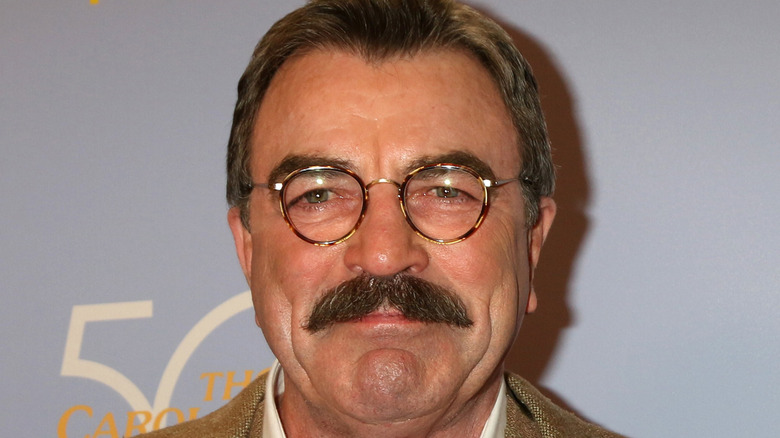 Kathy Hutchins/Shutterstock
Throughout his career, actor Tom Selleck has performed in a number of memorable television roles. Some fans may remember his time as Monica's love interest, Richard Burke, on "Friends," while others might recall his time on NBC's "Las Vegas" as casino owner A.J. Cooper. Many will also remember Selleck for playing the title character in nine different "Jesse Stone" movies on CBS. Of course, these days, Selleck is known for an altogether different role on CBS.
Since 2010, Selleck has been best known as the Reagan family patriarch and New York City Police Commissioner Frank Reagan on the hit drama "Blue Bloods." For the last 12 seasons, Selleck's character has tackled some of the biggest crime issues in New York while also finding time to share some wisdom with family during Sunday dinners. The role, the longest-running of his career, has been so well received that Selleck has even noted being saluted in real life by actual police officers.
Of course, none of these roles are the one that fans of Selleck from the 1980s are most likely to remember. Long before he picked up a "real" badge, Selleck was best known as Thomas Magnum, a private investigator and the owner of the coolest car and greatest mustache ever known to television. With its mix of intriguing cases, a beautiful Hawaiian setting, and a charismatic lead in Selleck, "Magnum, P.I." was a major hit for CBS throughout its eight seasons on the air. It gave Selleck his breakout role, but for all the success that "Magnum, P.I." brought him, there's one reason why Selleck ultimately chose to step away from the series.
Selleck wanted more than the Hollywood life
"Magnum, P.I." might have propelled Tom Selleck's fame to new heights, but unfortunately, the famous part of being a world famous actor can sometimes become a bit of a burden. In fact, this aspect of daily life ultimately contributed to Selleck's decision to quit the role in 1988, ending the popular series after eight successful seasons. As Selleck recalled in an April 2020 interview with People magazine, despite all the success with "Magnum, P.I.," he genuinely wanted more than just a busy Hollywood lifestyle.
"I quit 'Magnum,' not because I didn't like it or I was tired of it," Selleck said. "I was tired from it. And I wanted a three-dimensional life because I didn't have one."
Selleck has repeatedly stated that he enjoys his private life outside of Hollywood. Describing himself as a "fairly private person," Selleck also told People magazine, "I've always treasured the balance between work and time with my family. It's always about them." Furthermore, Selleck has been very open about his distaste for the ethereal nature of Hollywood. More than once, Selleck has publicly said that he prefers to spend more time with his family on their 65-acre California ranch. 
"This ranch is a great counterpoint to the acting business, which is an abstraction — you do something, it's up on a piece of film, and everybody argues whether it's good or bad," Selleck said (via Closer Weekly). "You dig a hole and plant an oak tree — and I've probably planted a thousand of them — it's real. It's there, and you can watch it grow. It's a lot different from being famous, and it keeps me sane."
Selleck had similar considerations when approached about Blue Bloods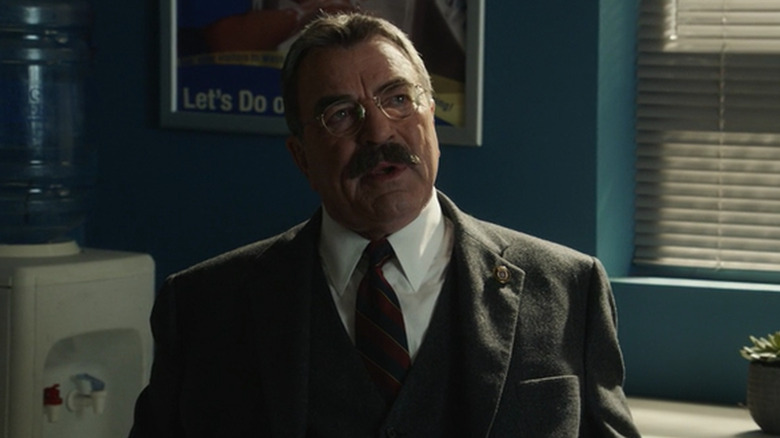 CBS/Paramount+
A whole 22 years after "Magnum P.I." ended, Selleck still reported that he viewed leading a balanced life as something of the utmost importance. In a 2010 interview with Collider, the actor admitted that he was initially highly cautious to accept the part of NYPD Police Commissioner Frank Reagan. The reason? Filming on all 22 episodes of every season takes place in New York. Of course, for most working actors with a home base in California, this would either mean substantial time away from family or a semi-permanent move across the country.
When asked about the work commitment required for the series, Selleck admitted that shooting in New York "caused a family consideration." However, due in no small part to a script he described as "terrific," Selleck ultimately decided that the role "was too good to pass up." Although it's clear that Selleck was quickly sold on the quality of the role, it's a match that may not have happened if not for one very important aspect at the core of every episode of "Blue Bloods." Because the series focuses on a growing family of police officers (and one assistant district attorney), Selleck's time is somewhat more flexible than it may have been on "Magnum P.I."
"It's an ensemble show," Selleck told Collider when asked if he would be moving his whole family to New York. "I'll probably spend about half my time in New York City. I don't mind the commute. I love my ranch and that lifestyle, but I love work. I have a mortgage, so it works out really well."
Fortunately, it all worked out, as "Blue Bloods" allows the actor to maintain a healthy balance between his family and acting. With family so integral to Selleck, it's no wonder why his familial presence translates so well in his role as Frank.