The Huge Responsibility Andy Garcia Felt In Making Father Of The Bride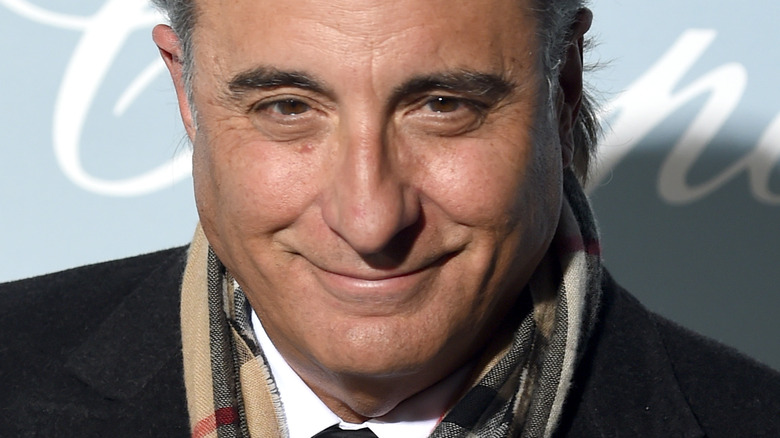 Kevin Winter/Getty Images
At this point in his career, there isn't much Andy Garcia hasn't done as an actor. That includes fronting beloved cinematic classics ("The Untouchables"), blockbuster franchises (the "Oceans 11" movies), and lauded indie films ("Things to Do in Denver When You're Dead"). He's even earned nominations for both an Academy Award (for "The Godfather III"), and a Primetime Emmy ("For Love or Country: The Arturo Sandoval Story").
Along the way, Garcia has also become one of the more revered dramatic actors of his generation. He is, however, slightly less renowned as a comedian, and Garcia may be looking to change that narrative with his latest release, the HBO Max record-breaking rom-com "Father of the Bride." The new film finds Garcia portraying Billy Herrera, the doting paterfamilias of a Cuban-American family who's thrown for a loop when his eldest daughter Sofia (Adria Arjona) announces she's getting married.
What follows is a charming, serio-comic fable about the titular dad as he struggles with his daughter's impending nuptials, and the possible dissolution of his own marriage to Ingrid (Gloria Estefan). As it unfolds, "Father of the Bride" gives Garcia plenty of opportunity to showcase both his dramatic chops, and his underrated skill as a strait-laced funnyman. Seems the seasoned actor was actually a bit nervy heading into production, however, and it wasn't about whether or not he'd get enough laughs in the new film. 
Garcia felt the weight of cultural and cinematic legacies while remaking Father of the Bride
If the story from "Father of the Bride" sounds familiar, it's because said story has been told numerous times on the big screen, most notably in a legendary 1950 film starring Spencer Tracy, and there was even a "Father of the Bride" timeline spawned by a beloved 1990 flick fronting Steve Martin. In a recent interview with blackfilmandtv, Garcia admitted feeling definite pressure to pay proper respect to previous iterations of the story, stating, "I felt a huge responsibility to honor the IP, the intellectual property of 'Father of the Bride." Garcia added that he also didn't want to tell the exact same story, but rather, to in his words, "elevate the form that's been so well presented before." 
Per Los Angeles Times critic Noel Murray, centering the film around a Cuban-American family indeed elevates the tale in fascinating ways. As for Garcia — whose own family fled Cuba in the mid-1960s according to ABC News, when he was a young child — the actor went on to note he felt as much responsibility in honoring the Cuban-American exile mentality as he did the legacy of past films, "There's a cultural thing we understand, with the pride in your achievements when you come to this country with nothing ... this ongoing thing, to continue to provide because at any moment it can be taken away. That's part of the psyche of an exile." 
Honoring cinematic and cultural pasts in a film that's very much set in the present is a noble goal for any film. And if you've seen "Father of the Bride," you know Andy Garcia not only helps make it happen, but he also sneaks a few good laughs in there while doing it.