Top Gun: Maverick's Director Only Had One Shot To Pitch Tom Cruise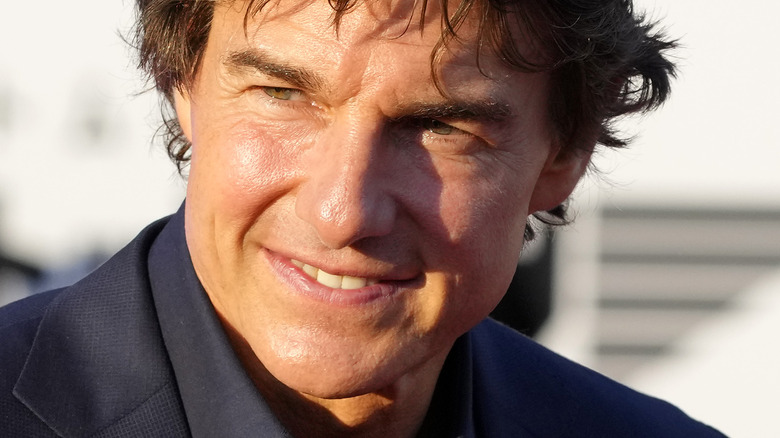 Ken Ishii/Getty Images
"Top Gun: Maverick" has finally been released, and the long-awaited sequel has indeed taken the movie-loving masses back into the "Danger Zone." It did so with that Kenny Loggins rocker in tow, not to mention a million-and-one other loving nods back to the iconic 1986 film that preceded it. It even did so with the original "Top Gun" star Tom Cruise headlining the action. As demonstrated by the blockbuster sequel's mammoth box office numbers (per Deadline), thrill-seeking fans and film critics worldwide were beyond eager to climb back into the cockpit with naval aviator Pete "Maverick" Mitchell for another high-flying adventure.
Of course, if all had gone to plan, we would've known that a couple of years ago. Just as "Top Gun: Maverick" faced lengthy, pandemic-related delays, it seems director Joseph Kosinski faced equally daunting challenges in getting the sequel off the ground to begin with. One of these obstacles was convincing star Tom Cruise to return to the role that made him a star more than three decades after he first played the part. 
It turns out the "Top Gun: Maverick" helmer only had one chance to pitch Cruise on his concept for the sequel, and — according to Kosinski himself — he only had a matter of minutes to do so. 
Tom Cruise reportedly wasn't feeling the need for speed prior to the Maverick pitch
As argued by Esquire, Tom Cruise is recognized by many to be the last of Hollywood's bonafide movie stars, and the actor tends to keep himself as busy as you'd expect from someone of his lofty professional stature. In fact, Cruise was so busy when Joseph Kosinski was putting "Top Gun: Maverick" together that the director actually had to cross an ocean for a shot at pitching his would-be star on the sequel.
Per Kosinski's comments to Polygon, he and super-producer Jerry Bruckheimer hopped a flight to France to speak to Cruise about "Top Gun: Maverick." When they arrived, they found they only had a few precious moments to pitch the film, with Kosinski explaining, "We flew to Paris, where Tom was shooting 'Mission: Impossible,' we got about a half hour of his time between setups." Kosinski claims the pitch was also more of an uphill battle than expected, as Cruise had little interest in making the film, "When I got there, I found that Tom really didn't want to make another 'Top Gun.'"
The director, who worked with Cruise on the underrated 2013 sci-fi film "Oblivion," clearly made the most of his time, however, telling Polygon the legendary action star green-lit "Maverick" himself before heading back to set. Kosinski recalled, "At the end of the pitch, he picked up the phone, he called the head of Paramount Pictures and said, 'We're making another 'Top Gun.""  
A mix of raw emotion and high-flying action got Cruise back in the cockpit for Top Gun: Maverick
As for what changed Tom Cruise's mind about suiting up for "Top Gun: Maverick," Joseph Kosinski told Polygon his character-first approach to the film was a big selling point, "I worked with Tom, and I knew to start with character and emotion." Those who've seen the "Top Gun" sequel know the fractured relationship between Cruise's titular flyboy and hot-shot pilot Bradley "Rooster" Bradshaw (Miles Teller) – son of his fallen best friend Nick "Goose" Bradshaw (Anthony Edwards) — is at the center of the film's narrative.
Fronting that relationship while delving into Maverick's own station in life likely hooked Cruise. Kosinski said, "I think that was honestly the element that really grabbed Tom, because it gave him an emotional reason to return to this character." Adding to that sentiment, Kosinski noted, "It felt like that leveraged the emotion of the past film and those relationships that we all love, but took it in a new direction." It no doubt helped that Kosinski was also looking to use as little CGI as possible while shooting "Top Gun: Maverick," meaning Cruise (infamous for performing his own stunts) and his cast-mates would be in the cockpit of actual fighter jets while shooting many of the film's aerial scenes, a fact documented in an eye-popping behind-the-scenes video from Paramount.
Cruise himself admitted that was a big selling point in an interview with Empire, stating, "I said to Jerry [Bruckheimer] 'I'll do it if...' meaning, I'm not going to do the CGI stuff." So it seems Tom Cruise not only flexed his star power to get "Top Gun: Maverick" off the ground, but also to get himself into the cockpit while shooting it.