SNL's Raunchy Harry Styles Sketch Is One That Fans Can't Help But Love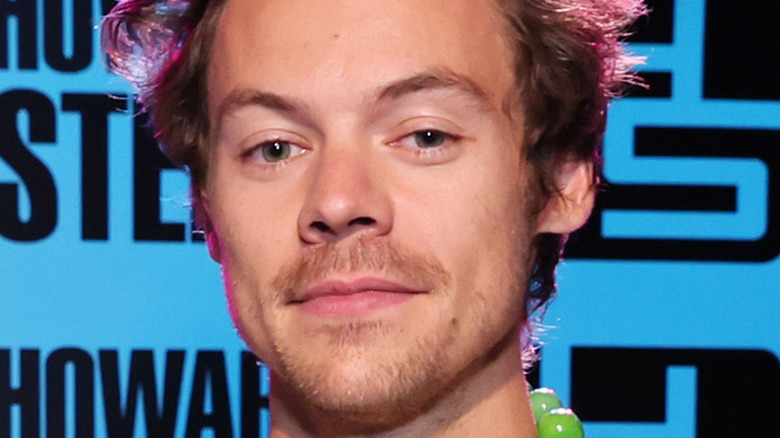 Cindy Ord/Getty Images
Appearing on "Saturday Night Live" has often served as a career benchmark for musicians and actors alike in the entertainment industry. Some are even asked to come back multiple times, with icons like Steve Martin, Tom Hanks, Drew Barrymore, Ben Affleck, and Scarlett Johansson amongst others joining the famous "Five-Timers Club" (via People). Celebrities like Donald Glover, Billie Eilish, Nick Jonas, and Jennifer Lopez have fallen into the category of host and musical guest, along with Harry Styles, who has been on the show four times (via Us Weekly). Styles first two stints on "Saturday Night Live" as the musical guest weren't solo, as he was still part of One Direction at the time, although he has come back by himself twice since the release of his debut album in 2017.
Styles' music has certainly been successful, with about 75 million monthly listeners on Spotify, so it's fair to say that this is likely what led "Saturday Night Live" to feature him at least as the show's musical guest, although he has acting experience. Styles notably appeared as a supporting character in Christopher Nolan's "Dunkirk," and fans certainly recognized his cameo as Starfox at the end of "Eternals" in 2021. Needless to say, Styles is comfortable with acting, and therefore has appeared in a few sketches while on "Saturday Night Live."
Styles has portrayed Mick Jagger during the show's "Celebrity Family Feud" bit, been part of a "Civil War Soldiers" sketch, and more. However, there's one particular "Saturday Night Live" scene featuring Styles that fans really can't help but love.
Fans love Harry Styles in SNL's Sara Lee sketch
During Season 45, Episode 6 of "Saturday Night Live" back in 2019, Harry Styles appeared again as host and musical guest. Amongst the sketches of the night, one in particular dubbed "Sara Lee" caught the attention of many fans, especially after it was posted to YouTube. The bit in particular features a meeting at the Sara Lee Bread Company where two higher-ups (Cecily Strong and Bowen Yang) question the recent activity on Sara Lee's Instagram page through their social media specialist (Harry Styles). Styles' character had hilariously been making inappropriate comments on other Instagram pages under the Sara Lee account unknowingly.
In the comments on YouTube, fans love this bit and Styles' performance in it. Ro Wilson noted that they were "driving behind a Sara Lee truck the other day" and "laughed so hard I had to pull over." Will C even noted that the actual Sara Lee Instagram account still gets comments from this sketch in particular.
It is true that Sara Lee Bread received an influx of Instagram comments due to the sketch, as the company detailed in a statement back in 2019 to The Advocate. "We didn't know about or participate in the creation of the skit so as you can imagine, waking up to all those comments threw us for a bit of a loop." Ultimately, Sara Lee Bread says they've been "taking it all in stride." The company has proven to be a good sport about this hilarious sketch.