What The Actor Who Played Finn Abernathy Has Been Doing Since Leaving Bones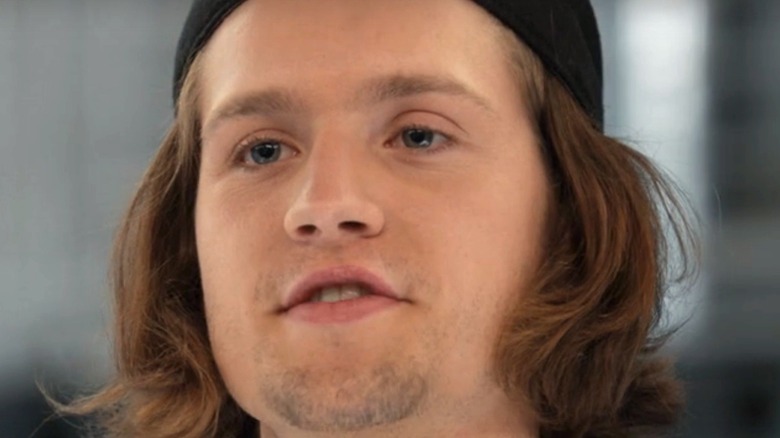 Fox
For the bulk of its 12 season on the air, "Bones" was a legit one-stop shop for TV fans who appreciated gross-out gore and goofy gags with their melodramatic murder mysteries. And perhaps more than any cop show in the history of television, "Bones" managed to deliver those elements with as much style as it did unabashed glee. That the series creatively managed to pepper the action with legitimately intriguing human drama is a big part of what set "Bones" apart from the procedural pack. And the success of that unusual narrative mix rested squarely on the shoulders of the series' cast, with stars Emily Deschanel and David Boreanaz anchoring the madness with career-defining performances.
The crime-solving duo was, of course, flanked by a cast of supporting players that remained more or less intact for the entirety of its small-screen tenure, though a cavalcade of side characters came and went as time went on. That was particularly true after the second season of "Bones," when a revolving door of actors stepped in as the Jeffersonian's "squinterns." Among those recurring cast members were a few notable actors on the rise, including Luke Kleintank, who, for eight episodes, portrayed Finn Abernathy, a charming, down-to-earth intern with a mildly checkered past and a deep love of hot sauce. Here's what the actor has been up to since leaving "Bones." 
Luke Kleintank has been a small-screen regular since leaving Bones
Like many of his "squintern" counterparts, Luke Kleintank has indeed gone on to bigger, better things since his days on "Bones" came to an end. In fact, the man behind Finn Abernathy has achieved more than many in his post-"Bones" career, which has indeed seen him continue to make use of his talents in the television realm. That's hardly a surprise as the actor had already made several small-screen appearances before booking his "Bones" gig, including notable spots on "Parenthood," "No Ordinary Family," and "Gossip Girl."
Regarding his career after leaving "Bones" behind, he initially continued to book supporting roles on well-regarded series like "Pretty Little Liars," and "Person of Interest." Of late, Kleintank has sort of left his "recurring character" days behind. Though it may be too early to call the former "squint" a leading man, the actor certainly looked the part while playing the conflicted young Nazi Joe Blake in the Amazon hit "The Man in The High Castle." And as for his role as Supervisory Special Agent Scott Forrester on CBS' recent franchise addition "FBI: International," Kleintank's work as the devoted leader of the agency's Fly Team proves he may be more than ready to carry the lead role in projects of all shapes and sizes.
Kleintank has scored some impressive big-screen roles as well
Prior to his three-season stint as a recurring cast member on "Bones," Luke Kleintank had not a single film credit to his name. His work on the series clearly helped raise his Hollywood profile, however, and the big-screen roles are now beginning to pile up. There are some impressive titles spotting his resume as well, with Kleintank earning his first film credit opposite Tobin Bell (the "Saw" franchise) in the 2014 creeper "Dark House." A couple of years later, he was fronting the crime drama "Phantom Halo" alongside Thomas Brodie-Sangster ("The Queens Gambit"), and followed that appearance by sharing the screen with Dermot Mulroney in the 2015 thriller "Sacrifice." 
Kleintank's movie career got a serious boost in 2015 when he landed a key role as a troubled soldier in the Afghan war film "Max." The actor has continued to book more high-profile film projects as of late, including the 2019 cop drama "Crown Vic," and he landed a spot in the star-studded critical misfire (via Rotten Tomatoes) "The Goldfinch" after that. Kleintank closed out 2019 with a solid turn as real-life fighter pilot Lt. Clarence Dickinson in the surprisingly accurate (per USA Today) big-budget World War II drama "Midway." Up next for Kleintank is a headlining gig in a new drama from actor-director Vondie Curtis-Hall ("Daredevil"), which is currently listed as being in pre-production.