Natalie Portman Struggles To Address If Thor: Love And Thunder Includes A Tragic Jane Storyline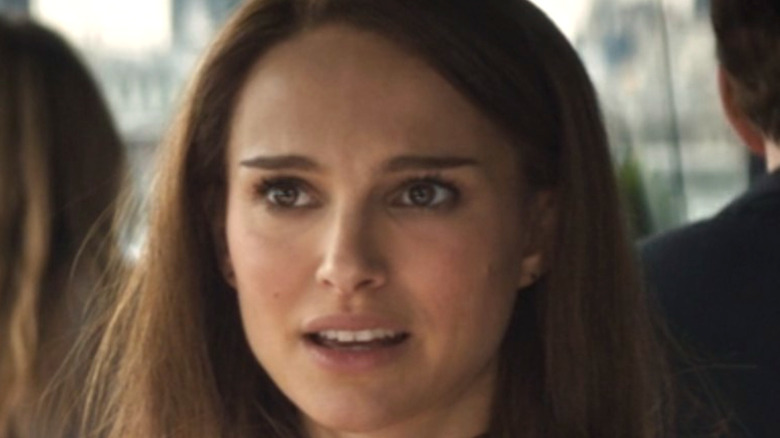 Marvel Studios/Disney
Promoting Marvel movies can be tricky business. Filmmakers find themselves often needing to provide generic answers to avoid giving away spoilers for the overall Marvel Cinematic Universe, as well as what material is being pulled from the comics. Some find this to be a harder tightrope to walk than others (here's looking at you, Tom Holland), and some projects need a tighter lid kept on them, like "Thor: Love and Thunder." 
The trailer for the film revealed the "Guardians of the Galaxy" cast joining in on Thor's midlife crisis, but the biggest surprise was the return of Natalie Portman as Jane Foster. In the films, she's best known as the former partner to Chris Hemsworth's Thor, but in "Thor: Love and Thunder," she is sporting her own Mighty Thor outfit. There are a lot of questions about this Mighty Thor storyline and more, and Portman has found herself walking that tightrope in interviews. 
Luckily, some questions are more easily answered than others. Asked by Variety how she felt about returning to the role, Portman said she was excited for an opportunity to bulk up for the role. "On 'Black Swan,' I was asked to get as small as possible. Here, I was asked to get as big as possible. That's an amazing challenge — and also state of mind as a woman," she said. However, the actress did not have as easy of a time answering whether a tragic storyline would make its way into "Thor: Love and Thunder."
Will Jane's breast cancer storyline from the comics show up in Love and Thunder?
In the "Mighty Thor" comic series, Jane Foster has breast cancer and her treatment is actually negated by her powers. It's quite a dark element to fit into an MCU film and even after Portman was questioned about it, the world still doesn't have an answer as to whether it will be included in "Thor: Love and Thunder." 
In her interview with Variety, Portman struggled so much to give an answer, the entirety of what she said wasn't even published, with the outlet instead describing her ambiguously tackling the duality of Jane and Mighty Thor. "I don't know. Does that give you anything that's not totally vague?" she said, likely realizing how totally vague she was being. Director Taika Waititi tried saving his actress, though he was only a tad clearer. "Part of why [Natalie] wanted to play that character is that she has a dilemma in the book," he said, before wondering aloud if he was allowed to keep going. 
While major studio pictures can go through script changes and reshoots all through production, Portman gave a slightly clearer answer in 2020. "It's based on the graphic novel of the 'Mighty Thor.' She's going through cancer treatment and is a superhero on the side," she said when talking about her training and the movie's plot (per Yahoo). It's still not the most detailed answer, but one way or another, there are going to be some big surprises in "Thor: Love and Thunder."