The Funniest Moment In Law & Order: SVU Season 9
Given its subject matter, "Law & Order: Special Victims Unit" isn't exactly known for its humor. While it always dabbled in both irony and the defense mechanism-bred dark humor of its detectives, when it comes to straightforward and intentional laughs, those are (or were, since he left the series in 2013) almost always delivered by comedian and actor Richard Belzer's character, John Munch. Early seasons, in particular, made use of Belzer's stage persona, positing him as the anti-government, pro-pot, hippie conspiracy theorist to his conservative, former narcotics detective parter, Ice-T's Fin Tutuola.
By Season 9, however, the series had fully infused all of its regulars — and not just its superstars Olivia Benson and Elliot Stabler (Mariska Hargitay and Christopher Meloni) — with conflict. Though the vast majority of the season's comedic relief still appeared in the form of sarcasm or frustrated utterances, in Episode 22 ("Fight"), it's the real-world context of a scene that makes it both memorable and pretty darn funny.
Ice-T's real life marriage adds comedic context to Fight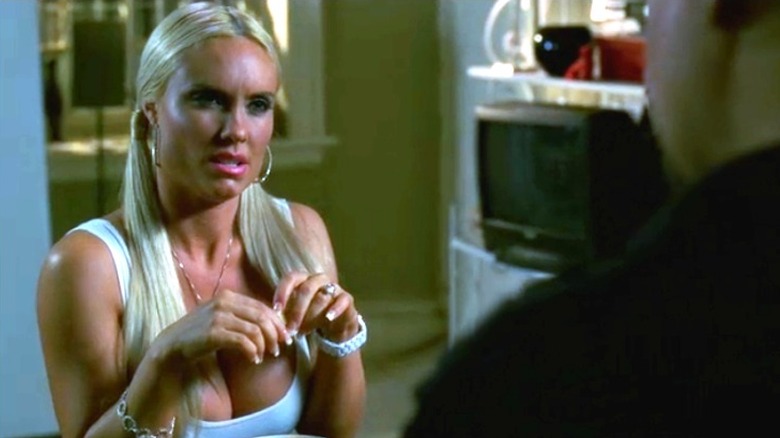 NBC
Early on in the episode's investigation, Fin questions the girlfriend of a homicide suspect — a woman named Traci Bell, who just so happens to be played by the actor and rapper's real-life wife, Coco Austin. Traci's MMA Fighter boyfriend, Mike Kona (Forrest Griffin), is suspected of sexually assaulting another woman, but Traci appears unfazed. She's convinced everyone is out to get their hands on Kona's money, though it's clear that Fin suspects that's Traci's M.O. as well. "Are you calling me a gold digger?" she asks her wealthy, real-life husband before telling him her sexual prowess means she has Kona wrapped around her finger and flashing an enormous diamond ring in Fin's face.
The episode aired in 2007, five years into Coco and Ice-T's then-moderately publicized marriage. The fact that some viewers were aware of their relationship at the time while others likely were not ("Ice Loves Coco" was still four years out) adds further comedic context to a scene already littered with innuendo, as does the character's big, shiny ring. Both Austin and her husband enjoy fairly substantial social media presences and the model, actor, and reality TV star has posted plenty of bling-laced photos over the years, including one of her sporting a ring that puts Traci's to shame (via Twitter).
Coco Austin thought the part was funny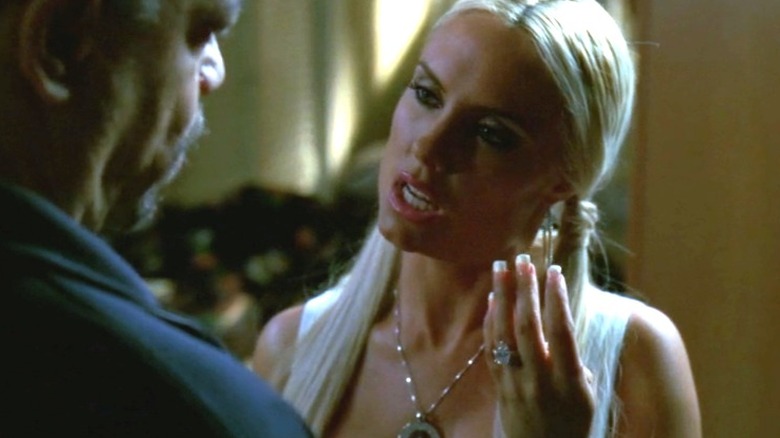 NBC
The fact that the scene can, but doesn't have to be, interpreted as a fictionalized wink to their real-life May-December romance and Ice-T's more prominent wealth and fame makes it all the more hilarious, as do Coco Austin's thoughts about working on "SVU."
In a 2007 interview, Austin told Rock Confidential that she's on set all day long with her husband but prefers to remain in a less intense atmosphere. Nonetheless, she told the writers that she'd come on the series if the part were good enough. "It's one of those hardcore gold-digger chicks," she told the outlet, "but I think it's a funny part." 
Allowing the two to share some screen time adds some levity to the heavy episode, though it's unlikely they'll be teaming up again soon. As Ice-T told TV Insider in 2019, "[The writers] won't let [Coco] be with Fin. I'm cool with that. Also, on a Dick Wolf show, it's better just to be a cop because if you get more of a personal life, you can end up dying." Let's hope that's not how Ice-T wants Fin's storyline to end.