The Real Reason Richard Belzer Left Law And Order: SVU
Jennifer Graylock/Getty Images
It may surprise you to know, but before NBC's "Law & Order: Special Victims Unit" began its 24th run of episodes on the network in September 2022, it had already earned the title of longest-running live-action primetime drama in television history (per Deadline). With over 500 episodes, the run of "SVU" might be even more impressive than "The Simpsons," when you consider that it's also a spin-off series that has continued the legacy of a beloved show — the original "Law & Order" — that was on the air for 20 seasons itself.
Even more impressive is that — save for a few notable departures — "SVU" has more or less featured the same principle cast since its early days, with Mariska Hargitay appearing in almost every single episode of the show, and a stalwart cast of supporting players (including Christopher Meloni, Ice T, Dan Floreck, and Tamara Tunie) regularly turning up alongside her. Of course, of the series' departures, few were quite as conspicuous as that of 15-season vet Richard Belzer, who appeared in more than 300 "SVU" episodes as the wise-cracking NYPD Detective John Munch. 
And if you want to know why Belzer left the series, it seems the actor's age forced an earlier retirement than some may have expected for his fan-favorite "SVU" character.
Even in TV Land the NYPD is no place for old-timers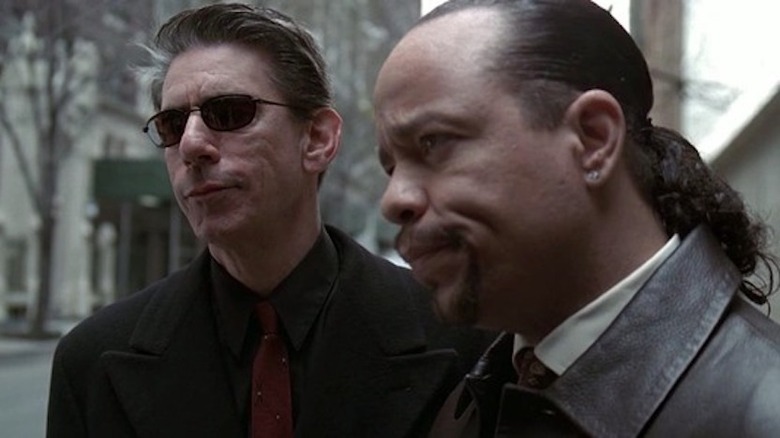 NBCUniversal
That unexpected retirement came at the end of Belzer's more than two-decade run portraying John Munch not only on "Special Victims Unit," but also "Homicide: Life on the Street" — the series where he originated the character. And that's not even counting the half-dozen other shows he appeared on as Munch over the years — as list that includes "The X-Files," "The Wire," and "30 Rock."
It was indeed sad to see Belzer retire the character for good in his "SVU" swan song, a move that was apparently brought on by the actor's own age.
That news was revealed by former "SVU" showrunner Warren Leight, who admitted to Screener TV in a 2013 interview that the show's devotion to depicting life in the NYPD as realistically as possible meant Belzer had more or less aged out of the series. "In the real world, which we try to very hard to simulate, NYPD has mandatory retirement before your 63rd birthday. And we were trying to figure out how to deal with it [regarding Belzer]. The reason NYPD does it is because you can't have 65-year-old guys running after guys. It is a hard and fast rule."
For the record, Belzer was almost 70 when he left "SVU" in 2013, so he'd already worked well past the NYPD's "hard and fast" retirement rule. Thankfully, he still managed to bring his infamously quippy character back into the fold via a pair of scene-stealing "SVU" cameos in ensuing seasons. Still, it's safe to say the series has never fully replaced him.