The Best Courtroom Scene In Law & Order: SVU Season 3
As the title suggests, "Law & Order" attempts to wrangle messy, gray-area-filled crimes via the black-and-white world of law. The grisly, sensitive crimes in "Law & Order: Special Victims Unit" can be even more challenging to bring to justice. Over its 23 seasons on the air, "SVU" has been largely successful in that regard, churning out hundreds of courtroom scenes to provide closure to that episode's crimes.
The series' rotating cast of imitable assistant district attorneys is at the heart of every courtroom scene. Mentored by her fierce predecessor Elizabeth Donnelly (Judith Light), Alexandra Cabot (Stephanie March) served as ADA for Seasons 2 through 5. In her sophomore season as ADA, Cabot is a whip-smart, level-headed presence on "SVU," bringing her legal expertise to fraud, custody, and reproductive justice. Like any good ADA, Cabot can think on her feet when presented with new evidence. Here's the Season 3 episode that results in a pivotal courtroom climax.
An 11th hour DNA test results with a brutal twist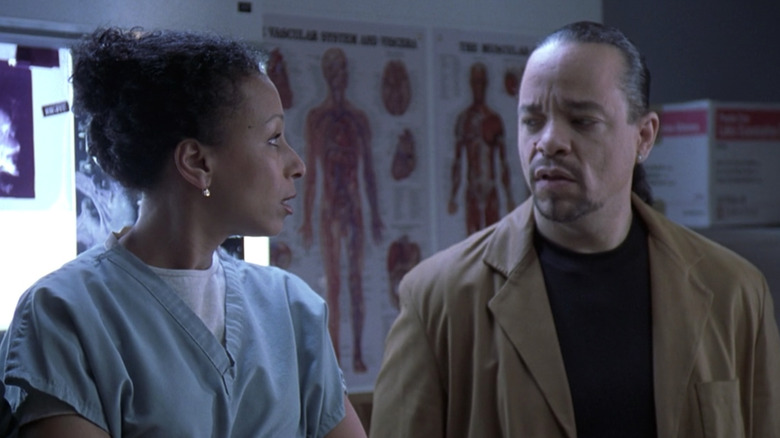 NBC/ Hulu
Season 3, Episode 11 ("Monogamy") demonstrates how new information can change the mood of an entire courtroom, especially in the hands of a calm and collected ADA. The episode revolves around a pregnant woman who suffers from a brutal beating and a forced, crude C-section, after which her seven-month-old baby is murdered.
The culprit is the woman's husband, played by John Ritter, a methodical psychiatrist who assumes he always knows best. Convinced that the baby belongs to his wife's lover, Dr. Manning savagely kills the child in his mind, stamping out the blemish on his marriage and reestablishing order.
The arrogant Dr. Manning couldn't have foreseen that his assumption would be incorrect. During the trial, ADA Alexandra Cabot receives a last-minute DNA test that undermines Dr. Manning's warped reasoning for murder. Cabot quickly and efficiently synthesizes the new information into her line of questioning, revealing that the baby was in fact Dr. Manning's. "You were so sure he couldn't have been your child," says Cabot as a rebuke to the murderer's arrogance. The psychiatrist, who had up to that point been coolly unremorseful, breaks down crying on the stand.
Monogamy deftly uses its guest star for maximum effect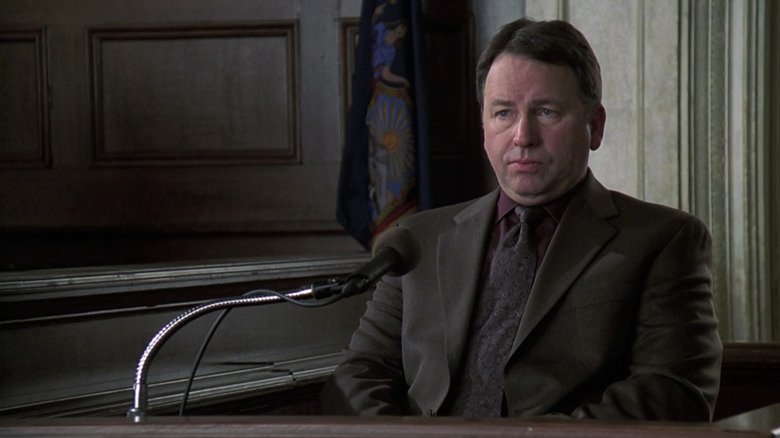 NBC/ Hulu
"Law & Order: SVU" has a history of using well-known guest stars to subvert audiences' expectations. The series once cast the dimpled "Wonder Years" child actor Fred Savage as a serial rapist and employed a similar strategy in casting America's dad Bob Saget as an obsessive, murderous husband. In this streak of savvy casting, "Monogamy" is no exception.
Prior to his appearance on "Law & Order," John Ritter was a beloved sitcom icon, best known for playing Jack Tripper in "Three's Company" from 1977 to 1984. At the time of his "Law & Order" appearance, Ritter played a stern but loveable dad in "Eight Simple Rules."
As Dr. Manning, Ritter immediately destabilizes the viewer, who is familiar with a very different style of performance. Also unsettling is the character's need to uphold family values, not unlike his sitcom persona, albeit far more violently. Ritter's performance shows what happens when an overbearing family man's love of order turns downright chilling.