8 Simple Rules Bloopers That Make Us Love John Ritter Even More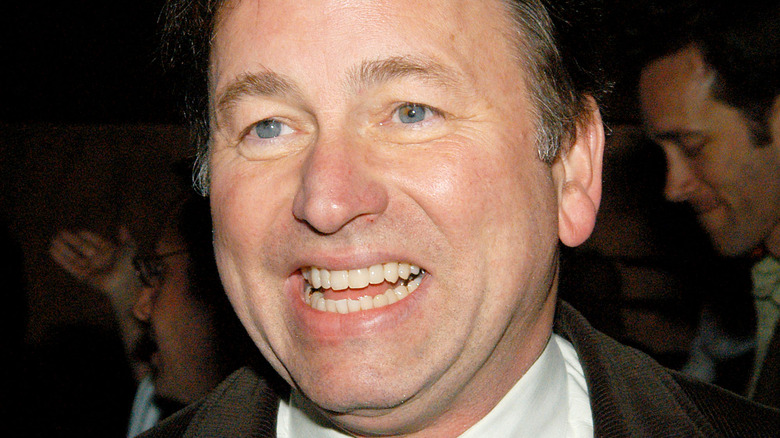 Lawrence Lucier/Getty Images
ABC's family sitcom "8 Simple Rules" debuted in 2002 and starred John Ritter and Katey Sagal as Paul and Cate Hennessy with Kaley Cuoco, Amy Davidson, and Martin Spanjers as their teenage children, Bridget, Kerry, and Rory. The two veteran sitcom stars brought impeccable timing and fantastic on-screen chemistry. Notably, Sagal told Entertainment Weekly in 2003 that all she had to know about the project was that Ritter was involved before wanting in herself, lobbying for a part before even seeing the script.
Sadly, on September 11, 2003, Ritter collapsed on set while filming "8 Simple Rules" Season 2, Episode 3 ("Donny Goes AWOL"). The actor died shortly thereafter of what doctors called an aortic dissection (via WebMD). In Episode 4 ("Goodbye"), Cate is told that Paul has collapsed in the grocery store and died. After the episode aired, Sagal told EW, "We all miss John terribly. The show is talking about healing and getting on with things, and behind the scenes, we're healing and getting on with things."
In the years since Ritter's death and the show's subsequent cancelation after Season 3, many fans of the series have looked back fondly on the first season because of the late actor's role (via Reddit). A selection of Season 1 bloopers from "8 Simple Rules" shows just how much Ritter's co-stars enjoyed working with him. 
The 8 Simple Rules blooper reel is heavy on flubbed John Ritter lines
The nearly 10-minute blooper reel from the first season of "8 Simple Rules" was uploaded to YouTube in 2009 and has been watched by more than 1 million viewers.
Throughout the gag reel, Ritter consistently sends his co-stars, the crew, and the studio audience into fits of laughter with ad-libs, goofy faces, and impeccably timed pokes through the fourth wall. In one clip, he struggles to remember a line during a three-way phone conversation with Cate and Kerry and stops the scene to joke with a producer off-screen about how he "can hear, but I can't think... Which do you want?" Another flubbed line during a phone conversation with Bridget leads Ritter to pause for a prompt from an off-screen crew member. He then holds up the phone, has the man repeat the line, then barks in character to his daughter, "That goes for me too, baby."
In another clip, Sagal, Cuoco, and Davidson struggle to get through a scene without giggling when Ritter raises his hand, and asks, "How many people have to pee? That's my problem. I'm trying to use it. Does it show?" In another segment, Cate asks Paul if he hears mice. In response, Ritter pauses, listens, and says, "No, I think that was just the audience." In several of the clips, Ritter and Sagal collapse laughing into each other, clearly showing genuine affection between the two long-time TV stars. It's obvious from the blooper reel that the "8 Simple Rules" cast and crew had tremendous fun working with Ritter. Fortunately, we are left with this reel of genuine moments of joy by which to remember him.