12 Best Movies To Watch After Elvis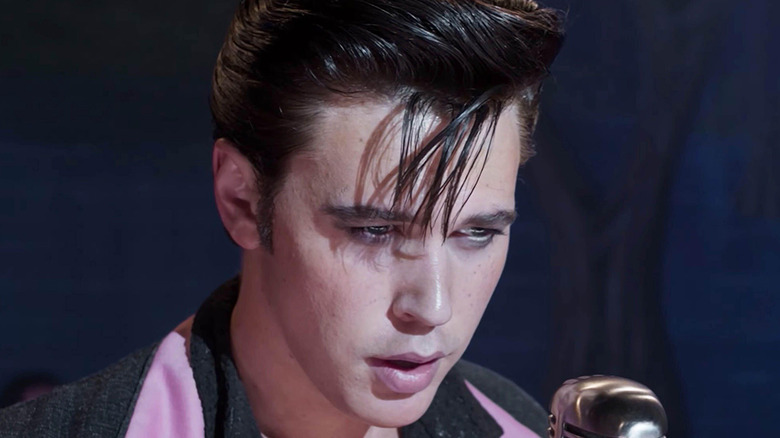 Warner Bros. Pictures
Few figures in American history are more instantly recognizable than Elvis Presley, the King of Rock and Roll. Born into poverty in Tupelo, Mississippi, in 1935, Elvis changed the world with his music, an electrifying mix of rhythm and blues, country, and gospel influences. Elvis' music made him a superstar and turned rock and roll into the dominant musical trend of the 20th century. His influence on modern culture cannot be overstated and persists to this day.
Director Baz Luhrmann brings Elvis' life to the screen with a new biopic, simply titled "Elvis," that focuses on the turbulent relationship between the singer, played by Austin Butler, and his manipulative, greedy manager, Tom Parker, played by Tom Hanks. The film tells the rags-to-riches story of Elvis Presley, from his humble roots to the personal demons that haunted him until his death in 1977 at the age of 42. Luhrmann's larger-than-life directing style pairs nicely with the equally extravagant exploits of Presley, a man who defied racial boundaries, upset the status quo of segregated "race music," and united the whole country under the banner of rock and roll.
After watching "Elvis," new fans will surely want to learn more about Presley and the cultural shift he inspired. Here are 12 movies about Elvis and the rebellious, irrepressible spirit of rock and roll he represented.
King Creole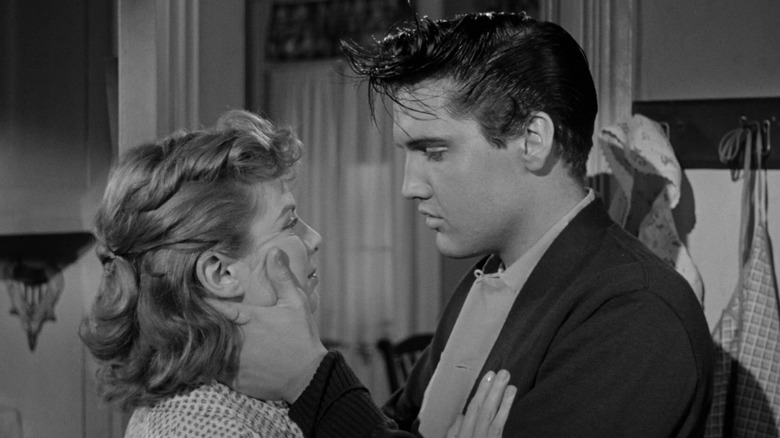 Paramount Pictures
Elvis acted in 31 different movies. While the common consensus is that each was worse than the last, this isn't entirely true. His earliest films show off his natural charisma, to say nothing of their outstanding musical performances. Elvis' fourth film (and his final movie before joining the army), "King Creole," is arguably his best; Elvis himself reportedly regarded it as his finest performance.
Directed by Michael Curtiz of "Casablanca" fame, "King Creole" sees Elvis play Danny Fisher, a high school dropout who tries to walk the straight-and-narrow, but finds himself seduced by the glitz and glamour of New Orleans' criminal underbelly, all while trying to make it as a nightclub singer. The stellar supporting cast includes Carolyn Jones, Walter Matthau, Vic Morrow, and Dolores Hart, but Elvis is more than capable of carrying the movie on his own; he is perfectly cast as an adolescent delinquent trying to find his way in a world that doesn't understand him.
In addition to the acting, "King Creole" features some of Elvis' greatest musical recordings. The music is almost entirely diegetic, so the tunes all appear naturally since the film is largely set at the King Creole nightclub. The songs, like "Dixieland Rock," "New Orleans," and "Hard Headed Woman" make great use of a brass section that feels ripped straight out of a Louisiana bayou. All told, "King Creole" marks the finest moment of Elvis' cinematic career.
Walk the Line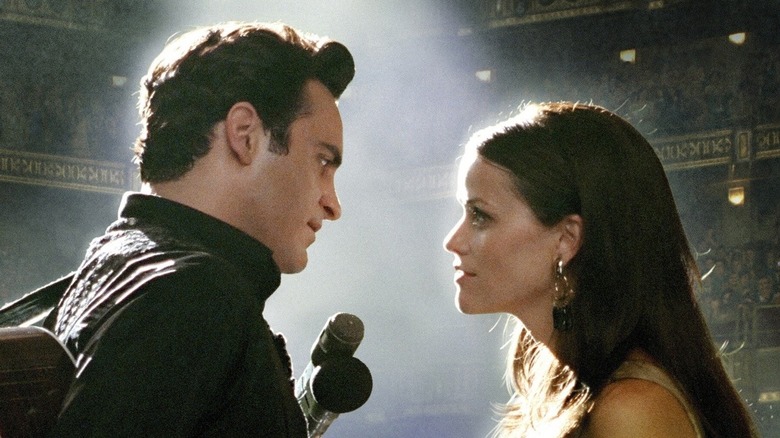 20th Century Fox
Johnny Cash, "The Man in Black," was a contemporary of Elvis, and they were even labelmates at the legendary Sun Records early on in their respective careers. Cash got his own biopic in 2005 in the form of "Walk the Line," starring Joaquin Phoenix as the iconic country singer and Reese Witherspoon as his wife and fellow country superstar, June Carter Cash. The film goes through most of the requisite "Oscar bait biopic" points, much as "Ray" did the year before, but it's a formula that works; Phoenix was Oscar-nominated for his performance, while Witherspoon won the best actress Oscar for her performance as June.
"Walk the Line" deals in part with Cash's daddy issues due to the untimely and violent death of his brother, Jack, his favorite son. Cash's father is played by Robert Patrick, who also played Elvis' father, Vernon, in "Elvis: The Miniseries," a two-part CBS television event that aired in May 2005, just a few months before "Walk the Line" made its theatrical debut. Notably, Elvis plays a minor role as a character in "Walk the Line," appearing on the same Sun Records tour as Johnny Cash and another 1950s rock and roll legend, Jerry Lee Lewis.
Great Balls of Fire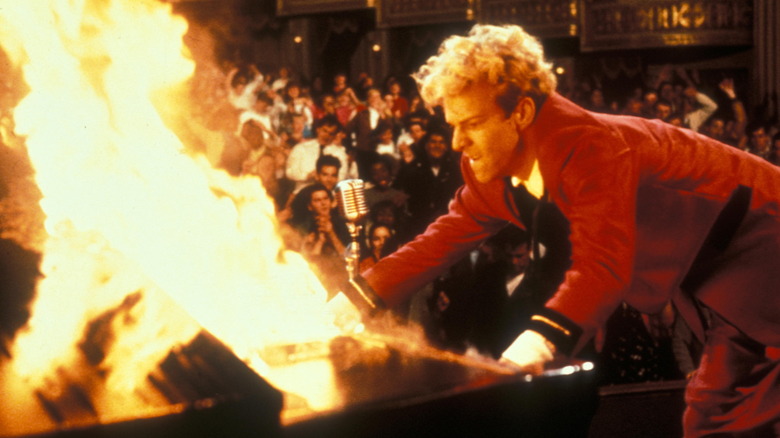 Orion Pictures
Back in the 1950s, Elvis faced steep competition from the rock and roll wildcard, Jerry Lee Lewis. The boogie-woogie piano player was noted for his energetic live performances, which frequently saw him destroy instruments on stage; he was particularly fond of shocking audiences by setting his piano on fire mid-performance. Unfortunately, his career was completely derailed in 1958, when he married his third wife, Myra Gale Brown... Alas, he hadn't formally divorced his previous wife yet. Also, Myra is his first cousin (once removed). Oh, and she was only 13 when they got married. Needless to say, Lewis' public image was stifled for over a decade as a result of the scandal.
Released in 1989, "Great Balls of Fire" dramatizes the life and career of Jerry Lee Lewis, played expertly by Dennis Quaid. The film plays the "rock biopic" formula pretty straight, but benefits from being shot on real locations in Memphis, Tennessee. The soundtrack is even better, consisting largely of Lewis putting a modern spin on his old tunes with the help of producer T. Bone Burnett (who also worked on "Walk The Line").
As producer Adam Fields recalled in a 2021 interview, "Great Balls of Fire" was Lewis' chance to beat Elvis, since the 'King of Rock and Roll' never had a full-fledged biopic made during his lifetime. Of having his own theatrically released biopic, Lewis once pondered, "I guess this makes me bigger than Elvis now, don't it?"
Streets of Fire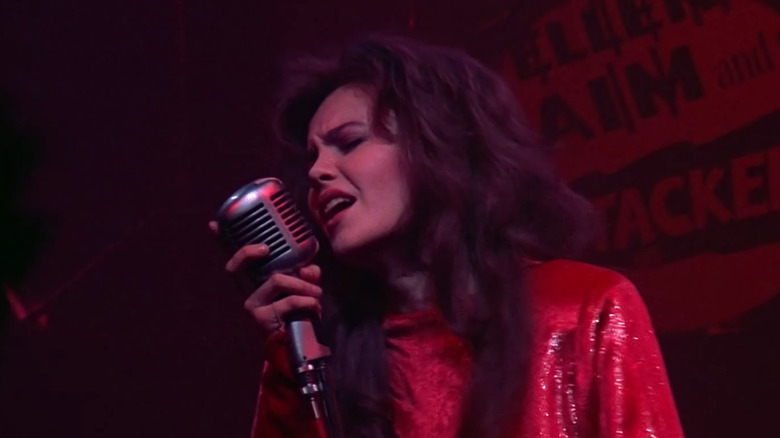 Universal Pictures
Directed by Walter Hill, 1984's "Streets of Fire" is an audiovisual delight that would impress even Baz Luhrmann. Ambiguously set in "another time, another place," "Streets of Fire" draws inspiration from 1950s rock and roll, film noir, and swashbuckling adventure to create a tapestry that feels wholly unique, even four decades later. The soundtrack contains numerous songs written specifically for the film by artists like Tom Petty, Stevie Knicks, and the legendary Jim Steinman. Popular neo-rockabilly act the Blasters also appear in the film, presumably as themselves, showcasing their musical talents at the villains' hideout.
Diane Lane plays Ellen Aim, a rock star who returns to her home city, only to get kidnapped by a gang led by a young and borderline vampiric Willem Dafoe. Thus, it's up to Ellen's ex-boyfriend, played by Michael Paré, to lead a team into the seedy side of town to beat up the bad guys and get her back. The supporting cast includes Rick Moranis, Amy Madigan, Bill Paxton, and Lee Ving of the rock band Fear. A wonderful blend of adventure and musical, "Streets of Fire" remains one of the most endearing cult classics of the 1980s.
Walk Hard: The Dewey Cox Story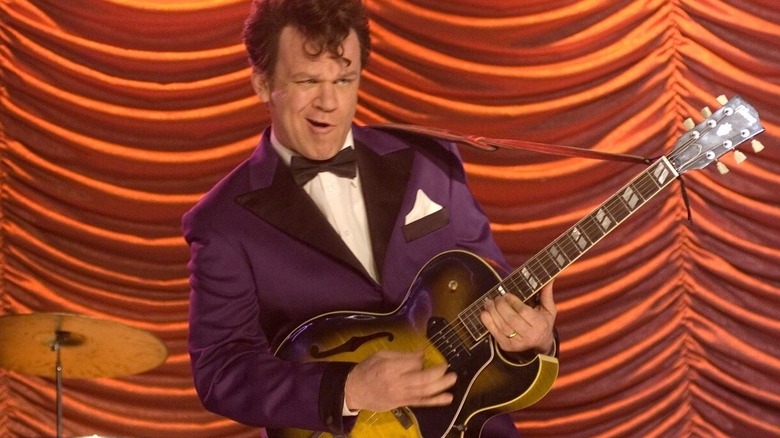 Sony Pictures Releasing
It's easy to dismiss "Walk Hard: The Dewey Cox Story" as a silly comedy that uses the framework of a musical biopic as nothing more than an excuse for jokes, but this 2007 comedy directed by Jake Kasdan and co-written by Judd Apatow has so much more to offer, particularly to rock and roll enthusiasts. John C. Reilly stars as the title character, whose career encompasses pretty much every corner of popular music, from the old Blues of the 1940s American South to the sample-heavy hip-hop of the mid-2000s. It's a musical odyssey disguised as a wacky comedy, and it delivers on all fronts, with bonus points for Reilly providing his own singing talents for an extra layer of authenticity.
The best way to watch "Walk Hard" is via its extended director's cut, which adds 25 minutes to the film's running time, extending various songs and adding new sequences that really make the movie feel like a true rock and roll epic. Just don't be surprised if cuts from the Grammy-nominated soundtrack, such as "Let's Duet" and "Let Me Hold You (Little Man)," make their way onto your various Spotify playlists.
Blackboard Jungle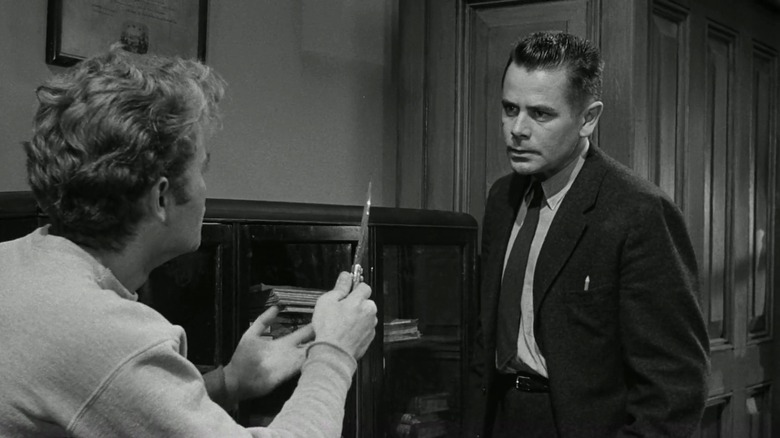 Loew's Inc.
Youth culture became more relevant than ever in the mid 1950s, as new sensations like rock and roll and drive-in movies catered to the booming demographic of teenagers. "Blackboard Jungle," released in 1955, addressed the issues plaguing inner-city teenagers while simultaneously catering to them with a rollicking rock and roll soundtrack. The film famously opens with a complete recording of "Rock Around the Clock" by Bill Haley & His Comets. Between its use of the blistering rock song and its themes of racial tensions and youth violence, "Blackboard Jungle" was seen as immoral and banned in segregated parts of the American South.
Glenn Ford stars as Richard Dadier, a teacher transferred to an urban high school populated by violent and rebellious young people who openly challenge the authority of school staff and fight anyone who gets in their way. Vic Morrow (of "King Creole") and Sidney Poitier play high school students; it was a star-making role for the latter, who would become one of the most respected actors in the history of cinema. While dated in some respects, such as its melodramatic tendencies, modern audiences might be surprised at how uncompromising "Blackboard Jungle" is in its portrayal of race relations and the dividing line between generations.
Thanks to its authenticity to the youth culture of the day and fantastic performances from its lead actors, "Blackboard Jungle" remains a cultural touchstone that continues to resonate with each new generation.
Rock Around the Clock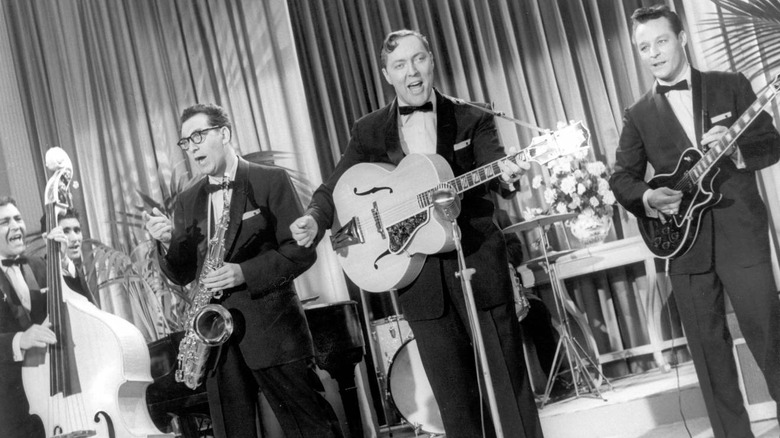 Columbia Pictures
Following the success of "Blackboard Jungle," particularly the response of young people to the inclusion of the Bill Haley song, "Rock Around the Clock," executives at Columbia Pictures decided to make a movie specifically about the rise of rock and roll, with a particular focus on Haley's hit song. Released in 1956, "Rock Around the Clock" is widely seen as the first rock and roll musical, paving the way for the eventual onslaught of Elvis movies in subsequent years.
"Rock Around the Clock" tells a trite story about music promoters "discovering" rock and roll, but it does feature legendary DJ Alan Freed as himself. The main attraction of "Rock Around the Clock" is its soundtrack, which contains numerous songs from Haley, as well as performances from The Platters and Tony Martinez. As a result, "Rock Around the Clock" highlights the racial equality of the rock and roll genre.
The film was successful enough to spawn a sequel, "Don't Knock the Rock," released later in 1956. "Don't Knock the Rock" is notable for featuring Little Richard in a supporting role, performing several of his signature songs, including "Long Tall Sally" and "Tutti-Frutti." Oddly, "Rock Around the Clock" was essentially remade in 1961 as "Twist Around the Clock," about Chubby Checker and his hit song, "The Twist." That film was followed by its own sequel, called "Don't Knock the Twist." 
Rock! Rock! Rock!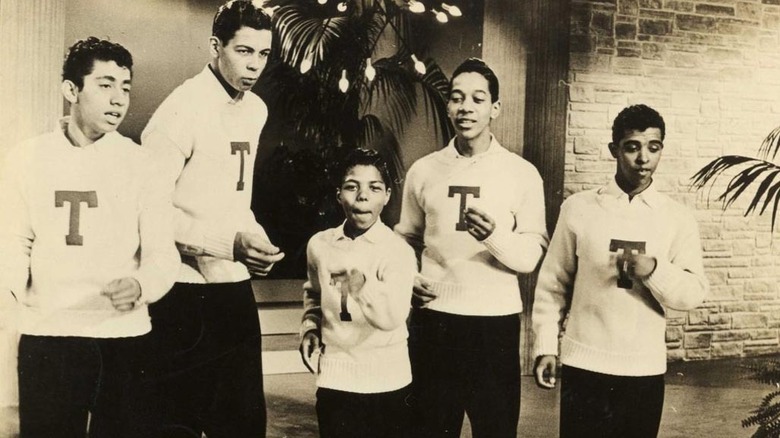 Distributors Corporation of America
Another 1956 rock and roll movie starring Alan Freed, "Rock! Rock! Rock!" has even less of a story than "Rock Around the Clock" and its successors, but that's not what people watch these movies to see; in an era before YouTube, young people would flock to theaters to see rock and roll bands play their signature songs on the largest screen possible. In that respect, "Rock! Rock! Rock!" delivers, with performances from such acts as Chuck Berry, The Flamingos, Teddy Randazzo, and Frankie Lymon & The Teenagers. With the exception of Lymon and Berry, the lineup of acts isn't quite as impressive as some of the other rock and roll movies, but there are plenty of hidden gems here that have been largely forgotten over the past 56 years.
For those unaware, Alan Freed was a radio DJ who helped proliferate rock and roll music during its formative years. He's credited with popularizing the phrase "rock and roll," and he is considered to be a hugely influential figure in the early days of rock music. Unfortunately, he was dogged by multiple scandals, including accusations of taking bribes from record companies in exchange for playing specific records, a process called payola. As a result, Freed was effectively blacklisted in his later years. He died in 1965 at the age of 43 as a result of complications from alcoholism; a tragic end for such an important figure in the history of rock and roll.
If you or anyone you know is struggling with addiction issues, help is available. Visit the Substance Abuse and Mental Health Services Administration website or contact SAMHSA's National Helpline at 1-800-662-HELP (4357).
This Is Elvis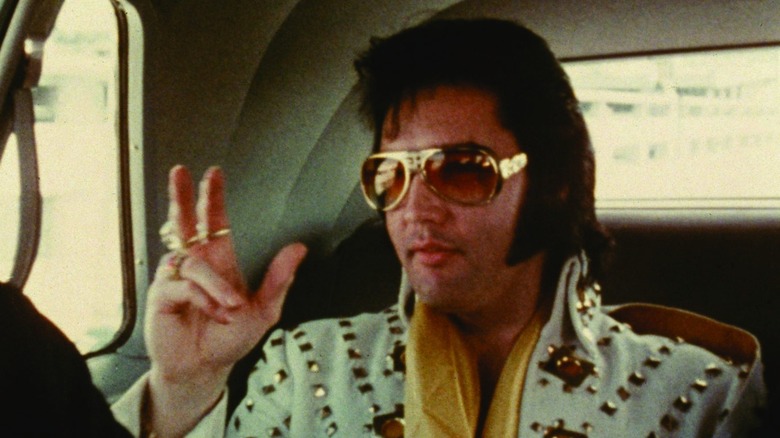 Warner Bros.
For those looking for a Cliff's Notes-style documentary about the King of Rock and Roll, 1981's "This Is Elvis" is a good place to start. The film features re-enactments of pivotal moments from Elvis' life but is also loaded with behind-the-scenes footage of Elvis in candid moments. Even better, there is a lot of footage here of full-length performances from his various television appearances, which were hard to come by back in 1981. Overall, it's a solid documentary about Elvis' meteoric rise and tragic self-destruction.
While the ultimate Elvis documentary is featured later on in this story, "This Is Elvis" is still worth watching for its insight into the grandiose life and profound inner sadness of the King. Audiences looking for a documentary more focused on a specific period of time might prefer "Elvis: That's The Way It Is," which chronicles his 1970 Las Vegas performances, offering tremendous insight into Elvis' talent as a charismatic live performer, years before his Vegas act grew stale and fell into self-parody.
Bubba Ho-Tep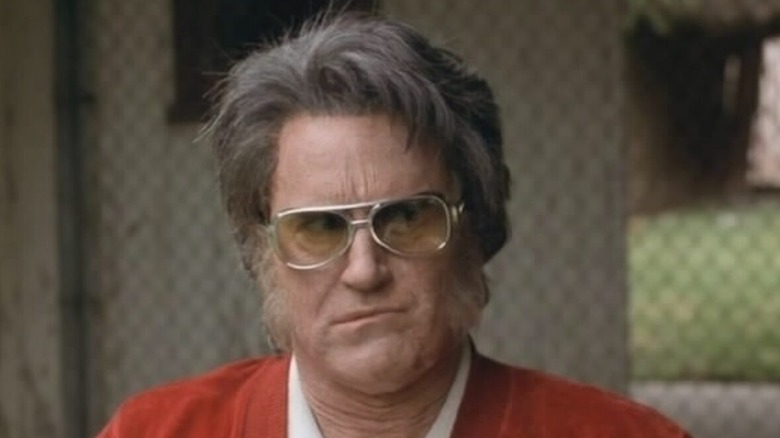 Vitagraph Films
Many an Elvis fan skipped out on "Bubba Ho-Tep" when it was first released back in 2002. The idea of following an elderly Elvis secretly living in a nursing home doing battle with an undead mummy didn't sit well with many Elvis enthusiasts. However, those who gave it a chance were pleasantly surprised. "Bubba Ho-Tep," despite its outlandish fantasy premise, is actually an earnest tribute to Elvis Presley, a deep character study of a man who had it all before succumbing to his lifestyle of excess — or nearly succumbing, in this case.
In "Bubba Ho-Tep," based on the novella by Joe R. Lansdale, Elvis didn't die in 1977. Instead, he changed places with an exceptionally talented Elvis impersonator who died instead, while the real Elvis lost all the proof of his true identity in an unfortunate barbecue accident. In the present day, he lives anonymously in a nursing home. His best friend, played by Ozzie Davis, claims to be JFK, insisting the government dyed his skin to conceal his identity. While the film certainly has its wacky moments (it's still about a mummy attacking a nursing home, after all), it's always respectful to Elvis, even while criticizing the poor decisions that impacted his later years. Bruce Campbell deserves all the acclaim in the world for his performance, which takes itself seriously, even while having some silly fun.
Elvis Presley: The Searcher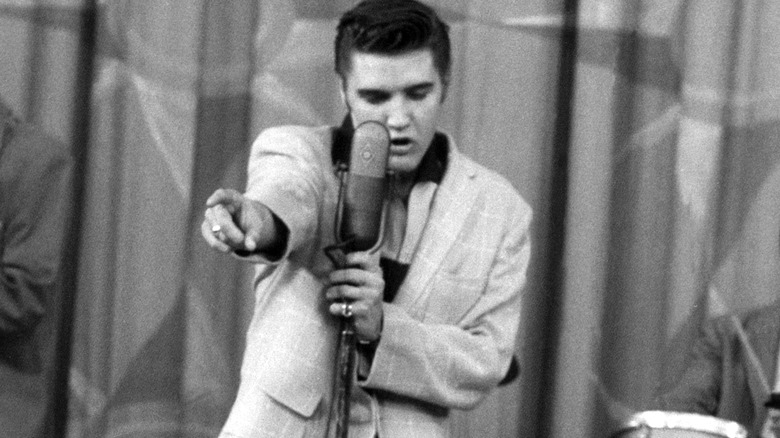 HBO
This two-part 2018 HBO documentary chronicles the life and career of Elvis by studying his musical journey. Music was the driving force in Elvis' life, from his youth in gospel churches, to Beale Street R&B, to country, opera, and beyond. Directed by Thom Zimny and supervised by Priscilla Presley and close friend Jerry Schilling (who also produced 2016's fantastic "Elvis & Nixon"), "Elvis Presley: The Searcher" tracks Elvis' musical journey, offering a unique take on the biography documentary formula. Along the way, narration from icons like Bruce Springsteen and Tom Petty helps to illuminate Elvis' life and musical leanings.
"The Searcher" is noteworthy for examining the relatively unexplored facets of Elvis' musical career, such as the period of time between 1969's "From Elvis in Memphis" and 1973's "Aloha From Hawaii," generally considered the last great moment of his career, before his untimely death in 1977. The film even gives an earnest look at Elvis' last years in Vegas and final studio recordings in Memphis, which are usually ignored by most accounts of his life. It's the ultimate account of Elvis' life, told through his music, the way he communicated with the world around him.
"Elvis Presley: The Searcher" was released several months after the death of Tom Petty, who contributes a song to the soundtrack, a 1990s-era cover of the oft-forgotten "Wooden Heart," from the soundtrack to "G.I. Blues."
Elvis (aka '68 Comeback Special)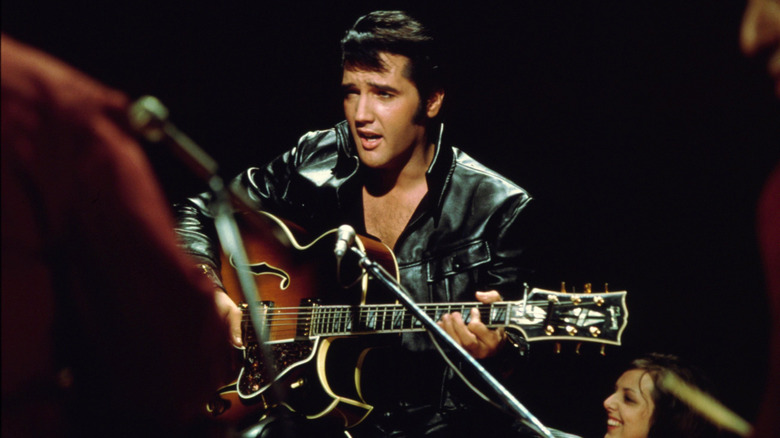 NBC
By 1968, Elvis' career had stalled out. After starring in dozens of dreadful movies, he needed to shake off all the rust. While his manager, Tom Parker, wanted him to do a corny Christmas special, television producer Steve Binder wanted to bring Elvis back to his rock and roll roots. Elvis hadn't played for a television audience since 1960's "Welcome Home Elvis," hosted by Frank Sinatra, so it was unclear if Elvis could still rock the way he did in his 1950s heyday.
On December 3, 1968, all fears were completely discarded. The special begins with a close-up of Elvis' face as he stares into the camera and sings the first verse of "Trouble," from the soundtrack to "King Creole." By the time he segues into a cover of Jerry Reed's "Guitar Man," he had completely wiped away the past eight years of Hollywood purgatory and reclaimed his throne as the all-time King of Rock and Roll. And that's just the first forty-two seconds of the hourlong TV event, which came to be known as the "1968 Comeback Special."
Every second of the special is a reminder that nobody ever did it like Elvis. His talent was singular, and his music changed the world like nobody before or since. The special's closing number, "If I Can Dream," is a bittersweet encapsulation of 1968, a year of turmoil, hope, despair, and irreversible social change.