Sidney Poitier's Best Co-Stars Ranked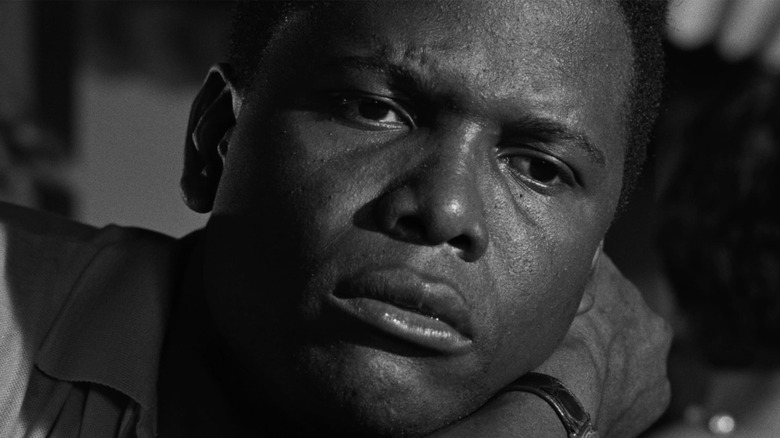 Columbia Pictures
On January 6, 2022, at the age of 94, Sidney Poitier, one of the most talented and influential actors of all time, passed away. He leaves behind a legacy that contains some of the greatest films of all time. He was the first Black man to win the Academy Award for Best Actor, for 1963's "Lilies of the Field." Some of his other standout films include "Porgy and Bess," "A Patch of Blue," and "A Raisin in the Sun," for which he reprised the role he originated on Broadway.
Following his death, Hollywood stars mourned the cinematic legend, showing the breadth of his work's influence on the American experience over the generations. Throughout his career, Poitier shared the screen with an incredible roster of co-stars, from established legends to up-and-coming talent — many of whom would become A-list stars in their own right. Here are some of our favorite actors who acted alongside Sidney Poitier.
13. Robert Redford (Sneakers)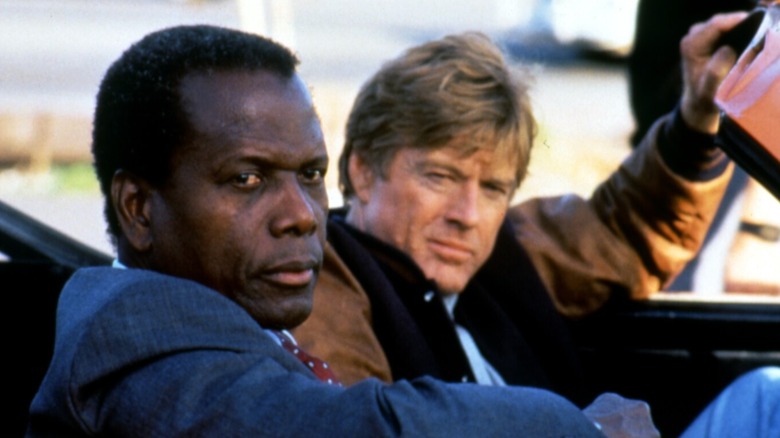 Universal
Robert Redford leads an all-star ensemble in "Sneakers," the 1992 cyber heist film directed Phil Alden Robinson. The cast includes Dan Aykroyd, River Phoenix, James Earl Jones, Mary McDonnell, and — of course — Sidney Poitier. Like fellow 1990s computer themed films such as "The Lawnmower Man" and "Hackers," a lot of the computer jargon comes across as silly by today's standards, but "Sneakers" maintains a degree of timelessness by keeping the focus on the delightful performances of its crowd-pleasing actors.
Poitier stars as Donald Crease, a former CIA agent and member of Redford's team of cyber security experts. A job for the NSA goes bad when they discover their employers are not what that appear to be. This, of course, leads to all the action and adventure and plot twists that audiences have come to expect from heist movies. Produced on a budget of $23 million, "Sneakers" went on to gross over $105 million at the worldwide box office. The film's impressive financial performance proved that genuine movie stars never fall out of style; in their 50s and 60s, Redford and Poitier were still box office draws.
12. Michael Caine (The Wilby Conspiracy)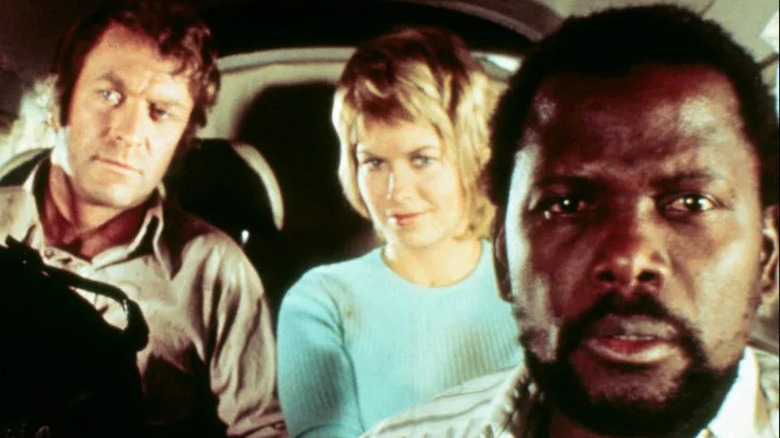 United Artists
"The Wilby Conspiracy," a 1975 action thriller set in South Africa's Apartheid era, stars Sidney Poitier as Shack Twala, a revolutionary who becomes embroiled in the eponymous conspiracy: A plot by the government to take out the Black Congress Party leader, Wilby Xaba (Joe De Graft). Michael Caine co-stars as Jim Keogh, a tough-guy engineer who winds up joining the cause of freedom and justice, assisting Twala in his fight to save Wilby from the oppressive regime. Prunella Gee and Rutger Hauer co-star.
Based on the novel by Peter Driscoll, "The Wilby Conspiracy" combines exciting action sequences with a deeply political story, allowing viewers to learn about South Africa's troubled political history while seeing Poitier and Caine kick some butt along the way. Michael Caine was already an established star by 1975 thanks to movies like "The Italian Job" and "Get Carter," though today's audiences probably know him for his numerous collaborations with Christopher Nolan, including playing Alfred in his Batman trilogy.
11. Gloria Foster (Separate but Equal)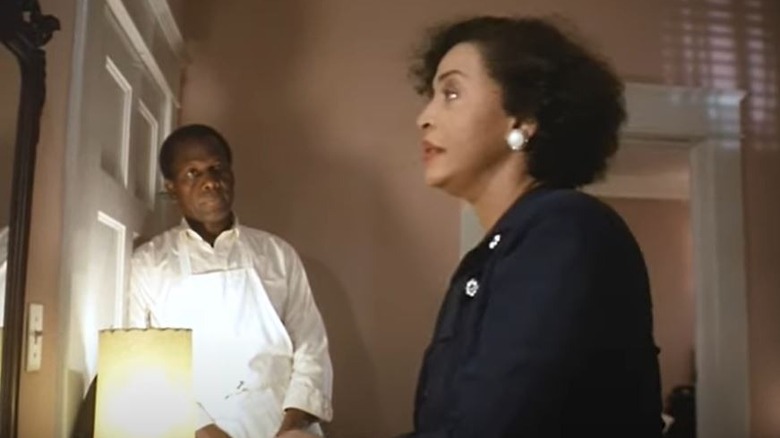 ABC/YouTube
"Separate But Equal" dramatizes the real-life 1954 case of Brown v. Board of Education, a monumental decision that deemed segregation in the public school system unconstitutional. Up to that point, schools were segregated, with the phrase "separate but equal" promising that Black-only schools would receive the same quality of education as their white-only counterparts — a promise that was rarely, if ever, kept.
Poitier stars as Thurgood Marshall, the founder of the NAACP Legal Defense and Educational Fund who would go on to serve on the United States Supreme Court. Meanwhile, Gloria Foster co-stars as Marshall's wife, Vivian "Buster" Marshall. Vivian is frequently seen with a cigarette in her hands, foreshadowing the fact she died of lung cancer on her 44th birthday — just a year after the case was won. The scene in which she tells her husband of her diagnosis is subtle, but heartbreaking; she tells her Thurgood that he can't quit the case and that she doesn't want to discuss her cancer until after the job is done. It's a display of strength and sacrifice from someone who valued the cause of civil rights even more than her own life.
"Separate But Equal" was broadcast as a miniseries over two nights, April 7 and April 8, 1991. It won the Emmy award for Best Miniseries, and Poitier was nominated for both an Emmy and a Golden Globe for his performance as Thurgood Marshall.
10. River Phoenix (Little Nikita/Sneakers)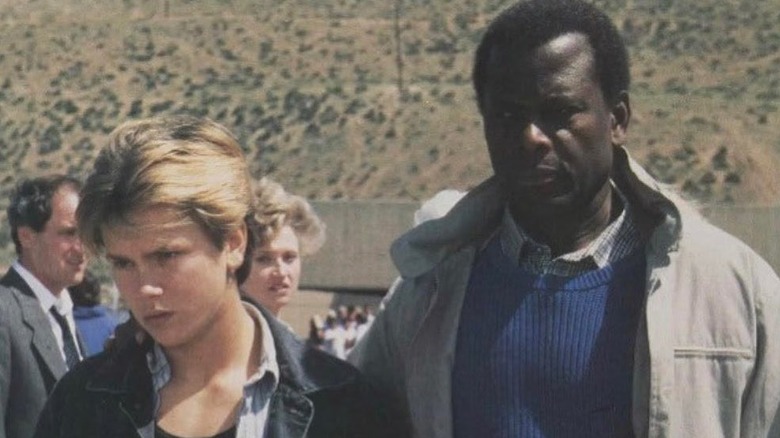 Columbia Pictures
Four years before "Sneakers," Poitier and River Phoenix collaborated on 1988's "Little Nikita," a Cold War thriller about a teenager who learns his parents are Russian sleeper agents. Poitier plays the FBI agent working on the case and trying to discover the truth. Together, the two actors have great chemistry together, despite their obvious generation gap; the fact that Phoenix is able to keep up with the great Sidney Poitier is a tribute to the teenager's tremendous talent. Poitier described River as "raw talent," and that working with him was "very invigorating." Unfortunately, the film was a commercial bomb, only grossing $1.7 million at the box office, a mere fraction of its budget of $12 million. Regardless, Phoenix was already a major star by 1988, though his star would only grow larger and larger until his death in 1993.
Though only barely out of his 20s, Phoenix had struggled with drugs for years, though the public was largely unaware of his inner demons, since he had always advocated for healthy lifestyle choices like veganism and environmentalism, among other humanitarian causes. On October 31, 1993, at the age of 23, Phoenix died outside of The Viper Room in Los Angeles. His autopsy found high levels of morphine and heroin in his blood. In 2020, Phoenix's younger brother, Joaquin, named his son River, after his late sibling.
9. Harry Belafonte (Buck and the Preacher)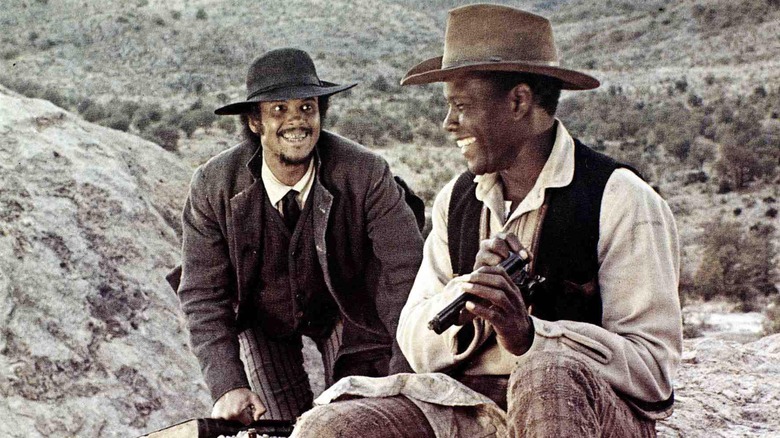 United Archives/Getty Images
Poitier made his directorial debut with 1972's "Buck and the Preacher," a jazz-soaked Western about a post-Civil War wagon train from Louisiana to Kansas besieged by white supremacist raiders. The film combines elements of Blaxploitation with a classic Western blueprint, mixing things up with its jazz soundtrack and historical context, exploring Western tropes through the eyes of Black lead characters. 
The film succeeds due to the winning combination of Sidney Poitier and Harry Belafonte, who play Buck and the Preacher, respectively. Belafonte and Poitier have a natural chemistry on screen, thanks to their real-life friendship, having met at The American Negro Theatre in New York City when they were both only 20 years old. "They were closer than brothers," Belafonte's daughter told People of her father's friendship with Poitier, and that bond is evident in the film.
In addition to his work as an actor, Belafonte is known for his career as a singer, as well as his work as a political activist. Even in his 90s, Belafonte is still active in politics and the arts; this includes a recent film appearance in Spike Lee's 2018 Oscar-winner, "BlacKkKlansman."
8. Glenn Ford (Blackboard Jungle)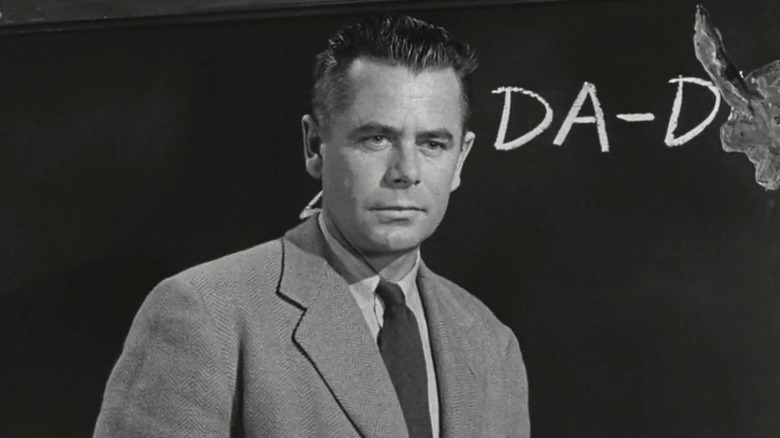 Loew's Inc
One of Poitier's first big film roles can be seen in "Blackboard Jungle," an Oscar-nominated film about a high school teacher (Glenn Ford) who has to straighten out his classroom of juvenile delinquents. While its content is relatively benign by today's standards, it was groundbreaking in its depiction of high school students as rough and rowdy hell-raisers. The film's use of Bill Haley and the Comets' "Rock Around the Clock" is widely credited with jumpstarting the rock and roll revolution that changed American culture forever.
Though he was already 28 years old when the film was made, Sidney Poitier is convincing as a high school delinquent. Glenn Ford, one of the biggest movie stars of his time, plays the teacher. Even though nearly 70 years have passed since its release, "Blackboard Jungle" remains relevant and entertaining today. It's a teen-oriented movie that doesn't talk down to its target audience, and that sensibility transcends any of the film's more dated elements. The way Ford takes Poitier's character under his wing and effectively makes him head of the class was a transgressive move by the filmmakers during the early days of the Civil Rights Movement, and the scene where Ford's character breaks down the class' racial barriers by deconstructing the hateful language his students use to insult each other remains as timely as ever.
7. Lulu (To Sir, With Love)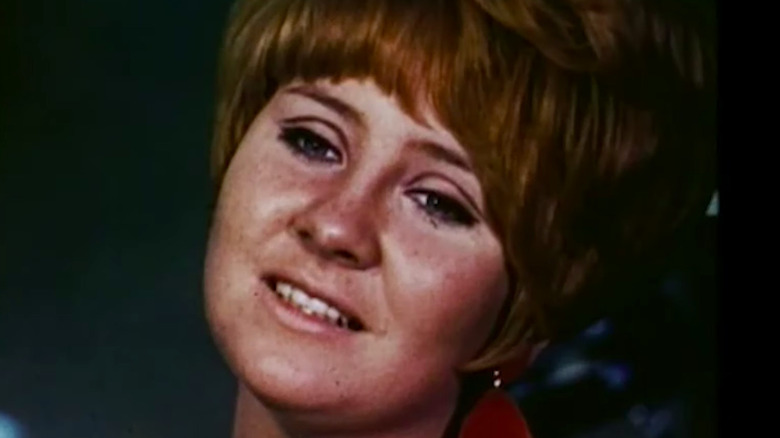 Columbia Pictures
12 years after playing a juvenile delinquent student, Sidney Poitier was cast as a teacher of delinquent students in "To Sir, With Love." Set in the inner city of London, England, "To Sir, With Love" follows Poitier as Mark Thackeray, an engineer who is forced to accept a teaching job while his engineering career is put on hold. Unfortunately, his students are a difficult group, and Poitier must find a way to convince the teens to do something with their lives before it's too late.
English pop star Lulu appears as one of the students, and plays a key role in helping Thackeray to meet his students on their level and see them as people to be respected, and not just children to be "cured" of their social deficiencies. "To Sir, With Love" marked her acting debut, and she even recorded an original song for the film. The song, "To Sir, With Love" has grown to be just as iconic as the film for which it was written. 
In 1996, Poitier starred in the made-for-TV "To Sir, With Love II," directed by Peter Bogdanovich, who coincidentally passed away on the exact same day as Poitier. The TV sequel sees Thackeray move from England to Chicago, where he teaches the inner city youth of that city while pursuing the long-lost love of his life. Lulu and Judy Geeson reprise their roles from the first movie for cameo appearances.
6. Martin Landau (They Call Me Mister Tibbs!)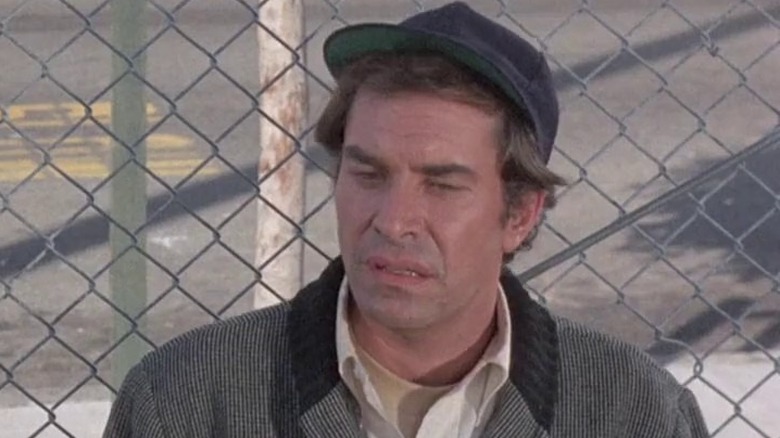 United Artists
The sequel to "In the Heat of the Night" moves the action from Mississippi to San Francisco. While it's a decidedly lesser film than its predecessor, audiences looking for a crowd-pleasing turn from Poitier were not disappointed by the provocatively-titled, "They Call Me Mister Tibbs!," which takes its title from the iconic line of dialogue from the original movie. This time, the story involves a political referendum on urban renewal and co-stars Martin Landau as a street preacher, local advocate, and murder suspect. He's a mysterious presence throughout the film, with his moral grandstanding at odds with the crime he is suspected of, but the chemistry between him and Poitier is notable. The ending, in which the character has a heart-to-heart discussion with Detective Tibbs before making a shocking choice, helps elevate the film beyond its contemporaries.
Landau had already made a name for himself thanks to his tenure on the original television version of "Mission: Impossible," but he wouldn't become a bona fide movie star until much later in his career. He was nominated for three Academy Awards, the first of which was in 1988 for "Tucker: A Man and His Dream." He'd finally win in 1994 for his portrayal of Bela Lugosi in Tim Burton's "Ed Wood," starring Johnny Depp.
5. Tony Curtis (The Defiant Ones)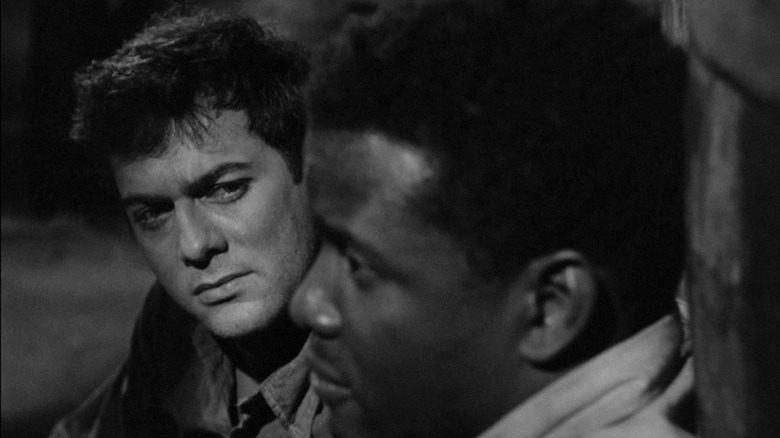 United Artists
Director Stanley Kramer may be best known for "Guess Who's Coming to Dinner," — but for now, the spotlight can shine on his 1958 effort, "The Defiant Ones." Tony Curtis and Sidney Poitier play two men in a southern chain gang who escape when their prison truck crashes. However, they're chained together and must work as a team if they are to survive and stay one step ahead of the law.
It's a simple premise, but ripe for the kind of racial drama that wasn't commonplace back in the Hollywood of 1958. Poitier's co-star, Tony Curtis, was one of the biggest stars of the 1950s and 1960s, with hits like "Some Like It Hot," "Spartacus," and "The Boston Strangler" showing his versatile talents across genres and styles. For "The Defiant Ones," both he and Poitier were nominated for Best Actor at the Academy Awards, though neither of them won.
4. Katharine Hepburn (Guess Who's Coming to Dinner)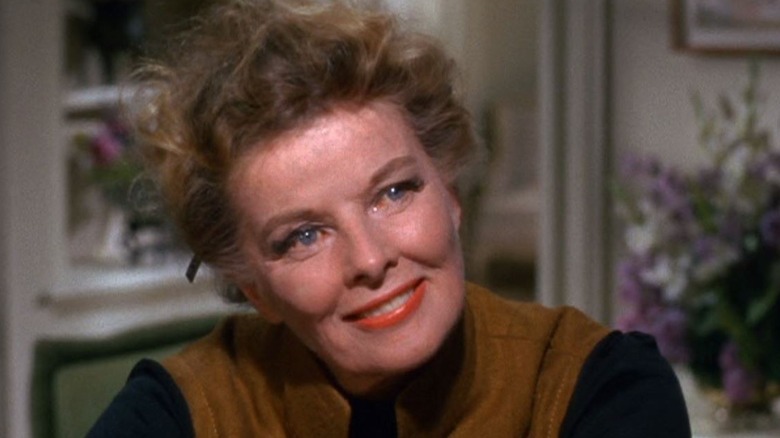 Columbia Pictures
One of Poitier's best known films is "Guess Who's Coming to Dinner," in which he plays Dr. John Prentice, a Black man in love with a white woman, played by Katharine Houghton. When she takes him to meet her parents, they are taken aback by his race, triggering the central conflict and drama of the movie: Can love and trust overcome prejudice? Like so many of Poitier's films, "Guess Who's Coming to Dinner" was groundbreaking in its frank approach to relevant themes, breaking down barriers with grace and humor. To that end, an often-forgotten fact about "Guess Who's Coming to Dinner" is that it's hilarious. This isn't an Oscar-bait drama about forbidden love, but a heartwarming romantic comedy about the absurdities of racism.
Katharine Hepburn plays Prentice's would-be mother-in-law, Christina, and she brings a mature grace to her performance. Being wiser than her more bigoted and old-fashioned husband, she quickly warms up to the idea of John Prentice becoming her son-in-law, and overtly approves of his prospective marriage to her daughter.
Hepburn is one of the most celebrated actors of all time, and holds the record for the most Academy Awards by a single actor, with four of the prized golden statues to her name, including one for this very film.
3. Spencer Tracy (Guess Who's Coming to Dinner)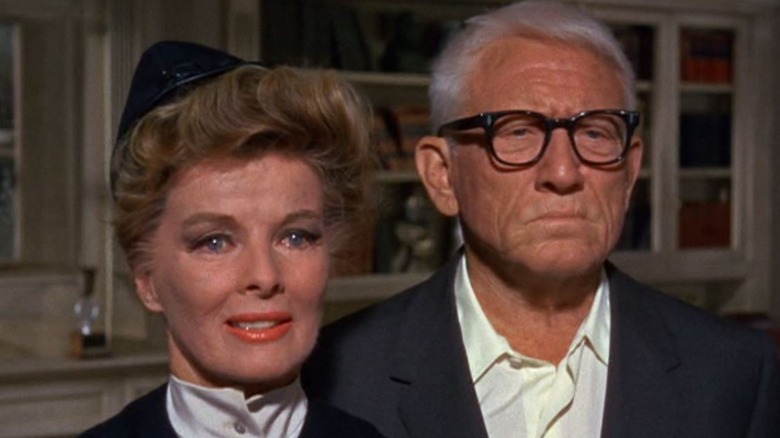 Columbia Pictures
The bigoted husband in "Guess Who's Coming to Dinner" is played by Spencer Tracy, in his final film role. He professes liberal values, but can't keep his prejudices at bay and disagrees with the idea of his daughter marrying a Black man, even if he is as perfect and gorgeous as Sidney Poitier. The film's emotional climax features a stunning speech from Tracy, who examines his own racism and accepts that love is more valuable than hate. Tracy was terribly ill while making the film; he finished shooting his scenes just 17 days before his death, and it was released six months after his passing. He was 67 years old. The film was the ninth collaboration between Tracy and Hepburn, who were effectively life partners the last 27 years of Tracy's life, his marriage to Louise Tracy notwithstanding.
Tracy's personal life was fraught with alcoholism and depression, but his body of work is an unparalleled collection of some of the greatest films ever made. He was nominated for a whopping nine Academy Awards, and won twice, for "Captains Courageous" and "Boys Town." Together, the pairing of Katharine Hepburn and Spencer Tracy might just be the only combination of actors that could ever make a massively theatrical talent like Sidney Poitier seem small and humble by comparison.
2. Rod Steiger (In the Heat of the Night)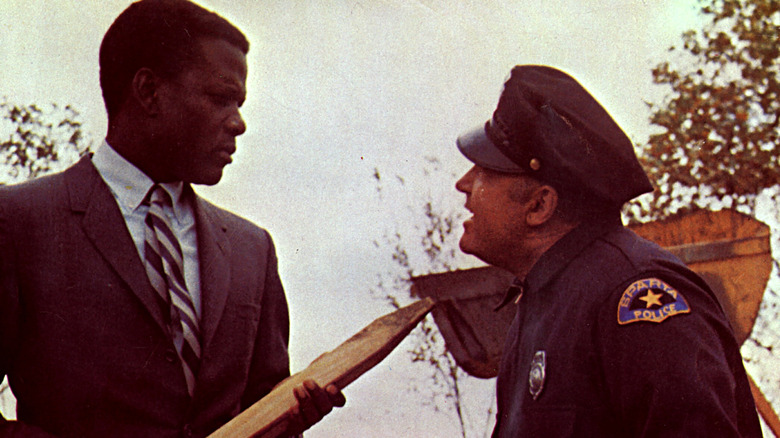 United Archives/Getty Images
Sidney Poitier had a great 1967; he starred in three films that year, and all three are all-time classics: "Guess Who's Coming to Dinner," "To Sir, With Love," and "In the Heat of the Night," the latter of which introduced audiences to no-nonsense big city cop Detective Virgil Tibbs. The film was a huge hit and was nominated for seven Oscars, winning five, including Best Picture and Best Actor, but not for Sidney Poitier; instead, the honor went to Rod Steiger.
Steiger built his career as a character actor, playing tough guys like Al Capone, or broken big brother archetypes like in "On the Waterfront." For "In the Heat of the Night," he essentially combines these two modes as Chief Bill Gillespie, an old, bigoted authority figure who is prone to temper tantrums and has to rediscover what it means to be a good cop. He surely didn't expect that rediscovery to arrive in the form of Sidney Poitier's Detective Tibbs.
In terms of acting, Steiger and Poitier bring out the best in each other; it's a shame their incredible dynamic only lasted for this single film, since Steiger didn't appear in either of the two sequels. However, the dynamic between the characters was revisited for the TV series, "In the Heat of the Night," which ostensibly acts as a sequel/adaptation of the original film, but with new actors: Howard Rollins as Tibbs, and "All in the Family's" Carroll O'Connor as Gillespie.
1. Paul Newman (Paris Blues)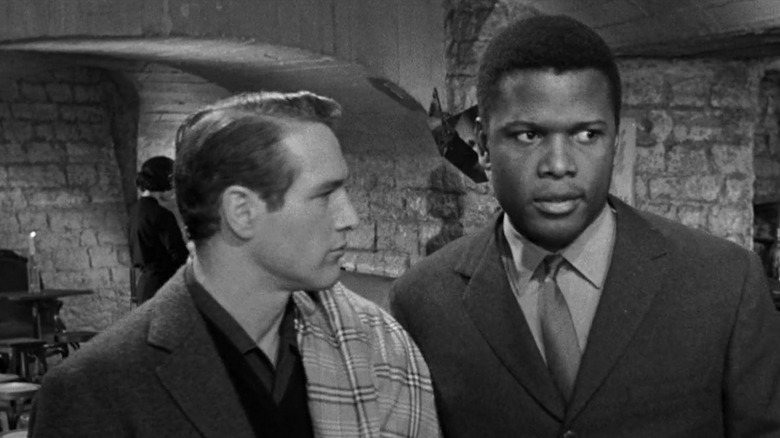 United Artists
Released in 1961, "Paris Blues" follows Paul Newman and Sidney Poitier as a pair of American expatriates in France, romantically pursuing a pair of American tourists while also pursuing their dreams of becoming famous musicians. It's a decidedly "small" movie, but gets lots of mileage from being shot on location in Paris, as well as the incredible talent of its two leads. Even with the presence of titans like Poitier and Newman, who have fantastic chemistry in these naturalistic roles, the real draw of "Paris Blues" is its incredible soundtrack by Duke Ellington — as well as the appearances of music legends Louis Armstrong and Aaron Bridgers in supporting roles. The film is fascinating for its look at how American race relations in 1951 lagged far behind those of France, which was able to establish a thriving music scene because of expatriate musicians.
Paul Newman was one of the biggest movie stars of all time, and his life and work basically defined machismo for an entire generation of movie fans. Movies like "Hud," "Cool Hand Luke," and "Butch Cassidy and the Sundance Kid" are essential viewing for young people trying to figure out what kind of life they want to live. Off camera, Paul Newman was a philanthropic and compassionate man who raised millions of dollars for charities, and he was also an accomplished race car driver. It makes sense, then, that his final acting role was as Doc Hudson in Pixar's tribute to motorsports, "Cars."