Bilall Fallah And Adil El Arbi Reveal How They Pleaded Their Case To Include Animation In Ms. Marvel - Exclusive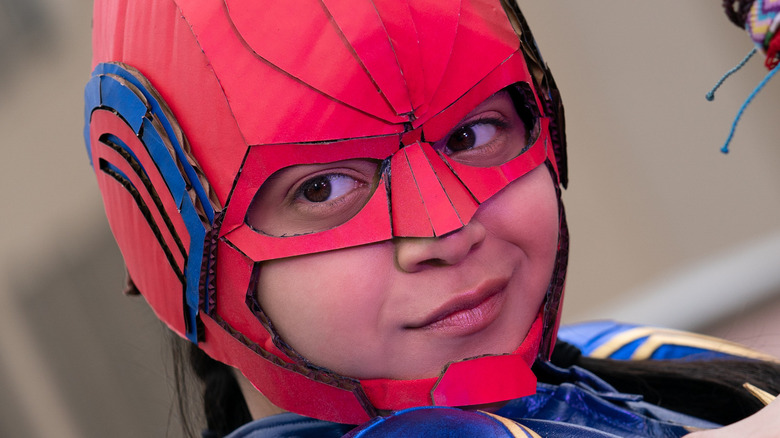 Disney+/Marvel Studios
The first episode of "Ms. Marvel" is unlike anything we've seen in the MCU. Between the love letter to fandom and the bright pops of colorful animation, the series' debut episode is one for the books. As it turns out, fans have directors Bilall Fallah and Adil El Arbi to thank for the entire vibe of the show. 
The duo had an artistic vision for the show that would bring Kamala Khan's (Iman Vellani) fan art and wondrous imagination to life on screen. Of course, there were stipulations in carrying out their vision, but the show just wouldn't be the same without the directors' artsy touch. So how did they convince the MCU Powers That Be to hop on board?
Looper spoke to Bilall Fallah and Adil El Arbi during an exclusive interview where the directors revealed how they pitched the animated sequences in "Ms. Marvel" to Kevin Feige and why fandom elements are such an integral part of the show. 
Bringing Kamala's art to life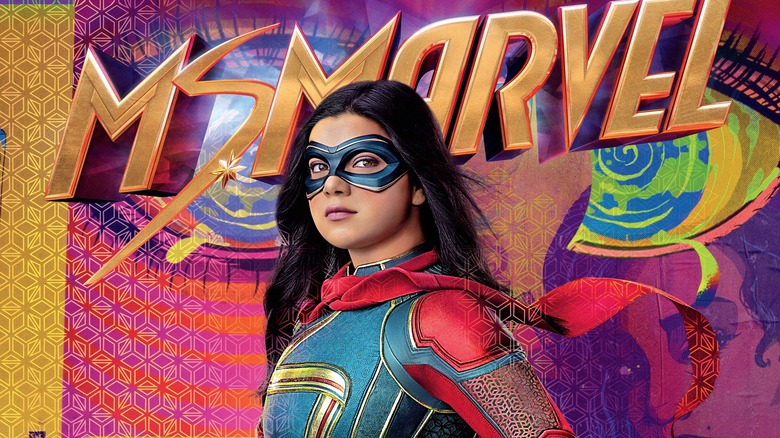 Disney+/Marvel Studios
On the process of bringing Kamala's art to life and why it's essential for fans to see themselves on screen in that way of appreciating fandom, Bilall Fallah explained that the directors were actually the ones to pitch the idea of animation sequences. 
"[The] animation was not really presented in the script or in the concept. We are also big fans of 'Into the Spider-Verse,' so we were thinking, 'Imagine if we can make [a] live-action version of that?'" Fallah said. "When we worked on 'Ms. Marvel,' we were thinking, 'How can we capture that imagination or fantasy?' We thought [that] with animation, that is a cool way to do it. 'Scott Pilgrim' is also a big influence." 
The duo was worried that Marvel wouldn't go for the idea, but it was precisely what the series needed. Fallah recalled the process of presenting the idea and the nerves that followed. "We were a bit afraid that Marvel wouldn't accept it because it's totally different than all the other shows, so we did a presentation. We had a dossier, and we had YouTube videos. Like lawyers, we made our case," Fallah said. "[Adil El Arbi] said, 'We need this because it really amplifies and tells the story of Kamala Khan going into her head.'" Their preparation paid off, and the directors were thrilled that Kevin Feige recognized the merit of their vision.
Fallah added, "Surprisingly, Kevin Feige said, 'I love it. I like it. It's very good. Don't exaggerate. Don't go overboard and [just] use it for real character and story moments.' That's why this show is so distinctive. We are very humbled and honored that we could do that."
Including nods to fandom
Disney+/Marvel Studios
Adil El Arbi is all about the fandom respect. He said, "About fandom — well, fandom is the most important aspect," while Bilall Fallah added, "Fans for life."
Arbi noted the integral role that fandom plays in keeping franchises alive. "Without fandom, you don't have this successful series of movies and TV shows. Marvel, on that level — they made the superhero so big and the comic book so successful as well. This is our homage to the fandom," he explained. "Kamala Khan, Ms. Marvel, is a fan the same way that Iman Vellani is a fan. 'Iron Man' is her favorite movie. We hope when [fans] watch the show they see, in AvengerCon especially, that this is an homage and a love letter to them and a big thank you."
Not only would the MCU cease to exist without fandom, but artists would have fewer outlets for their art — be it actors, animators, writers, or actors. Arbi concluded, "Without them, all of this, we all would be nowhere. Also, [it] shows that anybody can be a superhero — the biggest fan can be part of that world." 
New episodes of "Ms. Marvel" stream Wednesdays on Disney+.