Directors Adil El Arbi And Bilall Fallah Talk Ms. Marvel Inspirations, The '90s, And The MCU Fandom - Exclusive Interview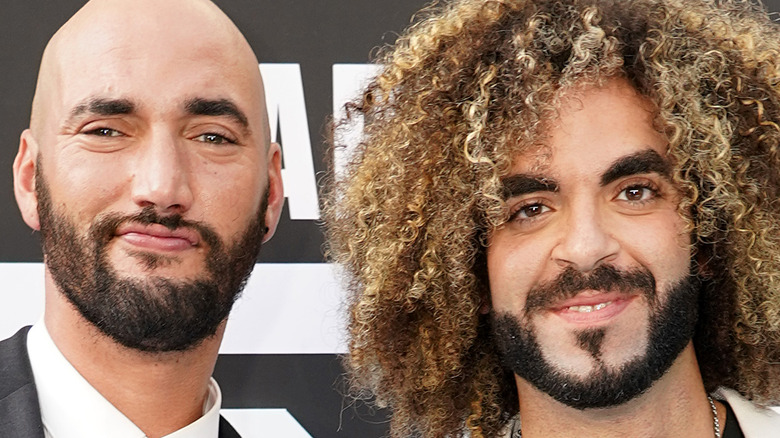 Alexander Tamargo/Getty Images
The Disney+ MCU shows have been sticking to a pretty rigid setup of one director per series, with the recent exception of "Moon Knight." Now, "Ms. Marvel" is shaking things up further with another collaboration of multiple directors — sometimes even in the same episodes. "Ms. Marvel" certainly isn't Adil El Arbi and Bilall Fallah's first project together, having come up together in film school and partnering for a good portion of their movies and TV shows.
During their "Ms. Marvel" run, Arbi and Fallah brought the first and sixth episodes of the series to life. It's no easy task being responsible for the inaugural episode of a series, but the seasoned directors knew what they were doing, and even added a special touch that helped shape the show's vibe. Before working in the MCU, the pair helmed movies like "Black," "Gangsta," "Image," and "Bad Boys for Life" — and in the superhero realm, they directed the upcoming "Batgirl" film.
During an exclusive interview with Looper, Adil El Arbi and Bilall Fallah discussed the Captain Marvel and '90s inspiration for the show, why they love working together, and in which MCU role they would cast Will Smith. The duo also shared how they convinced Kevin Feige to get on board with their idea for the first episode. 
An homage to Captain Marvel and the '90s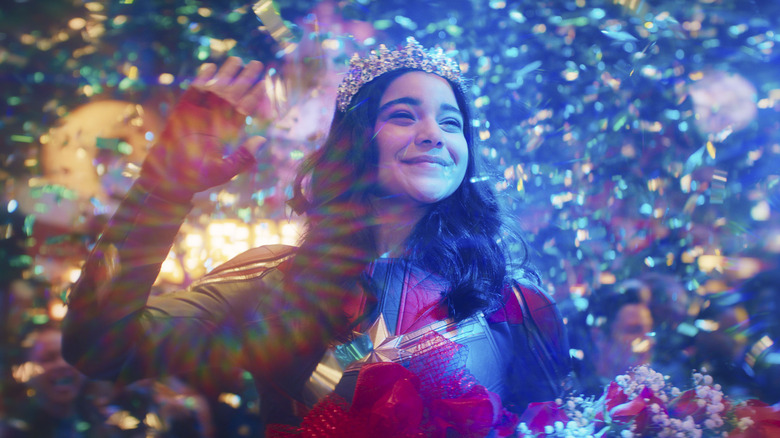 Disney+/Marvel Studios
If you could bring Captain Marvel herself into the show, how do you think she could fit into the story? Do you know if Brie Larson and Samuel L. Jackson have seen any of the episodes and what their reaction to them might have been?
Adil El Arbi: We don't know if they saw it yet. We don't know exactly what's going to happen in "The Marvels," but we know that Brie Larson is in it and Iman Vellani as well. But if Brie Larson would come up or Captain Marvel would be in our show all of a sudden, she would be like this big sister — this mentor to her. That would be a little bit like Iron Man with Peter Parker, with Spider-Man. That would be the dynamic or the vibe.
Kamala is probably the biggest Captain Marvel fan out there, both real and fictional. There are some great homages to the "Captain Marvel" movie and the '90s as a whole. Which of these aspects did you most have fun including, and what was most important to you in honoring that legacy that you've woven into the show?
Bilall Fallah: We wanted to say true to the character, and through the comic book and in the comic book, you have Kamala Khan, who's a big fan of Captain Marvel. We used a lot of the aspects that were in the comic book in the show. For me, the favorite piece is in AvengersCon when she's coming there, and she sees that statue flying: Captain Marvel. That felt like magic for me too, when I saw that.
El Arbi: When it's in terms of the '90s, for us, that [means] John Hughes, his movies, "Ferris Bueller's Day Off," and the TV shows. We are from Belgium, so American high school is very exotic to us. It's very special and weird — you look at "Parker Lewis Can't Lose," "Saved by the Bell," "Boy Meets World," and countless other high school comedies that we saw. We were like, "Okay, if one day we get the chance to do that, it's going to be this '90s American high school vibe." That's what we tried to convey in the show.
The ultimate MCU team-up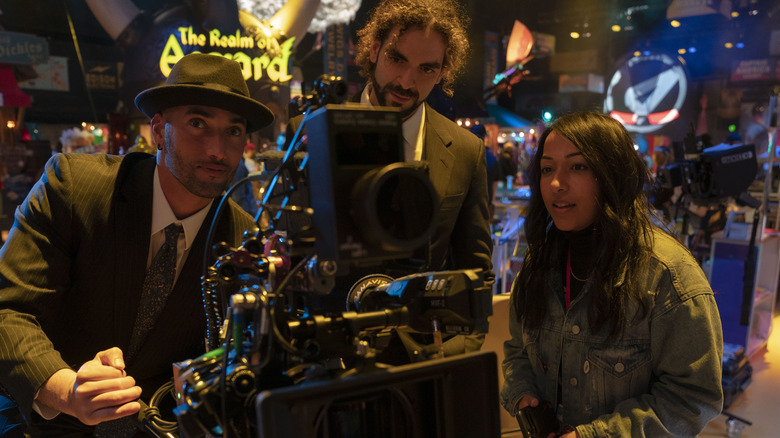 Disney+/Marvel Studios
You've both co-directed so many projects together. What do you love about teaming up for projects, and how do you think directing "Ms. Marvel" episodes as a duo enhanced the experience and the final project?
El Arbi: We started as film students. We were the only two Moroccans in film school. Everybody was white. That's why it clicked. It's like a football team. We're team players, and it's great. If [both of us doubt something], then we know it's not right. If you're searching [for] something, both of us, then we know, "Okay, let's go 100%." We're very collaborative. 
Us two, it [also] translates with the DP, Robrecht Heyvaert, who did our Belgian student films, and eventually "Bad Boys for Life" and "Ms. Marvel" and all the departments: VFX and producers and production design and music. It makes sure that it's not one vision [from] just us. It's the vision of the whole football team that makes sure that we win the World Cup.
When imagination meets reality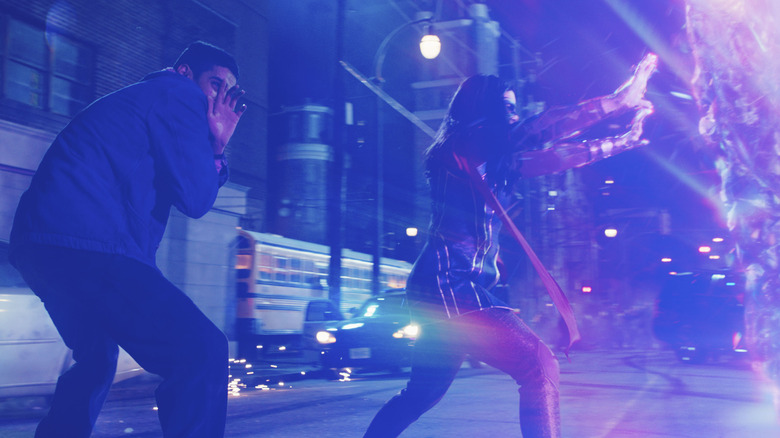 Disney+/Marvel Studios
The first episode of "Ms. Marvel" brings so much art and wonder to life, and it's a big nod to fandom as Kamala herself resides in that world. What was the process like in bringing Kamala's art to life, and why do you think it's important for fans to see themselves on screen in that way of appreciating fandom?
El Arbi: All right. You do animation. I do fandom.
Fallah: Okay. [The] animation was not really presented in the script or in the concept. We are also big fans of "Into the Spider-Verse," so we were thinking, "Imagine if we can make [a] live-action version of that?" When we worked on "Ms. Marvel," we were thinking, "How can we capture that imagination or fantasy?" We thought [that] with animation, that is a cool way to do it. "Scott Pilgrim" is also a big influence. 
We were a bit afraid that Marvel wouldn't accept it because it's totally different than all the other shows, so we did a presentation. We had a dossier, and we had YouTube videos. Like lawyers, we made our case. He [Adil El Arbi] said, "We need this because it really amplifies and tells the story of Kamala Khan going into her head." Surprisingly, Kevin Feige said, "I love it. I like it. It's very good. Don't exaggerate. Don't go overboard and [just] use it for real character and story moments." That's why this show is so distinctive. We are very humbled and honored that we could do that.
Honoring fandom in Ms. Marvel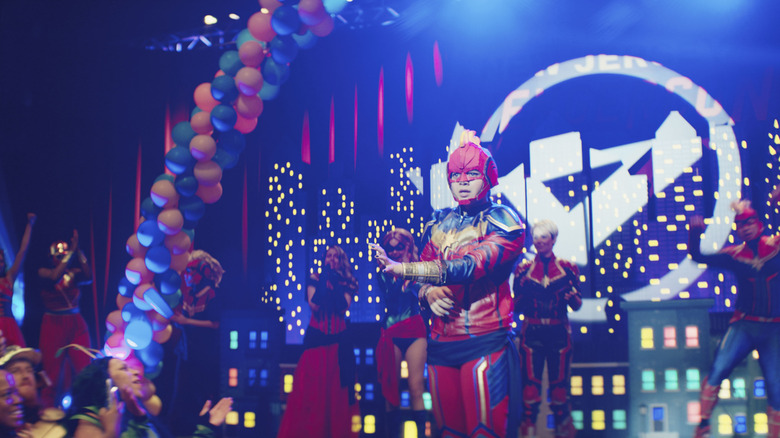 Disney+/Marvel Studios
El Arbi: About fandom — well, fandom is the most important aspect.
Fallah: Fans for life.
El Arbi: Without fandom, you don't have this successful series of movies and TV shows. Marvel, on that level — they made the superhero so big and the comic book so successful as well. This is our homage to the fandom. Kamala Khan, Ms. Marvel, is a fan the same way that Iman Vellani is a fan. "Iron Man" is her favorite movie. We hope when [fans] watch the show they see, in AvengerCon especially, that this is an homage and a love letter to them and a big thank you. Without them, all of this, we all would be nowhere. Also, [it] shows that anybody can be a superhero — the biggest fan can be part of that world.
You both directed Will Smith in "Bad Boys for Life." What were some highlights from that movie? If you could cast Will as an MCU or "Ms. Marvel" character, who would you cast him as?
El Arbi: Well, I was working with Will and Martin [Lawrence]. It was a blast, this multiverse of madness now. But Will already [played] Deadshot in DC, so what would be the equivalent of that? Mahershala [Ali] is already playing Blade. But if it was not Mahershala, Will Smith could be a pretty good Blade.
Fallah: Yes, definitely.
The first episode of "Ms. Marvel" debuts on Disney+ on June 8 with subsequent episodes airing Wednesdays.
This interview was edited for clarity.