The Epic Vader Comic Book Showdown Obi-Wan Kenobi Fans Now Want To See In Live Action
For those who've missed it, 2022 has been the Vader renaissance. Darth Vader, "Star Wars'" most fearsome — and murderous — villain has been put on full display in Disney+'s "Obi-Wan Kenobi." To sum it all up, Twitter user @Alex_M_Andrade says: "The Obi-Wan show has done such a great job making Darth Vader scary again." And now that fans realize that's the case, they have been calling for a terrifying showdown from Marvel's famed line of Vader comics to be showcased in live-action.
Published in November 2015, "Star Wars: Vader Down" was a six-issue crossover event that saw Lord Vader facing off with Rebel Alliance members all by himself, without help from any stormtroopers (via Marvel). "The core image is Vader against the entire Rebel army and fleet," writer Kieron Gillen explained in a 2015 StarWars.com interview. "It's Vader with an array of people in front of him and he's in a precarious situation," Gillen said. According to writer Jason Aaron, the main goal of the comic was to give Vader a challenge we had never seen before — in Hollywood or on the page. "You get to see Vader in a kind of situation we haven't seen him in," Aaron told StarWars.com. "Where he is cut off and surrounded...So how does Vader react to that?" This scene is one that "Obi-Wan Kenobi" fans want to see someday, and it's one that would play out epically in live-action.
'All I am surrounded by is fear. And dead men'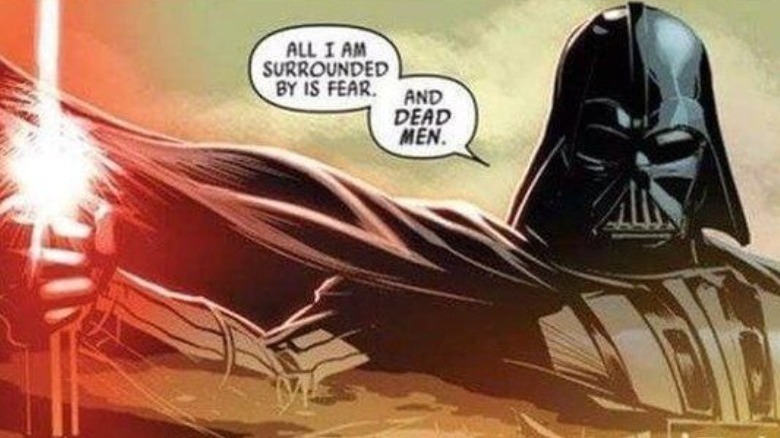 Marvel/Salvador Larroca/Mike Deodato
It's a moment in Darth Vader lore that will live in "Star Wars" comics infamy, according to fans (via Reddit). And it's easy to see why. 
"Darth Vader! Lay down your weapons! You are surrounded!" a Rebel soldier shouted at the legendary Sith Lord, sparking the iconic "Vader Down" moment. "All I am surrounded by is fear. And dead men," Vader fired back before he whipped out his lightsaber and decimated the entire Rebel fleet. For Redditors, it's a showdown that has been talked about online for years now, with many calling for it to appear in live-action. "If I hear 'All I am surrounded by is fear and dead men' in JEJ's voice I'll never ask the Star Wars gods for anything again," wrote Redditor KipHackmanFBI on June 15 in an "Obi-Wan Kenobi" discussion thread. "This is the best scene in comics I've ever read," said another user commented. in a July 2020 post, which showed the "Vader Down" panels that featured Vader's epic line. "This would rival the ["Rogue One"] hallway scene if it were ever put to film," replied another user said.
"Star Wars" fans have urged Disney to give Hayden Christensen his own standalone Vader series, which could be the perfect outlet for the "Vader Down" scene. "There are so many other stories that have been told in these other mediums, and I would love to get to continue my journey with him," Christensen told ET Canada in May 2022. For now, only time will tell.