Could Hayden Christensen Lead A Darth Vader Series?
Dave J Hogan/Getty Images
Our next trip back to the "Star Wars" universe, "Obi-Wan Kenobi," is fast approaching, and with it, some monumental moments are guaranteed to get fans excited. Ewan McGregor, reprising his role and picking up a lightsaber he hasn't swung since 2005, will be joined by his old on-screen friend turned foe, Hayden Christensen. Their comeback will require the relevant dress code, though, and while McGregor will be back in the iconic Jedi brown and beige, Christensen returns in one of the most terrifying bits of headgear in film history (and with a ventilation unit to match) as Darth Vader, formerly known as Anakin Skywalker.
It's a trip that many might never have expected, given the bitter position the prequels have for some fans. Nevertheless, the Sith who's coming back for seconds has acknowledged the wealth of possibilities to venture into when it comes to Vader and has finally chimed in on whether he'd be willing to head further down the path to the dark side.
Christensen would love to explore the world of Darth Vader after Obi-Wan Kenobi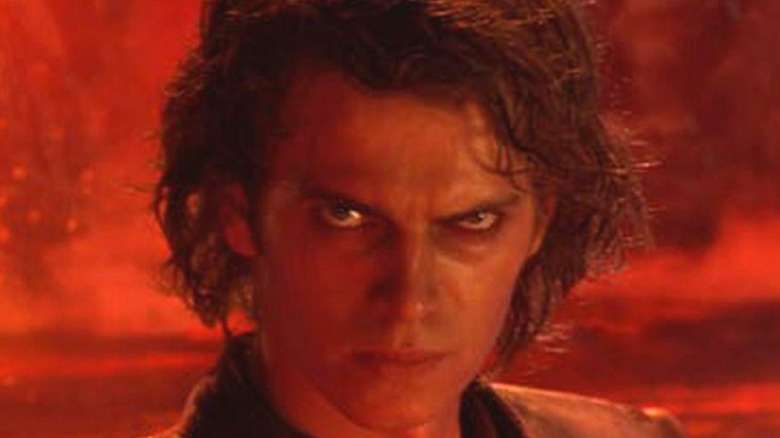 Lucasfilm/20th Century Studios
Speaking to ET Canada about the series, Hayden Christensen discussed how his terrifying alter ego is still a force to be reckoned with after all these years, saying, "I think this is a character that resonates in our culture in a very profound way, and there's certainly more there to explore." He also admitted that he'd be happy to appear in future "Star Wars" projects in the pipeline. "There are so many other stories that have been told in these other mediums, and I would love to get to continue my journey with him."
The media in question are ones that may have gone overlooked by the more casual "Star Wars" fans with the likes of comics, books, and most notably, the animated shows "Star Wars: The Clone Wars" and "Star Wars: Rebels." With regard to those two ventures into the "Star Wars" universe, the notable character with a strong connection to Anakin besides Obi-Wan is Ahsoka, who was brought to life in live action by Rosario Dawson in "The Mandalorian" and is also set to have her own spin-off series as well. With that in mind, could the most feared presence in the galaxy turn up there as well? It'd be great, kid, but don't get cocky. For now, we'll have to see how Christensen handles himself opposite his old teacher when "Obi-Wan Kenobi" arrives on Disney+ on Friday, May 27.