The Real Reason Mark Consuelos Left Riverdale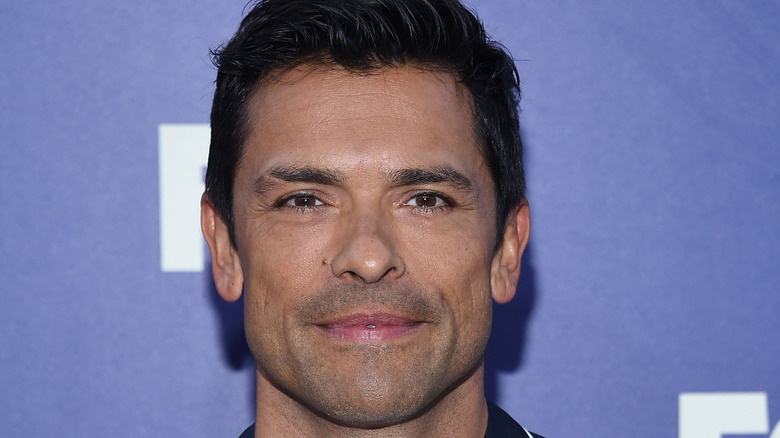 DFree/Shutterstock
For the better part of its run on The CW, "Riverdale" has arguably been one of the wildest and most deliciously stylized rides the primetime realm has ever seen. If you've watched even five minutes of "Riverdale" during its run, you know that's hard to argue. But for a certain set of viewers, the unabashedly soapy series has become a veritable departure from the cookie-cutter world of network drama.
To date, the teen drama has largely focused on the travails of Archie Andrews (KJ Apa) as he, along with a rogue's gallery of allies and enemies, comes of age (and beyond) in the titular town. Coming of age in Riverdale naturally entails dealing with criminal kingpins, serial killers, rampant high school shenanigans, creepy death cults, perpetual relationship insanity, and all manner of unforeseeable events. Youthful issues aside, parents and other adult counterparts have just as frequently driven the series' gonzo narrative. That was particularly true of one Hiram Lodge, who was maybe the biggest bad the "Riverdale" crew had ever encountered. And prior to his Season 5 exit, Mark Consuelos played the part to egomaniacal perfection.
The demise of Hiram Lodge came as a surprise to many "Riverdale" fans, and the character's absence continues to be felt as the series heads into its final season. Seems there's a pretty good reason the character is no longer in the picture, however. Here's why Mark Consuelos left "Riverdale." 
Seems the baddest of Riverdale's bad boys missed his real-life family
Hiram Lodge's reign of terror on "Riverdale" lasted about four seasons before he got his well-earned comeuppance, which actually came off-screen. The character's Season 5 exit might not have been the original plan for Hiram, though. And longtime fans might be surprised to learn Mark Consuelos may have spearheaded it.
Now, Hiram's death was arguably not only necessary on "Riverdale," but also inevitable. Still, Hiram was such a major antagonist during his tenure that the character had come to feel pretty irreplaceable. Per a Deadline report, Consuelos was also well-loved by "Riverdale" creator Roberto Aguirre-Sacasa, who bid the actor a fond farewell ahead of the Season 5 finale. If you're wondering why he left, it seems that spending months away from his family while filming in Vancouver, British Columbia (particularly during the pandemic), was just too much for the "Riverdale" bad boy to bear.
The actor had indeed been more than vocal about missing his wife, Kelly Ripa, and their family prior to leaving "Riverdale." So much so that the actor took to Instagram and shared a touching post in September of 2020 bemoaning the time apart the show's shooting schedule required. Though the "Riverdale" star has never stated as much himself, per Cosmopolitan, he seemed to confirm the extended time away from his family as the main reason he left the show. To that end, he retweeted a Decider piece that made the same claim. Whatever the reason, "Riverdale" fandom can no doubt agree Hiram's exit has left an all-but-unfillable void.