KJ Apa's Bizarre Complaint About Playing Archie Andrews On Riverdale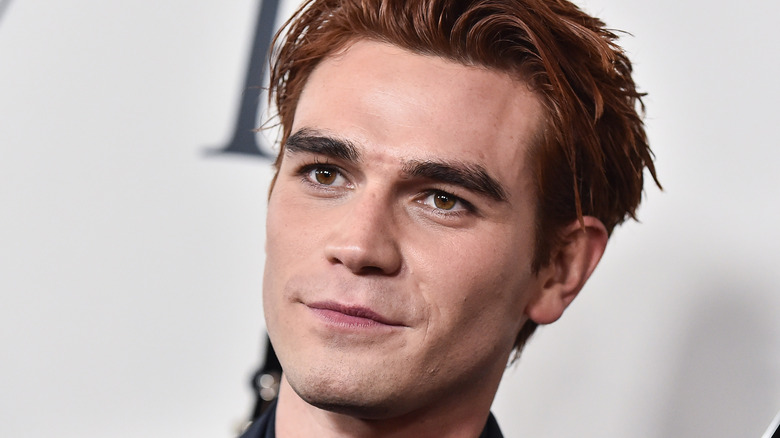 DFree/Shutterstock
If someone had told you back in 2017 that a series based on the "Archie" comics series would become one of the wildest teen melodramas The CW network had ever conjured, you probably would've laughed. And rightfully so because, well, there was really nothing in the pages of those comics to suggest such an adaptation might become a sexy romp fronting tales of murder and mayhem, crime and cults, and all manner of subversive stories in-between. But that's just what "Riverdale" became when it made its CW debut. The series also became an instant cult sensation that, now into its sixth season on the air, continues to push its narrative into the most unexpected places.
"Riverdale" has, of course, also made relative stars of its young cast, including New Zealand native KJ Apa, who was all but unknown in Hollywood circles before claiming the coveted role of Archie Andrews. While "Riverdale" made an overnight star and sex symbol of Apa for viewers of a certain age, it seems working on the show isn't always all it's cracked up to be for the actor. So much so that KJ Apa recently lodged a bizarre complaint about playing Archie on "Riverdale." 
Apa claims there are a lot of restrictions to playing Archie on Riverdale
The "Riverdale" star made those claims to actor Demi Moore in a 2020 interview for "Interview" magazine. He did so while promoting the duo's pandemic thriller "Songbird." While that Michael Bay produced film didn't quite prove a hit with critics or viewers (per Rotten Tomatoes), Apa admitted he found working on the film liberating after years of playing Archie. Apa even claimed he often feels like he's in actor's prison working on "Riverdale," stating, "I felt so free coming from a show where I feel like I'm in jail a lot of the time. There are so many restrictions on what I can and can't do."
If you've seen "Riverdale," you know the show's unabashed affinity for melodrama no doubt directly informs the style of acting required. So it's hardly a surprise there are restrictions on what an actor can and cannot do within the series' construct. And according Apa, "Songbird" indeed offered the chance to construct his own character in ways "Riverdale" rarely has, "With this character, it was like, 'Wow, this is what it's like to really express myself in a natural way.' I wasn't covered in makeup or hair products. I had long hair and a beard. I just felt free."
Restrictions aside, Apa's work on "Riverdale" has become one of the series' highlights. And he'll no doubt get the chance to stretch his acting skills further in his post-"Riverdale" career.