Why Is Netflix's Blonde Rated NC-17?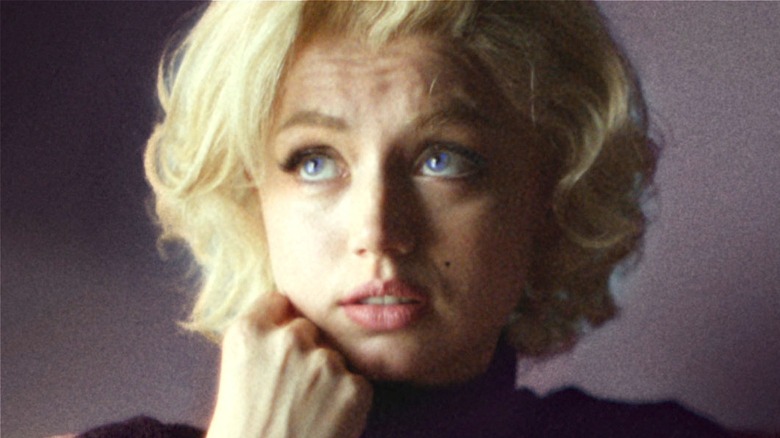 Netflix
The first teaser trailer for Netflix's "Blonde," starring Ana de Armas as iconic model and movie star Marilyn Monroe, is now available online. Its brief runtime consists largely of an exchange between Monroe and a man helping apply her makeup, in addition to a montage of iconic moments from throughout Monroe's real-life career. This limited footage spurred plenty of discussion among Monroe's fans, including numerous Twitter users who praised de Armas' take on the American icon at the heart of the film. A certain detail outside of the trailer proper, however, prompted plenty of viewers to ask one specific question: Why, exactly, is "Blonde" rated NC-17?
As it turns out, "Blonde" — which is based on the best-selling novel by Joyce Carol Oates of the same name — will be Netflix's first original film to be released with an NC-17 rating (via The Wrap). While promotion for the movie promises that it will provide a bold, fictionalized look into Monroe's public and private lives, the exact reasoning behind its adults-only rating is relatively murky. Thus far, no one involved in its making has described or showcased any particular moment or moments that might be responsible, leaving an exact answer to why it was rated so harshly unavailable.
The Motion Picture Association of America, however, cites one broad reason for the "18 and over" sticker attached to the film.
The MPAA rated Blonde NC-17 for 'some sexual content'
According to the Motion Picture Association of America, "Blonde" is rated NC-17 because it contains "some sexual content" deemed inappropriate for young viewers (via FilmRatings.com).
Although specific instances of scenes meeting this criteria have yet to be shown, director Andrew Dominik has at least hinted at just what, exactly, may have caused the film to receive its "No One 17 and Under" rating in an interview published prior to its first teaser trailer. "It's a demanding movie," he told Screen Daily in February of 2022. "If the audience doesn't like it, that's the f***ing audience's problem. It's not running for public office."
While the director largely hasn't given away any specifics about the sexual content that was flagged by the MPAA, he did confirm to Screen Daily that there is a sexual assault scene in "Blonde" pulled straight from Joyce Carol Oates' book. He also told the media outlet that the rise of the #MeToo movement ultimately helped get his adaptation made with this content intact. Domink claimed that, before the movement brought high-profile cases of sexual assault to light in the public eye, this sort of subject matter was largely taboo for big budget filmmakers. "Nobody was interested in that sort of s*** — what it's like to be an unloved girl, or what it's like to go through the Hollywood meat-grinder," he said. "[The film is] critical of American sacred cows." 
If you or anyone you know has been a victim of sexual assault, help is available. Visit the Rape, Abuse & Incest National Network website or contact RAINN's National Helpline at 1-800-656-HOPE (4673).
Blonde's NC-17 rating surprised Andrew Dominik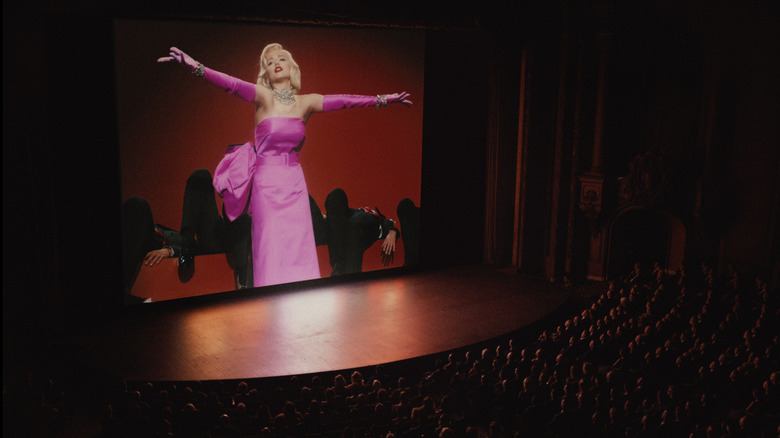 After the Motion Picture Association of America assigned "Blonde" its NC-17 rating, director Andrew Dominik discussed the film's content and his reaction to its rating with Vulture. In their interview, Dominik revealed that he was surprised when he learned that his latest film met the MPAA's NC-17 criteria. "I thought we'd colored inside the lines," he said. "It's just a weird time. It's not like depictions of happy sexuality. It's depictions of situations that are ambiguous."
Nevertheless, it appears that Dominik decided to stick with the version of the film that the MPAA found objectionable rather than edit a new cut to meet their criteria for an R rating. "I think if I'm given the choice, I'd rather go and see the NC-17 version of the Marilyn Monroe story. Because we know that her life was on the edge, clearly, from the way it ended. Do you want to see the warts-and-all version or do you want to see that sanitized version?" he told Vulture.
For what it's worth, none other than Joyce Carol Oates, who wrote the book on which the film is based, tweeted praise for an early cut she saw of "Blonde." In addition to reviewing the film positively, she described it as both disturbing and feminist to an extent that she found unprecedented for a male director.
Netflix subscribers can find out for themselves just what about "Blonde" seems to be pushing so many boundaries when the film become available to stream on September 23, 2022.