Yasmeen Fletcher Discusses The Importance Of Her Feminist Arc In Ms. Marvel - Exclusive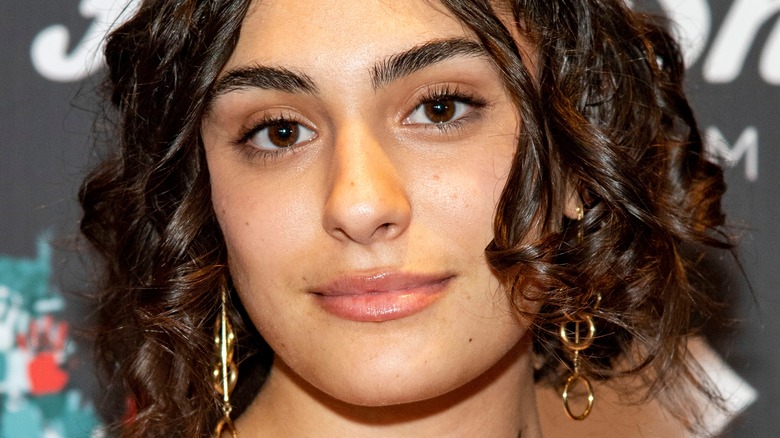 Eugene Powers/Shutterstock
"Ms. Marvel" is the MCU teen show fans have been waiting for. It has a perfect blend of teenage angst and rebellion, awkward romance, and most importantly, it fosters cultural awareness with phenomenal Muslim representation mixed with a dash of feminism. Basically, the series is everything fans expected Kamala Khan (Iman Vellani) to bring to the table. Although the show is aimed at a younger audience, it's absolutely a show adults will enjoy. The family banter alone is top-notch. 
And what's a superhero with her friends? Vellani is joined by Yasmeen Fletcher (Nakia), Rish Shah (Kamran), and Matt Lintz (Bruno). The show wouldn't be the same with all of the pieces of the "Ms. Marvel" puzzle.
During an exclusive interview with Looper, Yasmeen Fletcher discussed her empowering teenage feminist arc in "Ms. Marvel." Meanwhile, Rish Shah shared why it's important for Muslim teenagers to see themselves positively represented on screen — written and portrayed by people in the Muslim community. 
High school feminism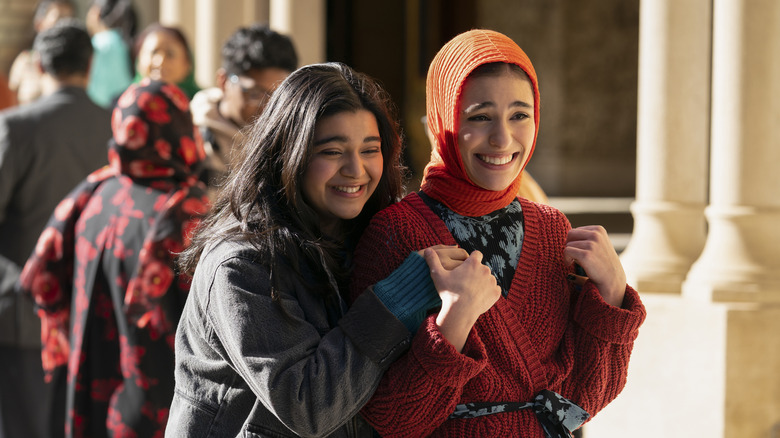 Disney+/Marvel Studios
On why it's so important for young women to get involved in creating change while they're still in high school, Fletcher said, "The big Marvel thing is that we really can't say much of anything, but I will say that it's so important for young girls to look up to a character that's strong and sure of herself and isn't afraid to use her voice for good." She added, "As young women, you're taught to compose yourself and be silent and lock yourself into this very small box that everybody else forms [for] you."
More and more, we're beginning to see women ditch the status quo onscreen, which is especially empowering for young audiences. "Nakia is so aware of that box and does not care that it exists at all," Fletcher explained. "And that's lovely because we are naturally taught to just be small and quiet, and Nakia is so vocal and opinionated and isn't afraid to speak up for what she truly believes in and doesn't care who's listening. And really, I want to see that — and I'm already seeing more and more of that in the younger generation."
Showing what high school really looks like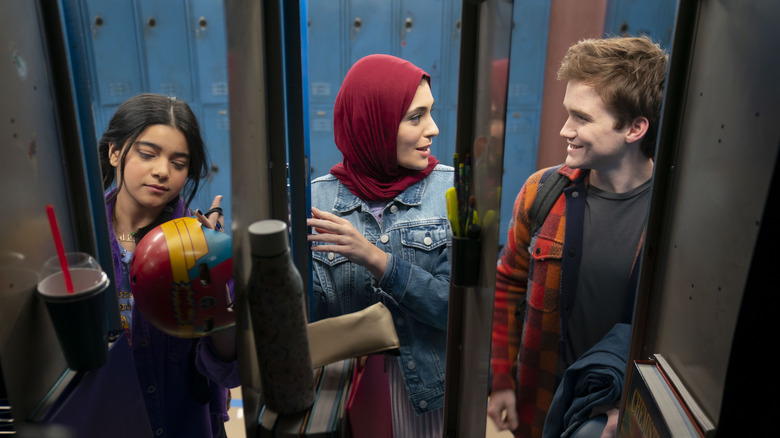 Disney+/Marvel Studios
There aren't too many high school-oriented MCU shows or movies, but "Ms. Marvel" is opening up a ton of doors for more shows like it in the future. Discussing what makes "Ms. Marvel" so special, and why it's important for high schoolers and the Muslim community to see their story play out on screen, Rish Shah said, "It's exactly that. The fact that it is a high school story, and it's a coming of age story about this girl who's navigating newfound powers, but also dealing with really relatable issues such as her family and her religion and boys and everything that most people have had to deal with." He added, "It's [a] universal story, really. It just so happens to be that interwoven into that experience is her culture. I think that people will fall in love with her." 
New episodes of "Ms. Marvel" stream Wednesdays on Disney+.