Christopher Herrmann's Worst Storyline On Chicago Fire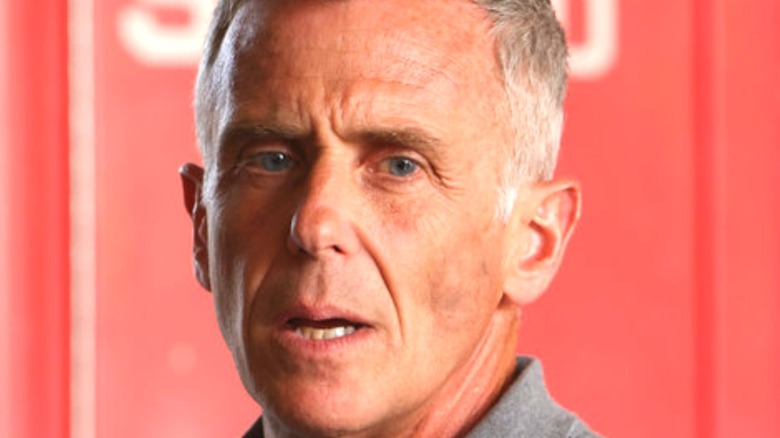 Adrian S. Burrows Sr./NBC
As a regular on NBC's first-responder hit "Chicago Fire" since the series' pilot back in 2012, David Eigenberg's veteran firefighter Christopher Herrmann has survived enough blazes and saved enough victims to easily become one of the best-known, best-loved characters on the show (via IMDb). Also a "serial entrepreneur" willing to give any even remotely promising business proposition a try, he has also managed to ensconce himself as co-owner of Molly's Bar, the favorite off-duty hangout for his Firehouse 51 buds.
As a long-time firefighter and company officer for the second shift of the firehouse's Engine 51, fans are used to seeing Herrmann respond to fires and other emergency calls alongside colleagues including Deputy District Chief Wallace Boden (Eamonn Walker), Rescue Truck 3 leader Kelly Severide (Taylor Kinney), firefighter Randy "Mouch" McHolland (Christian Stolte), former captain Matt Casey (Jesse Spencer) and others. As such, Herrmann is, naturally, a central player in many of the series' longer and more involved storylines. But as is true with any show enduring for 10 seasons and counting, not every narrative arc of "Chicago Fire" is a winner with fans – including one particular storyline they've called out as Herrmann's worst.
Herrmann getting overlooked in Season 6 Episode 1 really grinds fans' gears
As Season 5 of "Chicago Fire" concludes, a number of squad members are still trapped inside a ferociously burning building. With no feasible way to stage a rescue, chief Boden calls for the water cannons to be fired –- which can literally boil those inside alive. As Season 6 opens, Herrmann risks his life during the fire to save Mouch's life, while Casey does the same for another victim. Several months later, however, Casey receives an Award of Valor, while Herrmann gets, well, nothing. Fans were quick to notice.
Posting on a discussion on the show's subreddit titled "Season 6 Episode 1 – Herman [sic] should have got the bravery award.," user u/Lynn4562756 complained that while Casey does show courage, Herrmann could have saved himself but rescued Mouch instead: "Herman [sic] on the other hand refused to leave the fire when he could have... That is true bravery!" they wrote. Redditor u/maryellen2018 agreed that Herrmann is being overlooked vis a vis winning a medal, saying, "I felt he [Herrmann] should've gotten a nod too..." Another poster, u/Not floridaman, agrees that the character's storyline is deficient in this regard and also notes that Herrmann is badly burned in the fire but this is never addressed by the scriptwriters in follow-up episodes, concluding that overall: "S6ep1 just felt very lazy to me."