The Chicago Fire Star You Didn't Know Is A Former Marine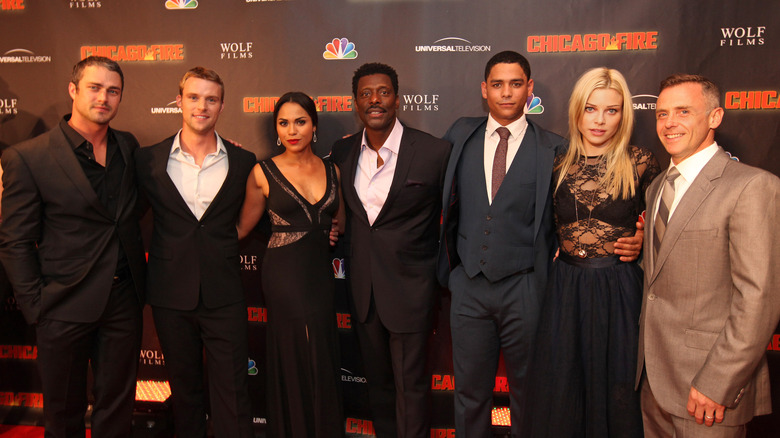 Barry Brecheisen/Getty Images
Now in its 10th season, NBC's "Chicago Fire" has established itself as the longest-running series in the "One Chicago" universe, which also includes both "Chicago P.D." and "Chicago Med." Produced by Dick Wolf of the "Law & Order" franchise, "Chicago Fire" chronicles both the personal and professional lives of a group of first responders at Chicago's fictional Firehouse 51. According to Deadline, "Chicago Fire" has already been renewed for an 11th season and is guaranteed to grace our screens until at least 2023. Its popularity is owed in large part to the chemistry between its recurring cast members, who act the part of a tight-knit work family on-screen, and the authenticity of its set. 
"Chicago Fire" is dedicated to ensuring that its portrayal of firefighters is as realistic as possible, from employing an ex-firefighter as the show's technical advisor (via The A.V. Club), to setting controlled fires instead of using CGI. "All the tools are real and that's largely down to (executive producer) Dick Wolf; he made sure we had everything possible to make it real – the tools, the trucks, the gear, all of the people in the background are real firefighters," revealed Charlie Barnett, who plays firefighter Peter Mills, in a 2013 interview with Independent. 
One series regular in particular brings realism to his role via his real-life military experience, which he credits for helping him to respectfully pay homage to the firefighting profession.
David Eigenberg is a former Marine
One of the most beloved characters in "Chicago Fire" is Lieutenant Christopher Herrmann, a doting father of five portrayed by David Eigenberg. Herrmann's fatherly role extends to Firehouse 51, where he frequently mentors its greener employees alongside other veteran firefighters Deputy District Chief Wallace Boden (Eamonn Walker) and Randy "Mouch" McHolland (Christian Stolte). In Herrmann's own words, "It's my job as an old firefighter to teach the young firefighters how to become old ones" (via Fandom).
Eigenberg joined "Chicago Fire" in its first season and has remained a main cast member since 2012. But long before he started serving the Windy City as a fictional firefighter, he devoted many of his early years to another branch of service — the Marines (via USO). Though no longer enlisted, Eigenberg still has active ties to his past life. He has partnered several times with the United Service Organization (USO), a charity that provides live entertainment, social connection, and other resources to the United States Armed Forces.
He also met his wife, another ex-service member, through involvement in the USO following the events of 9/11, and while on a 2019 USO tour of the Naval Station Great Lakes in Illinois, he reportedly went out of his way to offer a special "thank you" to the fire department (via the USO website). "They [firefighters] understand that you understand service," said Eigenberg, who, along with the other actors on "Chicago Fire," routinely consults with real firefighters on set to ensure that his characterization is sensitive and true to life.