What The Cast Of Liar Liar Looks Like Now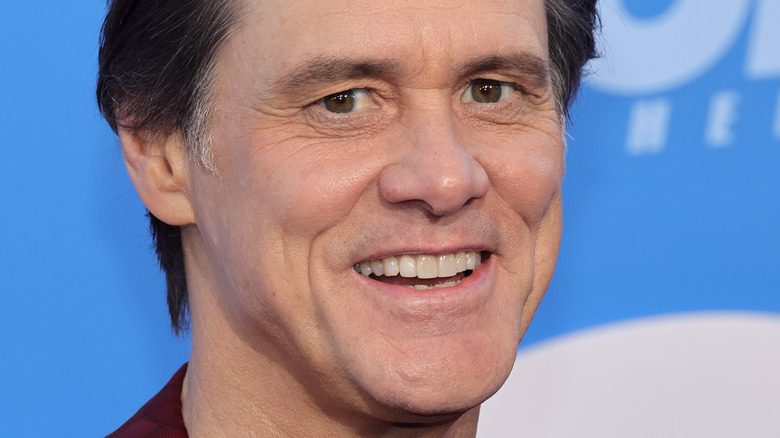 Kevin Winter/Getty Images
One of the biggest comedic stars of the 1990s, Jim Carrey has come back in a big way to play the notoriously mad villain Dr. Robotnik in "Sonic the Hedgehog 2." With a current worldwide gross of $392 million, the sequel based on the classic video game seems to have broken the trend of terrible game-to-film adaptations over the decades. Not only that, but it has brought Carrey back into the spotlight as the madcap funnyman that Gen Xers and millennials have come to know and love.
As Carrey is introduced to a new generation of movie fans, audiences may begin revisiting some of the actor's classic roles. Thanks to streaming, more and more viewers have the opportunity to watch Carrey in his prime. One of his more family-friendly movies, "Liar Liar," is getting a second life 25 years after its original release.
Carrey plays Fletcher Reede, a corrupt lawyer who finds himself compelled to tell the truth, the whole truth, and nothing but the truth when his young son, Max (Justin Cooper), makes a wish that his dad can't lie for one day. The result is a hilarious series of misadventures and a heartwarming tale of redemption as Fletcher struggles to get his life — and his compulsive truth-telling — back under control. Along with Carrey, the film featured a memorable cast of actors, some of whom have shied away from the spotlight over the years. If you're wondering where those actors ended up, and what they look like now, this article is for you.
Krista Allen as Lady in Elevator
After spending the night with his boss, Fletcher (Carrey) blows his chance at a promotion by being too honest during pillow talk, surprising even himself with his bluntness. One of the first encounters he has following the disappointing one-night stand is with a lovely new neighbor in Fletcher's apartment building. As the two engage in small talk in the elevator, Fletcher makes the mistake of making inappropriate comments about the woman's appearance, landing him a well-deserved smack that happens off-camera.
Playing the offended woman in "Liar Liar" is Krista Allen in her first movie role. Beginning her career in television, Allen had a prominent part as Billie Reed in the daytime soap, "Days of Our Lives," which she played from 1996 to 1999. Allen went on to appear in numerous guest spots through the '90s and 2000s, including on popular series such as "The X-Files," "CSI: Crime Scene Investigation," "Baywatch," and "Friends," along with many others. In 2003, she returned to the world of soap opera as Dr. Taylor Hayes in "The Bold and the Beautiful," which she continues to portray to this day.
Marianne Muellerleile as Ms. Berry
The opening scene in "Liar Liar" takes place in Max's (Cooper) classroom, where he and his fellow students are learning about the workforce. Max shares with the class that his father is a "liar," which causes a bit of confusion. His teacher, Ms. Berry, upon asking him to explain further, deduces that Max's dad is a lawyer — though "liar" isn't too far off.
While she only appears in a few scenes, Ms. Berry gives the impression of a caring and attentive educator of young minds. She is played by Marianne Muellerleile, who began acting in the early 1970s. Muellerleile has been a supporting actor in over 230 films and TV shows, including familiar film titles such as "Jingle All the Way," "Executive Decision," and "The Terminator." She's also had a plethora of TV appearances, such as "Family Ties," "Married...with Children," "Sister, Sister," "3rd Rock From the Sun," "The Suite Life of Zack and Cody," "How I Met Your Mother," and many, many more.
Muellerleile most recently appeared in the 2021 romcom "Queen Bees," which stars celebrated film veterans Ellen Burstyn, Ann-Margaret, Loretta Devine, and Jane Curtin. She is very active on her Instagram, where she describes herself as a "wife, actor, volunteer, travel enthusiast. Person of faith. Lover of Life!"
Cheri Oteri as Jane the receptionist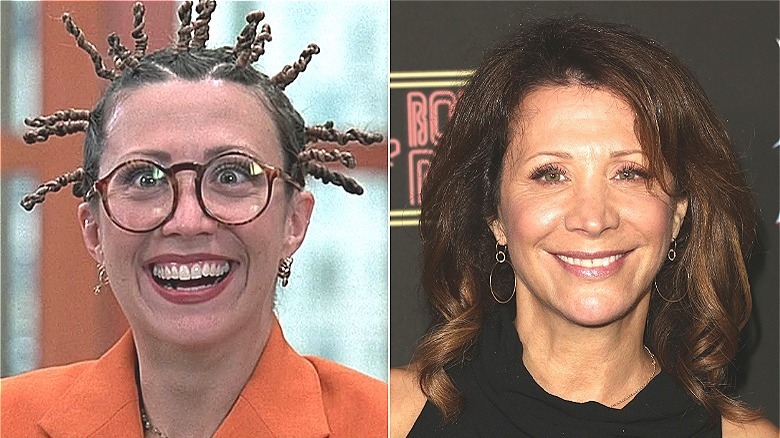 Universal Pictures/Paul Archuleta/Getty
One character in "Liar Liar" is nearly unrecognizable from their actor counterpart — so much so that some may have failed to identify "Saturday Night Live" alumnus Cheri Oteri at all. It's hard to blame them, since Oteri sports a porcupine-like hairstyle of tight braids all over her cranium while playing Jane, a receptionist at Fletcher's law firm. When Jane first asks Fletcher's opinion of her new 'do, he has to choke back his response so as not to insult her.
Cheri Oteri got her big break on "SNL" as a cast member from 1995 to 2000. One of her most memorable characters was Arianna, the enthusiastic cheerleader who appeared in the recurring Spartan Cheerleader sketches alongside fellow comedian Will Ferrell. She was also known for impersonating famed TV journalist Barbara Walters on the sketch show.
Though "Liar Liar" was Oteri's first feature film, she went on to do several others, including "Austin Powers: International Man of Mystery," "Inspector Gadget," and "Scary Movie." More recently, Oteri has taken on voice-acting, performing in "Big City Greens," "The Boss Baby: Back in Business," and "Scooby-Doo, Where Are You Now!"
Amanda Donohoe as Miranda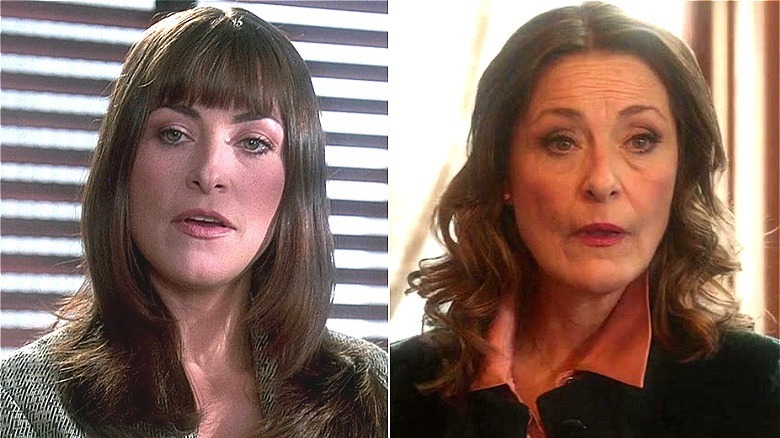 Universal Pictures/Netflix
While "Liar Liar" doesn't have a villain per se, Fletcher's boss Miranda comes pretty close. The predatory partner at the law firm singles Fletcher out for his uncanny ability to bend the truth. She even promises him a big promotion if he can win the case of a wealthy client, Samantha Cole (Jennifer Tilly). However, when Fletcher insults Miranda following a post-coital sucking-up session, she makes it her personal mission to sabotage Fletcher's career.
Miranda is played by English actor Amanda Donohoe, who broke into American films and TV in the early 1990s. Her big break came with her role in "L.A. Law" as C.J. Lamb, for which she won a Golden Globe Award in 1992. She followed up her role in "Liar Liar" with a series of British films, such as "Circus," "Wild About Harry," and "The Calling," as well as a TV appearance in "Ally McBeal." Fans of Netflix's library of original romance films may remember her as Bianca Pembroke in "The Princess Switch 3: Romancing the Star."
Jennifer Tilly as Samantha Cole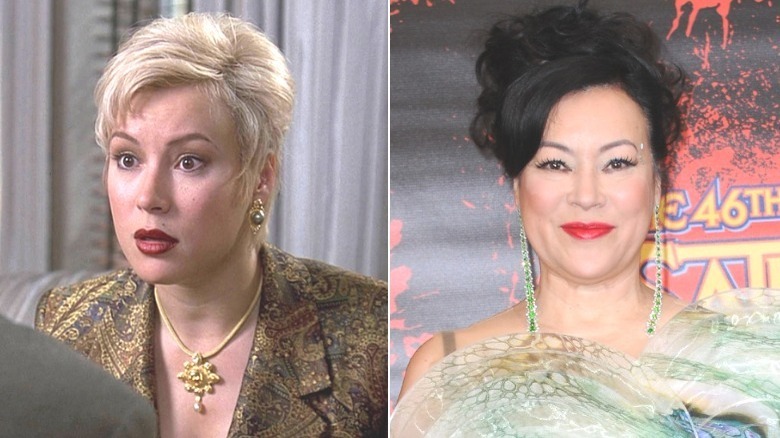 Universal Pictures/Albert L. Ortega/Getty
Fletcher's big case in "Liar Liar" has him representing Mrs. Samantha Cole, played by Jennifer Tilly. A wealthy socialite, Samantha is in violation of the prenuptial agreement for infidelity against her ex-husband, and stands to lose everything. Being the slick attorney that he is, Fletcher comes up with a false story that is sure to get Samantha her share of the marriage assets, and Samantha is more than willing to go along with the scheme. However, when Fletcher inexplicably loses his ability to lie, his case gets a lot more complicated, much to the detriment of Samantha.
Jennifer Tilly's career began in the 1980s with appearances in both film and television. Her role in the 1994 dark comedy, "Bullets Over Broadway," earned her an Academy Award nomination, and she gave an acclaimed performance in the noir thriller "Bound" in 1996. After "Liar Liar," Tilly found horror icon status as Tiffany in "Bride of Chucky," playing the psychotic romantic partner of the notorious killer doll. She reprised the role in future films of the franchise, and also in the "Chucky" TV series on Syfy. In the 2000s, Tilly also gained notoriety as a professional poker player, and has won over $1 million from live earnings. 
Eric Pierpoint as Richard Cole
On the opposite side of the courtroom aisle is Richard Cole, Samantha's (Jennifer Tilly) ex-husband. Richard hopes to settle things with his ex and avoid a lengthy court battle, but Fletcher and his team have no intention of ending things quickly. Though he has only a few lines in "Liar Liar," the audience can relate to Richard's befuddled reactions to Fletcher's bizarre behavior during the proceedings.
In the end, Fletcher wins his client's suit by allowing the truth to work for him rather than against him. However, his victory is short-lived when he learns that Samantha will not be satisfied with 50% of Richard's assets, and now wants to seek full custody of their children. It's a heartbreaking moment as Richard embraces his kids before they are unceremoniously dragged out of the courtroom by their mother, and Fletcher realizes the error of his ways.
Eric Pierpoint plays Richard Cole, who has made his living as a supporting actor since the early 1980s. Pierpoint has appeared in several well-known TV series over the decades, including "Hill Street Blues," "Fame," "Parks and Recreation," and the many iterations of the "Star Trek" franchise. He's also had small roles in the films "Holes" and "Transformers: Revenge of the Fallen," and will co-star in the upcoming film "I Am Gitmo," written and directed by Phillipe Diaz.
Swoosie Kurtz as Dana Appleton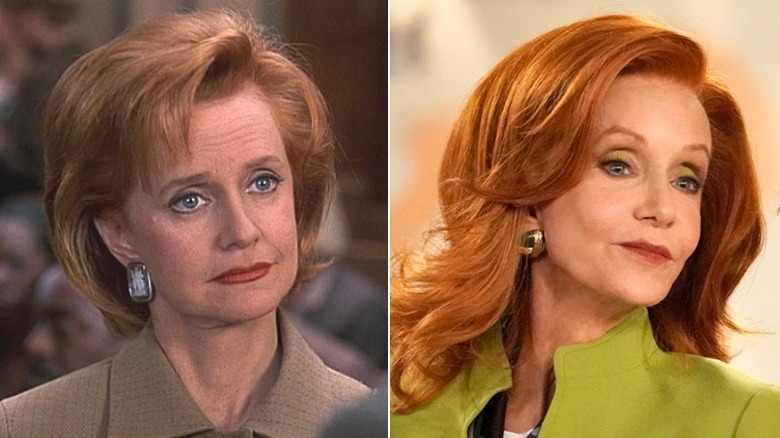 Universal Pictures/Fox
Swoosie Kurtz plays attorney Dana Appleton in "Liar Liar," Fletcher's courtroom nemesis and representative for Richard Cole (Eric Pierpoint). With the overwhelming evidence of Mrs. Cole's adultery, Dana believes the case to be open and shut. Yet she is shocked and bewildered by Fletcher's numerous breakdowns in the courtroom, including his hostility toward his own witness, Kenneth Falk (Christopher "Chip" Mayer). Unfortunately for Dana and her client, Fletcher discovers a loophole that renders the Coles' prenuptial agreement null and void.
Star of both stage and screen, Kurtz has had a long and lucrative acting career that goes back to the 1950s. Her talents have earned her an Emmy, a Tony, and a Drama Desk Award. Some of her most notable film credits after "Liar Liar" include "Cruel Intentions" and "Bubble Boy," and she has made appearances in TV series "Law and Order: SVU," "Heroes," and a cult favorite, "Pushing Daisies." Her most recent role has her co-starring with Mayim Bialik in the sitcom "Call Me Kat," which was recently renewed for a third season by Fox (per Variety).
Cary Elwes as Jerry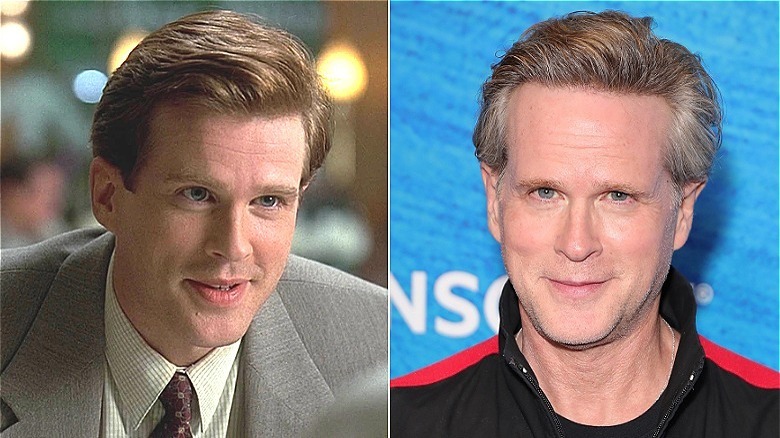 Universal Pictures/Leon Bennett/Getty
Much to Fletcher's chagrin, his ex-wife, Audrey (Maura Tierney), is dating a man who is his complete opposite — which, as Audrey points out, is kind of the point. Where Fletcher is dishonest, selfish, and corrupt, Jerry is thoughtful, kind, and attentive. Okay, he might be a bit vanilla. Yet Fletcher's constant excuses and absence from Max's life serve to make Jerry look like the perfect candidate to replace him as a husband and father. Though he may not win out in the end, viewers can't help but feel a bit of affection for this all-around nice guy.
Playing Jerry is Cary Elwes, best known for his role as Westley in the romantic comedy "The Princess Bride." Elwes has continued to have a large presence in film and television over the years. In the early 2000s, he gave a compelling performance as Dr. Gordon in the horror film "Saw," a role which he reprised in "Saw: The Final Chapter" in 2010. More recently, he had a prominent role as Mayor Larry Kline in Season 3 of "Stranger Things," and a guest role spanning four episodes in the third season of "The Marvelous Mrs. Maisel." 
Maura Tierney as Audrey Reede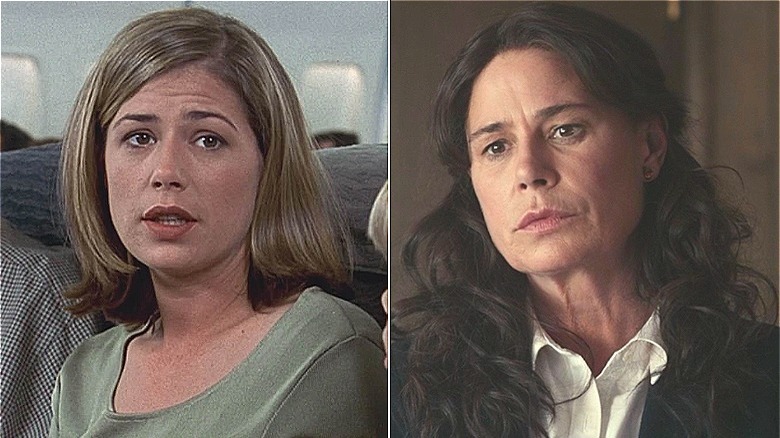 Universal Pictures/Showtime
It's made clear from the beginning of "Liar Liar" that Fletcher Reede has a history of not telling the truth. One of the victims of his habitual deceit is his ex-wife, Audrey, who has serious trust issues when it comes to her former husband. Though she is fed up with Fletcher's constant excuses, she can't deny the bond between him and Max. Yet when Fletcher breaks Max's heart one too many times, Audrey has to make a tough choice — either allow Max's dad to continue to disappoint them or cut him out of their lives for good.
Maura Tierney plays Audrey in the film. Tierney has had varied success throughout her career, following up her role in "Liar Liar" with appearances in films such as "Primary Colors," "Insomnia," and "Baby Mama." Her work in television has produced perhaps more lucrative results. In 1995, she was cast as Lisa Miller in "NewsRadio," the NBC sitcom starring "Kids in the Hall" member Dave Foley and late "SNL" comedian and actor Phil Hartman. When the series ended in 1999, Tierney joined the cast of the medical drama "ER," playing Dr. Abby Lockhart. Her other TV credits include "Rescue Me," "The Good Wife," and "The Affair." In 2021, she co-starred in the Showtime drama "American Rust" with Jeff Daniels, which was canceled after just one season (per The Wrap).
Justin Cooper as Max Reede
Though Fletcher may have sabotaged his relationship with his ex, the bond between him and his son, Max, is undeniable. The precocious five-year-old clearly loves his dad, and the two of them have a fun time together — when Fletcher shows up, that is. Even Max knows that his father has an issue with lying, which inspires him to make a unique birthday wish. Little does he know that it will actually come true.
Max is played by Justin Cooper, who was nine years old when he played Jim Carrey's son in "Liar Liar," his first feature film. His career began with a guest role on "Full House" in 1993, and the child actor went on to appear in other series such as "ER," "General Hospital," and "Boy Meets World." 
Cooper continued acting for six more years following "Liar Liar," performing his final role in the courtroom drama series, "The Practice," in 2003. Since then, Cooper has moved from acting into sports journalism. In 2014, Cooper joined the Fox Sports Radio talk show, "The Ben Maller Show," and would go on to become an executive producer for the series as well (via Twitter). 
Jim Carrey as Fletcher Reede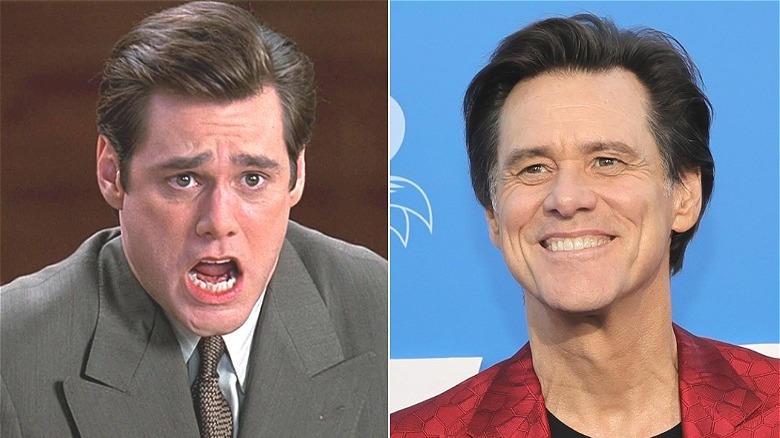 Universal Pictures/Kevin Winter/Getty
Following the blockbuster success of films like "Ace Ventura: Pet Detective," "Dumb and Dumber," and "The Mask," Jim Carrey was in high demand in the mid-'90s. Carrey was famed for his trademark physical humor — which, while panned by some highbrow critics, made him a comedic idol to the majority of general audiences. In 1996, Carrey teamed up with "Ace Ventura" director Tom Shadyac and producer Brian Grazer to film the family-oriented fantasy comedy "Liar Liar."
Jim Carrey's star status continued to burn brightly following the commercial and critical success of "Liar Liar." Though he still maintained his on-brand sense of humor, the actor began to branch off into other avenues as well, taking on more dramatic projects. Films such as "Man on the Moon," "Eternal Sunshine of the Spotless Mind," and "The Number 23" proved that Carrey's acting ability could go beyond making funny faces.
Though he might not be kicking out one blockbuster gem after the other these days, Carrey is still an ever-present force in the entertainment industry. His over-the-top portrayal of the villain in the "Sonic the Hedgehog" films has introduced his unique brand of comedy to a whole new generation of audiences. Carrey also starred in the acclaimed Showtime series "Kidding" from 2018 to 2020, and he has recently collaborated with R&B star The Weeknd, appearing in the music video for "Out of Time."