Netflix's Real-Life Squid Game Competition Reveals Its Eye-Popping Cash Prize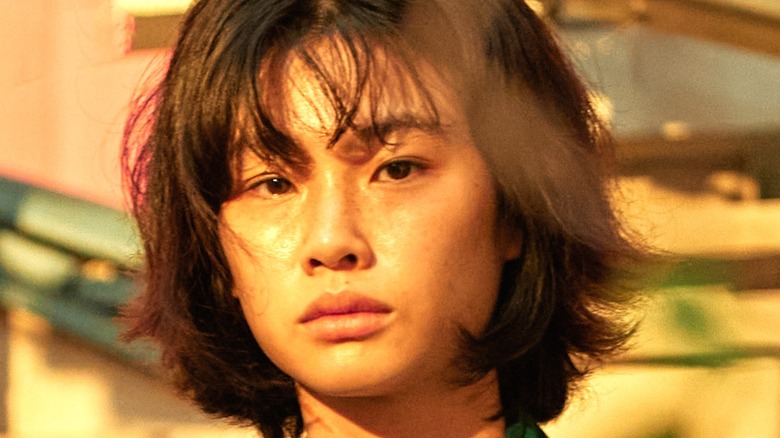 Noh Juhan/Netflix
It's no secret that Korean drama "Squid Game" was a huge hit for Netflix. In fact, viewership data from November 2021 revealed that, not only was "Squid Game" streamed more in its first 28 days of availability than any other show in Netflix history, but the total amount of time subscribers spent watching "Squid Game" during that amount of time was more than double that of the second-place series on the list.
A major contributor to what makes the drama in "Squid Game" so compelling is the cash prize awarded to the winner of the fictional game at its core. Each principal character in "Squid Game" is shown to be at a point in life where a huge injection of cash would solve a major personal problem, hence their unfortunate desperation to put their lives on the line for financial gain.
When the series was still well in the cultural zeitgeist, the Korean Cultural Center in Abu Dhabi hosted a real-life competition inspired by "Squid Game" lacking any sorts of financial incentive, instead simply offering contestants the ability to compete in a simulacrum of Netflix's mega-hit. Despite the deadly games in "Squid Game" pretty clearly amounting to a net evil, they received more than 300 applicants.
Now, Netflix is set to air a reality competition series inspired by "Squid Game," and unlike the purely recreational contest in Abu Dhabi, this time winners will receive a substantial cash prize.
The winner of Netflix's Squid Game: The Challenge will receive more than $4 million
On June 14, Variety reported that Netflix is set to release a reality competition series titled "Squid Game: The Challenge," inspired by the deadly games in which the protagonists of "Squid Game" are compelled to compete. Just like in its predecessor, "Squid Game: The Challenge" will start by pitting a total of 456 players against one another.
"Fans of the drama series are in for a fascinating and unpredictable journey as our 456 real world contestants navigate the biggest competition series ever, full of tension and twists, with the biggest-ever cash prize at the end," said Netflix's VP of unscripted and documentary series Brandon Riegg.
Whereas in the original "Squid Game," contestants competed for just under $40 million, the upcoming "Squid Game: The Challenge" boasts a still-impressive and near-unprecedented $4.56 million prize. Although the series' announcement doesn't explicitly state whether this is a pool shared among multiple winners or awarded to a single winner, Variety does claim that each player is competing for a chance to win this total, suggesting that one first-place winner will indeed receive upwards of $4 million.
Netflix has yet to announce a release date for "Squid Game: The Challenge," and is currently in the process of accepting applications to join its expansive cast of competitors.