The R-Rated Movie You Likely Forgot Starred Hilary Duff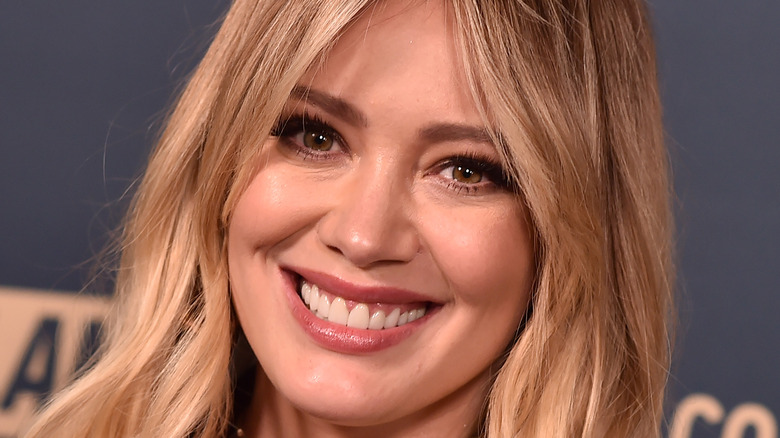 DFree/Shutterstock
After her iconic Disney Channel series "Lizzie McGuire" ended in 2004, actress and musician Hilary Duff stayed busy. She appeared in teen-friendly films "A Cinderella Story" and "The Perfect Man," both of which were sleeper hits (via The Numbers). But her music career eventually stalled, and the movies she made after 2005 weren't exactly well-received by critics or the public. In an interview with Harper's Bazaar, Duff acknowledged having trouble separating herself, and the public's image of her, from Lizzie McGuire. She explained, "The pressure of being her was a lot at 18, when I was very much forming a different version of myself, than at 14."
Things picked up for the young star when she was cast on the critically acclaimed TV Land dramedy "Younger" as Kelsey Peters. The show became a cult success and ended up running for seven seasons, releasing the last episodes in 2021. 
While a planned "Lizzie McGuire" reboot was canceled in 2020, Duff now stars as Sophie, the lead of the spinoff series "How I Met Your Father," which is streaming on Hulu. Ultimately the actress has the luxury of a strong fanbase who've been following her for two decades now. However, even the biggest Duff fans might not know about the R-rated comedy she starred in.
Duff appeared in dark comedy What Goes Up
In the late 2000s, Duff made several independent movies, such as "War, Inc." and "Bloodworth," where she was often still playing teens or young college students, but the characters were placed in more adult and sexual situations. One of these films was 2009's "What Goes Up."
Set in January 1986, shortly before the tragic Challenger explosion, this Jonathan Glatzer comedy stars Steve Coogan as Campbell Babbitt, a reporter who visits New Hampshire on assignment to cover an astronaut. He tries to see an old friend there, who is now a teacher, but discovers that he's killed himself. The ethically dubious reporter contacts his troubled students, inadvertently bonding with the group even as he tries to write an article about them. Duff plays Lucy, one of the teacher's students who enjoys flirting with Babbitt and may have slept with his friend.
"What Goes Up" had several other talented young actors, including Olivia Thirlby and Josh Peck, but received a limited release and negative reviews, earning 16% on Rotten Tomatoes. Hopefully, Duff knows The Hollywood Reporter praised the film's cast at the time, declaring, "It's just a shame their Herculean efforts aren't in service of a better movie."
If you or anyone you know is having suicidal thoughts, please call the National Suicide Prevention Lifeline​ at​ 1-800-273-TALK (8255)​.