The Worst Fire In Chicago Fire Season 3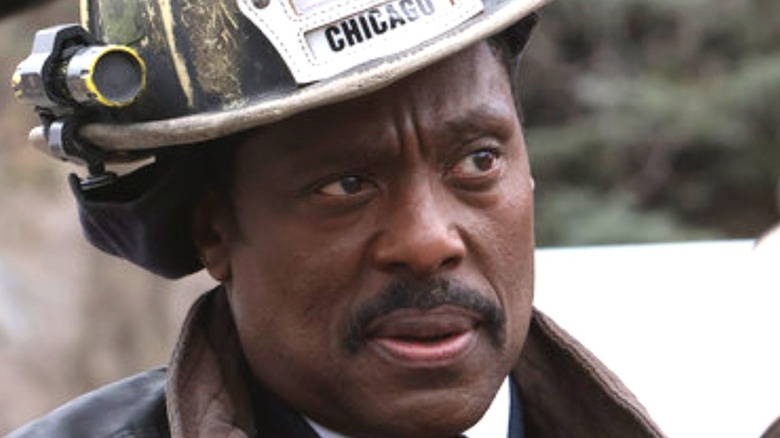 Adrian S. Burrows Sr./NBC
As "Chicago Fire" invites viewers to ride shotgun with the Windy City's first responders as they risk their lives to save others on a weekly basis, the NBC hit series also drops its heroic characters into every imaginable variety of disaster, rescue, and emergency call. In this regard, Season 3 of the show clearly lives up to its rep with fans, as the Firehouse 51 squad of firefighters and paramedics deals with life-threatening house fires and other structure blazes, executes dicey rescues of vehicular accident victims, and even contends with the fallout from the collision of Fire Departments Trucks 81 and 66.
While all of the above and similar events can figure into the series' action-jammed episodes, one particular form of high-risk situation holds the most peril for those who answer the call: fires involving potential explosion hazards and collapsing buildings. With that in mind, what would have to be considered the worst fire among all the emergencies the team confronts in Season 3?
The blaze in the Always episode of Chicago Fire Season 3 is devastating to the team
As it turns out, the fire that tops the list for most harrowing in the 3rd season of "Chicago Fire" actually starts in the final episode of the second season and burns on into Season 3, with lethal results for the squad. As "Always," the premiere episode of the show's 3rd season opens, numerous members of the Firehouse 51 team are seen amid the burning rubble of the warehouse that exploded and went up in flame in the last season's final outing. With the fire very much alive and the danger of further collapse imminent, the squad races to find surviving members amid the chaos. Finally, firefighter Peter Mills (Charlie Barnett) is located with a broken leg. But when Leslie Shay (Lauren German) is pulled from the debris, her serious head injury results in her being pronounced dead, a horrific loss with repercussions that will echo on through future episodes of the season.
As noted, other events befalling the team in Season 3 clearly place favorite characters in jeopardy or take an emotional toll on those involved, including the tragic, delayed death of an infant after a rescue in Episode 18. But the serious injury of Mills and the shocking death of fan-favorite Leslie Shay in the blaze as Season 3 begins marks the worst possible fire for the team members of "Chicago Fire."