Ms. Marvel Writer Has A Very Meta Plan For Paul Rudd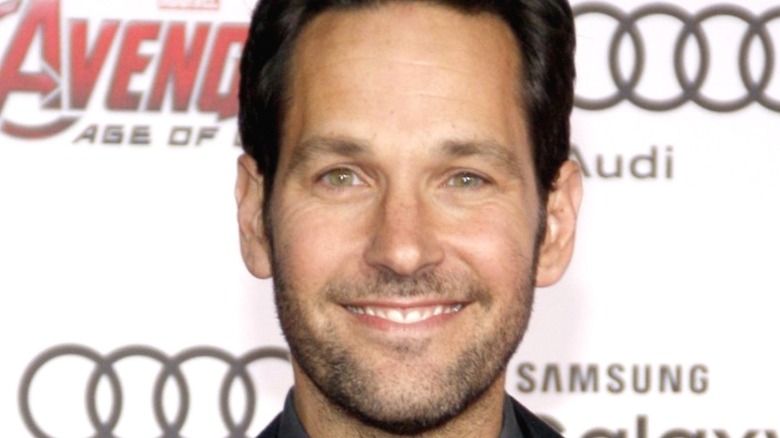 Tinseltown/Shutterstock
It's no surprise that Kamala Khan (Iman Vellani) is the biggest Avengers fangirl in all of Jersey City. In the Disney+ series' first episode, we learn that the teenager has the coolest Avengers memorabilia that would make any real-life fan jealous, hosts her own YouTube channel that recaps the in-universe happenings of her Earth's Mightiest Heroes, and even dabbles in Captain Marvel cosplay. If you've got a pressing question about the Avengers, there's a pretty great chance that Khan can fill you in on the details.
But how does Khan exactly get her Avengers intel? Sure, she likely knows more than the average Earthling, but how exactly is she aware that Captain Marvel (Brie Larson) swooped in during the tense battle against Thanos during the in-universe events of "Avengers: Endgame"? No, Khan isn't a SHIELD agent who holds the universe's darkest secrets — she just likes podcasts. During the debut episode of "Ms. Marvel," Khan reveals that she's been getting her info from "Big Me Little Me," an interview from the fictional "This Powered Life" podcast. It turns out the interview subject is Scott Lang (aka Ant-Man) (Paul Rudd), and though we don't know all the details, Khan confirms that she got her "Endgame" info from Ant-Man's ramblings.
If a tell-all interview featuring Ant-Man is out in the wild in the Marvel Cinematic Universe, will viewers ever get to listen to Rudd's chatter?
Ms. Marvel writer Bisha K. Ali wants Paul Rudd to record Ant-Man's tell-all podcast
In an interview with Fandom, "Ms. Marvel" showrunner Bisha K. Ali opened up about Ant-Man's podcast. Though she can't remember who in the writing team came up with the brilliant expository easter egg, Ali loved the meta nature of the inclusion. "I was obsessed with Ant-Man for a very long time, which is why you'll see in further episodes how that comes into play," Ali told the outlet. "And the fact that that's the solution just makes my heart soar."
While it remains to be seen if the Ant-Man podcast(s) will be referenced again in "Ms. Marvel" or subsequent MCU projects, it's hard to not want to hear the interview ourselves. After all, it's quite on brand for Paul Rudd's bumbling character to lose his cool over the Avengers. On that note, Ali is hopeful that Marvel boss Kevin Feige will allow Rudd to step into the recording booth so we can hear the character's musings. "I'm desperate," Ali admitted. "I'm desperate to be like, 'Kevin [Feige], please let me write the podcast and call Paul Rudd!' I bet we can get him to do it. I bet you anything he'd record a podcast for us."
Having Rudd swoop in and do a podcast where he details the events of "Endgame" would definitely be an internet-breaking moment. Marvel Studios certainly hasn't shied away from expanding on easter eggs in the past. Most recently, the mid-credits sequence of "Hawkeye" Season 1 was dedicated to the full-rendition of the musical number "Save The City" from the fictional "Rogers: The Musical."