Kevin Feige Teases Whether Ms. Marvel's AvengerCon Could Become A Reality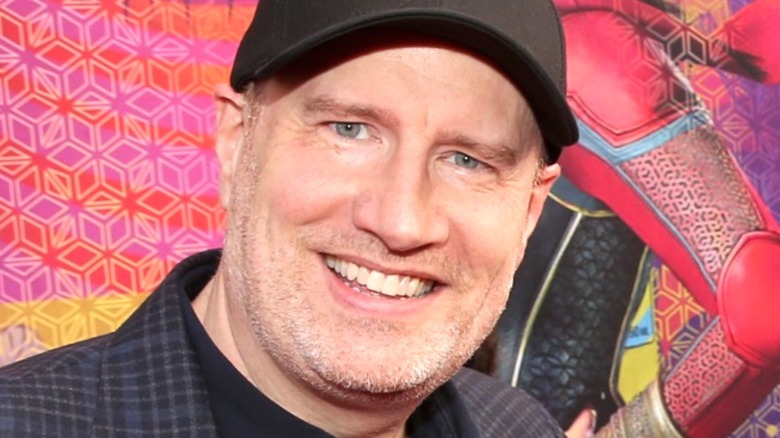 Jesse Grant/Getty
Comic conventions are places where like-minded individuals often gather to share their love of certain aspects of pop culture, show off their cosplay ensembles, collect signatures from celebrities, and pick up untold amounts of merchandise. According to the University of Central Florida, the first comic con took place in New York City in 1964, and since then, the events have become a huge industry, with the largest of them, San Diego Comic-Con, bringing in a staggering 130,000 attendees in 2019. However, in the Marvel Cinematic Universe, comic cons and superhero worship take on an entirely different tone, mainly because superheroes are very much real in the MCU.
Kamala Khan (Iman Vellani) is the main character of "Ms. Marvel," and her life revolves around superheroes. Often donning Avengers apparel at school, Kamala's love of characters like Thor, Iron Man, and Spider-Man is front and center in her life. Thanks to some careful analysis of the "Ms. Marvel" trailers and upcoming merchandise by Comic Book, it seems that Kamala will visit a convention referred to as "AvengerCon," which appears to heavily feature Marvel's premier superhero team. The ringleader of the MCU, Kevin Feige, recently teased whether or not AvengerCon could become reality, and his answer will certainly cause a wave of speculation.
According to Feige, a real-life AvengerCon isn't out of the question
During a press event for "Ms. Marvel" attended by Looper, the subject of AvengerCon came up, and Kevin Feige had a rather interesting answer as to whether or not AvengerCon could become a reality. He said, "We were definitely talking about that on the set. We shot that right, you know, in the middle of COVID protocols, so there hadn't been a convention for a very long time. And it was very cathartic for all of us to see that." He continued, "And we were shooting 'Spider-Man: No Way Home' on the stage right next door, believe it or not, actually the scene with the three Spideys, and a lot of that crew kept sneaking over to see and attend AvengerCon." Feige then said that an actual AvengerCon might not be a bad idea.
It was then brought up that several props are being displayed at varying Disney campuses, and that it is somewhat possible to visit the "Ms. Marvel" version of AvengerCon. Considering these comments, it seems as if the Master of the MCU is definitely considering what a real-life version of AvengerCon might look like. This means that there is a chance that fans may actually get to visit a comic convention that celebrates all things Marvel at some point in the future!