How Neil Gaiman Clapped Back At Fans Over The Sandman Casting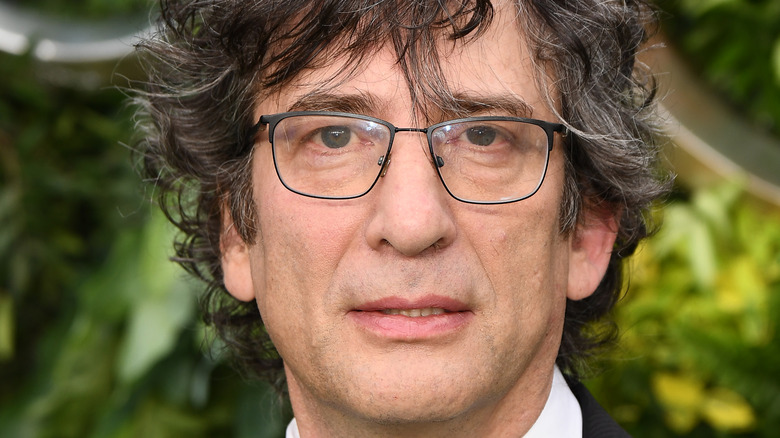 Jeff Spicer/Getty Images
On June 6, Netflix dropped the first teaser trailer for its live-action adaptation of Neil Gaiman's beloved graphic novel series "The Sandman," and fans already can't get enough of it. Of course, the long-simmering adaptation has taken quite a long and winding road to get where it is today. Fans might recall, for instance, that there was news about a film adaptation in 2014 (via Deadline), and that Warner Bros. the project as far back as the '90s (via MovieWeb).
Premiering in August, "The Sandman" will follow Morpheus (Tom Sturridge), the King of Dreams. After being imprisoned on Earth for decades, Morpheus escapes and sets out to fix the problems that have arisen across the many realms during his absence. His journey brings him into contact with characters from the world of DC Comics as well as historical figures like William Shakespeare and even biblical characters like Lucifer, Cain, and Abel. 
It's an epic tale that transcends space and time while dealing with plenty of heady, metaphysical issues along the way, which probably explains why it's taken over three decades to finally be adapted to a live-action series. Of course, a big part of the key to any show's success is a capable casting department. Cast the wrong actor in a role, and no amount of good writing will repair what audiences see on screen. 
So, what do fans of the comic book series think of the performers taking on the roles of these larger-than-life characters?
Some fans were unhappy with the casting of The Sandman
Some fans have been less than thrilled with the casting of certain characters in Netflix's "The Sandman." One such fan was vocal on Twitter about this when Netflix's official "Sandman" Twitter account tweeted a promotional image of "Game of Thrones" actress Gwendoline Christie as Lucifer. "Really looking forward to Sandman, but I still find the constant recasting of male characters to female actresses annoying," @spenjflairs replied. "I'm not being sexist, I'm just a purist... I suppose.."
However, Gaiman himself appeared to take personal umbrage with the comment, clapping back with his considerable clout as the creator of the characters and the world of "The Sandman." Gaiman responded, "I bet I'm more of a Sandman purist than you, and I have absolutely no problems with a genderless androgynous character without a penis being played by a fabulous actor who fortunately also doesn't have a penis."
The complaint has since been ratioed, with over twice as many comments as likes or retweets, showing that most fans don't actually see issues with the casting decision. Of course, this should come as no surprise as the world of "The Sandman" features a diverse set of characters, including many who are gay, transgender, and gender-neutral. Considering the work began all the way back in 1989 (via GQ), this representation is well ahead of its time in many ways. With that in mind, it's only natural that Gaiman would support even more inclusive casting for his characters three decades later.