Who Plays Christine Chapel In Star Trek: Strange New Worlds?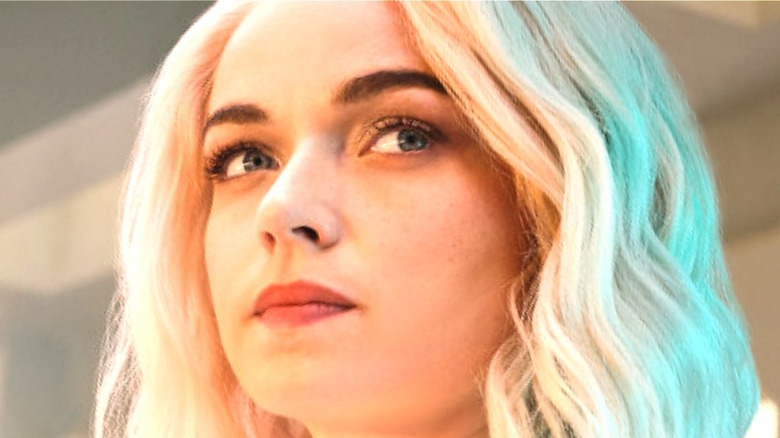 James Dimmock/Paramount+
You can be forgiven for not quite being able to place the face of Nurse Christine Chapel on "Star Trek: Strange New Worlds." The show, currently in its first season on Paramount+, is one of the newer enterprises of the ever-growing "Star Trek" franchise. But while anything with the "Trek" pedigree attached is always going to stir up attention, people may have trouble recognizing the cast members. The most well-known here would be Anson Mount, Ethan Peck, and Rebecca Romijn, just because you've probably already seen them around the galaxy (hint: They've already played their characters on "Star Trek: Discovery").
"Strange New Worlds" is the "Star Trek" TV show that shares the most in common with the original 1960s series we've seen since it chronicles the adventures of the starship Enterprise shortly before Captain Kirk takes over. It even counts original characters (Chapel included) like Captain Christopher Pike (Mount), Spock (Peck), Number One (Romijn), and Uhura (Celia Rose Gooding) as part of the crew. But a fresh face takes over the Chapel role — initially played by actor Majel Barrett back in the day. Barrett is of course "Star Trek" royalty, having appeared or done voice work in over a dozen "Trek" shows and films over the years. She was also the wife of legendary "Star Trek" creator Gene Roddenberry. So the newcomer has some pretty big space shoes to fill here.
The new incarnation of Nurse Chapel is a younger, flirtier, more energetic version of the character and is a welcome addition to the show. And while "The Original Series" only explores the relationship between her and Spock on the surface, "Strange New Worlds" looks poised to dive deeper. But who is this platinum-haired actor who has embraced the challenge of succeeding the iconic Majel Barrett?
Jess Bush was a model Down Under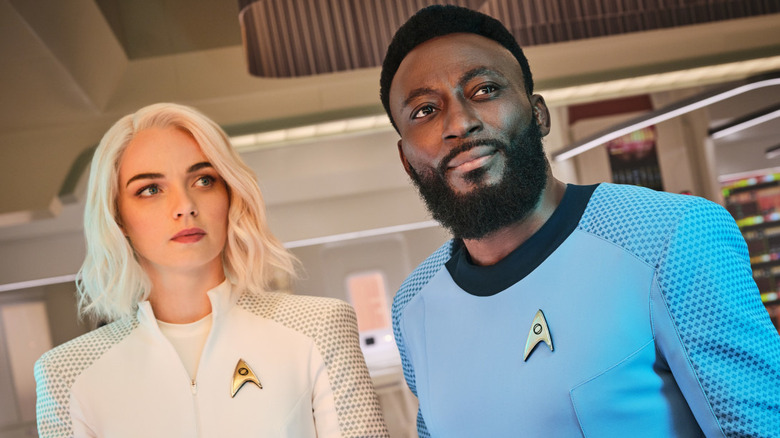 Paramount+
The actor who plays Christine Chapel on "Star Trek: Strange New Worlds" is Jess Bush, and she landed the "Strange New Worlds" gig without many high-profile roles on her résumé yet. In fact, her IMDb page only lists a handful of credits to date — although that's likely to change with her newfound "Star Trek" exposure. But unless you're familiar with the likes of "Skinford: Chapter Two," "Playing for Keeps," or "Home and Away" (which apparently are all real movies and shows that exist somewhere), she probably wasn't quite on your radar.
Bush hails from Australia (alas, not the 23rd century) and got her start in modeling, first appearing in the limelight in the 2011 season of "Australia's Next Top Model." Eventually, this led her to pursue acting, and after the aforementioned handful of lower-profile projects, she snagged the coveted role of Nurse Chapel, who keeps the sick bay afloat alongside Dr. M'Benga (Babs Olusanmokun) — yet another character from "The Original Series."
Ideally, Nurse Chapel will have a more significant role on "Star Trek: Strange New Worlds" than on the '60s series. Sadly, that version of the character was mostly relegated to what amounted to cameo appearances (although one time she got to beam down and be part of the fun). Hopefully, the plan for "Strange New Worlds" is to have the dynamic Bush be a more significant part of the adventure. It looks promising.
As for Bush's earthly future, we'll see what the stars have in store for her. Not every "Star Trek" actor has seen that success translate beyond Federation space. But it will definitely be exciting to watch Bush liven up "Strange New Worlds" before seeing where she boldly goes from there.