All The Original Characters Returning In Star Trek: Strange New Worlds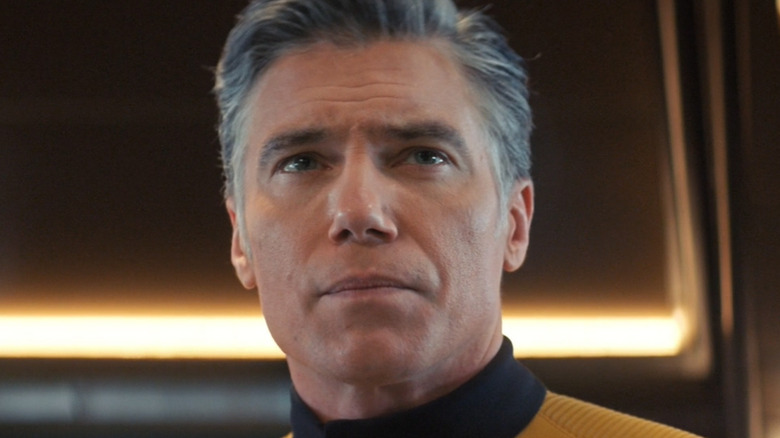 YouTube/Paramount
What was life on the USS Enterprise (NCC-1701) like before James T. Kirk took command? That's what the upcoming "Star Trek: Strange New Worlds" seeks to explore, following up on the ship and its crew's appearance in the first two seasons of "Star Trek: Discovery." The series promises a return to the old Star Trek tradition of developing characters through more standalone-style stories, as explained to The Hollywood Reporter by "Strange New Worlds" co-creator Akiva Goldsman.
While it was already known that "Discovery" Season 2 standouts Captain Christopher Pike, Mr. Spock, and Number One would be among the cast, September 8th's "Star Trek" Day celebration debuted a behind-the-scenes featurette for "Strange New Worlds" that revealed even more familiar faces from "Star Trek" lore would return. Who made the cut, you ask? Set your engines to maximum warp and speed ahead to learn which very famous original characters (plus some lesser-known ones) are coming back to join Captain Pike on his voyages aboard the Enterprise.
Anson Mount stays in the captain's chair as Christopher Pike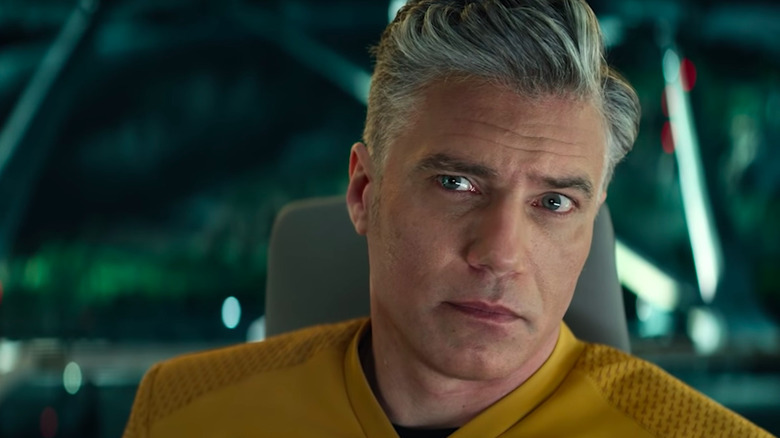 YouTube/Paramount
Just how popular was Anson Mount's take on Christopher Pike in "Star Trek: Discovery?" Enough to generate a fan petition clamoring for a series starring him, Ethan Peck's Spock, and Rebecca Romijn's Number One long before "Star Trek: Strange New Worlds" was even announced. Mount's Pike (preceded by Jeffrey Hunter's and Sean Kenney's) was very much the classic Trek hero on "Discovery" — upbeat, earnest, selfless, and a terrific leader who valued others' input.
These traits will undoubtedly accompany Pike into the new series, likely infusing "Strange New Worlds" with the optimistic viewpoint "Star Trek" is typically known for. That said, it wouldn't be surprising if the show chooses to revisit Pike's harrowing vision from the "Discovery" episode "Through the Valley of Shadows," where Pike saw the fate that would befall him shortly before the classic original series episode "The Menagerie." Though he seemed to have gotten over that vision of the future before exiting "Discovery," that doesn't mean it won't come back to haunt him.
Ethan Peck makes his logical return as Spock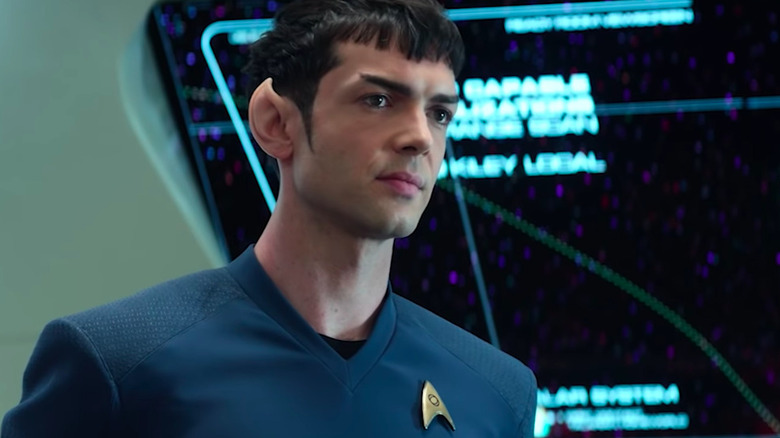 YouTube/Paramount
Since the original "Star Trek: The Original Series" pilot, "The Cage," Spock has been a crew member of the USS Enterprise, shown both there and in "The Menagerie" as a member of Pike's crew before serving under Kirk. Season 2 of "Discovery" briefly saw his position as Pike's science officer placed in jeopardy when he was framed for murder, although he was able to clear his name with help from his foster sister Michael Burnham and her crew mates.
The "Discovery" second season finale already saw Spock once again aboard the USS Enterprise, having shaved the beard he sported most of the season and very much resembling how he usually appeared in "The Original Series." It will be interesting to see the dynamic Spock, played by Ethan Peck as he was in "Discovery," will have with the rest of his crew — particularly with Number One, whom he established a close bond with in the "Star Trek: Short Treks" episode "Q&A."
Rebecca Romijn continues shedding light on Una Chin-Riley, a.k.a. Number One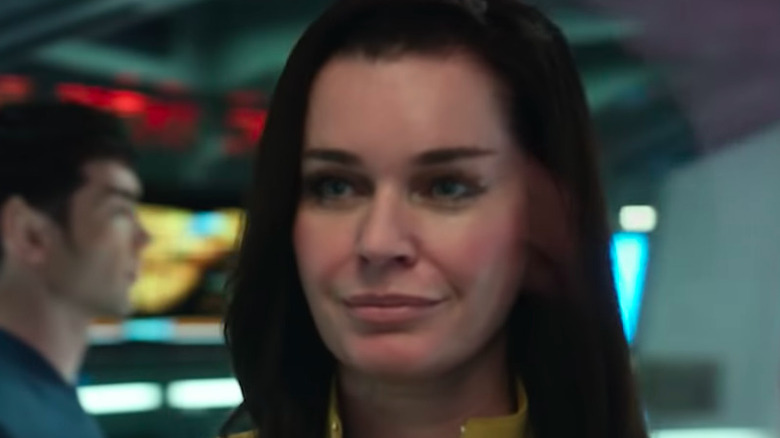 YouTube/Paramount
For some time, not much was known about Number One from Captain Pike's crew, first played by Majel Barrett in "Star Trek: The Original Series." Thankfully, "Star Trek: Discovery" and "Star Trek: Short Treks" have not only expanded the character's appearances from a mere three episodes in the entire "Star Trek" franchise, but have turned her into a fan-favorite. This is in large part due to the performance of her new actress, Rebecca Romijn. In addition to infusing the character with a comical directness and musical talent, the two shows also revealed more about the first officer, even canonizing, as "Discovery" showrunner Michelle Paradise confirmed, the name the "Star Trek" novels (specifically "Captain to Captain," as Comic Book observes) bestowed upon her: Una.
Rebecca Romijn will once again play Number One in "Strange New Worlds." Paramount+'s new featurette for the show has even revealed that the franchise has brought the latter half of her name from the books, "Chin-Riley" (used in "The Autobiography of Mr. Spock") into continuity, which, as TechRadar points out, had not been done previously. In the "Strange New Worlds" featurette, Romijn also promises that there are many unseen facets to the character that the show will likely explore, giving her longtime fans a much-deserved payoff.
Celia Rose Gooding explores Nyota Uhura's early career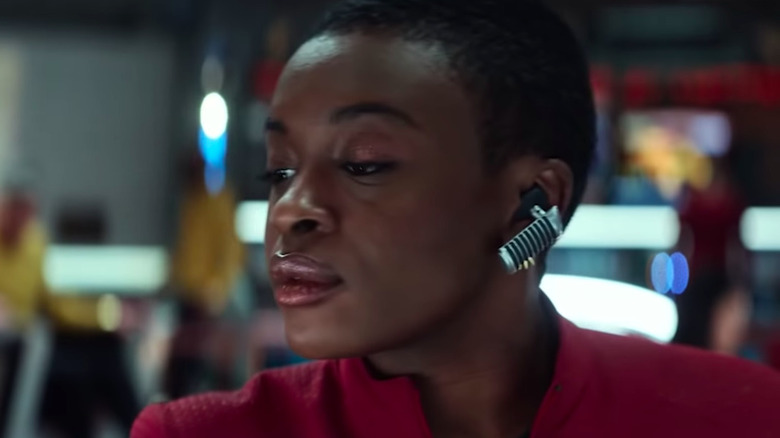 YouTube/Paramount
Nichelle Nichols made history with her portrayal of communications officer Lieutenant Nyota Uhura on the original "Star Trek," eventually rising through the ranks to become commander. Aside from being one of the earliest Black women to star prominently in a science fiction television series, Nichols, along with William Shatner's Captain Kirk, also took part in one of the first interracial kisses on television. Nichols' performance even earned a fan in Dr. Martin Luther King Jr., who convinced the star not to leave the role.
Celia Rose Gooding will be assuming the role of Uhura, whom Gooding has revealed in the "Strange New Worlds" featurette will appear on the show as a cadet. Though Gooding's casting had been announced in March, her role at time had not been revealed: Uhura's return to the franchise makes her one of the highest-profile original characters set to reappear in "Strange New Worlds," especially given her real world impact.
Jess Bush inhabits Majel Barret's other major TOS character, Christine Chapel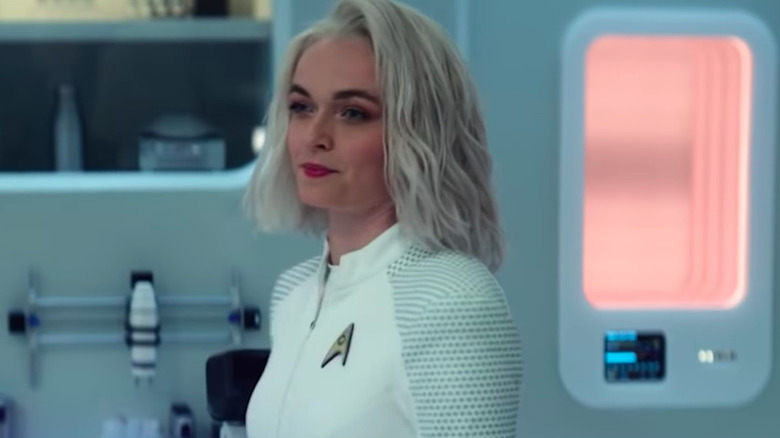 YouTube/Paramount
Number One is not the only original character originated by Majel Barrett who will appear on "Star Trek: Strange New Worlds." Jess Bush will be playing Christine Chapel, Barrett's recurring role in the original "Star Trek." Chapel, who first appeared as a nurse aboard the Enterprise, was a mainstay on the show, instrumental in handling several medical emergencies that affected the crew of the Enterprise; later installments of the franchise saw her become lieutenant and then, by "Star Trek: The Motion Picture," a doctor. One of Chapel's finest moments was in the "Star Trek: The Animated Series" episode "The Lorelei Signal," when she and Lieutenant Uhura commandeered the women of the Enterprise when their male crew mates were basically hypnotized.
It's likely "Strange New Worlds" will explore what was established about her history in such "Star Trek" episodes as "What Are Little Girls Made Of?", including her early days as a bio-researcher and past with Dr. Roger Korby. It might also plant the seeds of her romantic (but ultimately unrequited) interest in Spock. 
Babs Olusanmokun brings back Original Series medic Dr. M'Benga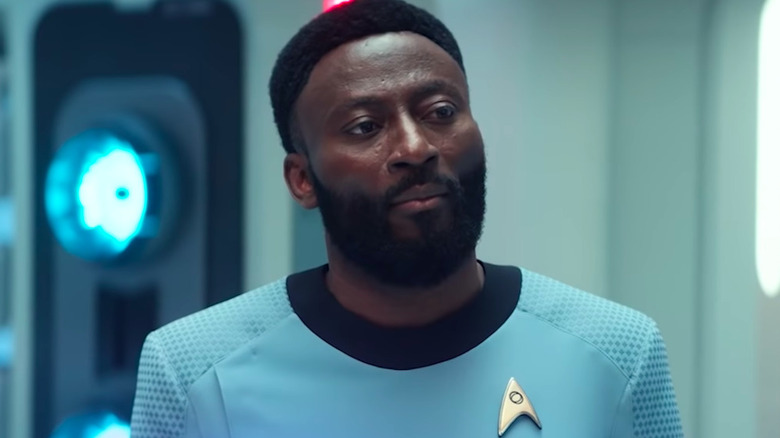 YouTube/Paramount
Of all the original characters from "Star Trek: The Original Series" confirmed to be returning for "Strange New Worlds," Dr. M'Benga, performed originally by Booker Bradshaw, is the most obscure. While not much was ever revealed about the character, he was immediately established as an important presence on the Enterprise, assuming head medical responsibilities on the ship whenever Leonard McCoy went on missions. His debut episode, "A Private Little War," mentioned he'd received part of his medical training on Spock's home planet, Vulcan.
Unlike Spock, Dr. M'Benga was never said to have served under Pike's command, making his inclusion a welcome surprise. It will be interesting to see if Dr. M'Benga's experiences on Vulcan will allow him to bond with Spock in a way other crew members might not, although they seemed to be merely professional acquaintances on "Star Trek: The Original Series." The episode "That Which Survives," in fact, even suggested that the doctor, who will be played in "Strange New Worlds" by Babs Olusanmokun, could still be caught off-guard by Spock's distaste of anything not grounded in logic, including guesses.
Christina Chong's La'an Noonien-Singh is a new character, but has a familiar name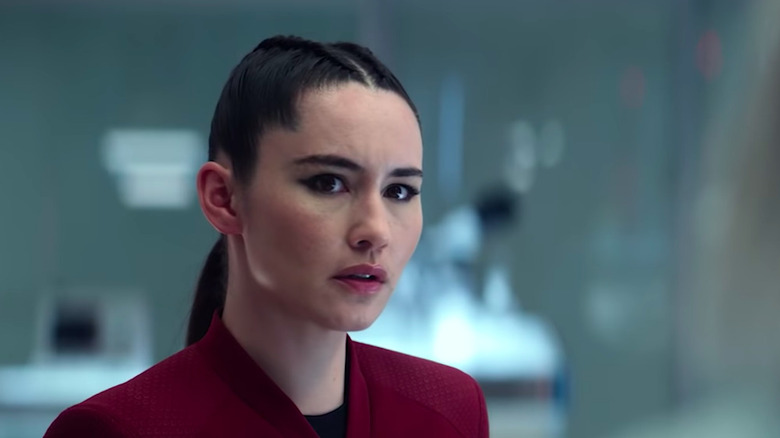 YouTube/Paramount
Even more casual "Star Trek" fans may recognize the surnames "Noonien-Singh," originally used by the dreaded Khan from "Star Trek: The Original Series" and "Star Trek II: The Wrath of Khan." First played by Ricardo Montalban, Khan's actions were responsible for the temporary death of Spock in the "The Wrath of Khan." Another version of Khan, played by Benedict Cumberbatch, killed both Christopher Pike and James Kirk in "Star Trek: Into Darkness," although Kirk, like Spock in the main "Star Trek" timeline, was also later revived.
The fact that La'an, a character new to "Star Trek" played by Christina Chong, shares part of Khan's name highly suggests a connection to the gene-modified villain, though what that could be remains a mystery. A descendant seems like the best guess, but "Star Trek" does like to throw curve balls at viewers now and again.