Who Plays Captain Christopher Pike On Star Trek: Strange New Worlds?
"Star Trek: Strange New Worlds" follows the crew of the USS Enterprise, an interstellar starship with the sole purpose of exploring strange new worlds. Sometimes a title is wholeheartedly literal, and this is one of those cases. In this series, the vessel is under the leadership of Captain Christopher Pike, a character who has cropped up in everything from the original, unaired pilot of the very first "Star Trek" series all the way to the big-budget films as Captain James Tiberius Kirk's mentor.
In "Strange New Worlds," Pike's portrayal is similar to his more famous protégé (everything comes back to Kirk, sorry, Pike) in that he's not only courageous and charismatic but also something of an incorrigible flirt. Unique to this version of Pike, however, are the influences of his actor, who brings a real sense of empathy, humility, and community to the character, something about which the actor spoke at length (via TrekMovie). With that in mind, let's take a look at the man behind Captain Christopher Pike, Anson Mount.
Anson Mount is a well-rounded human being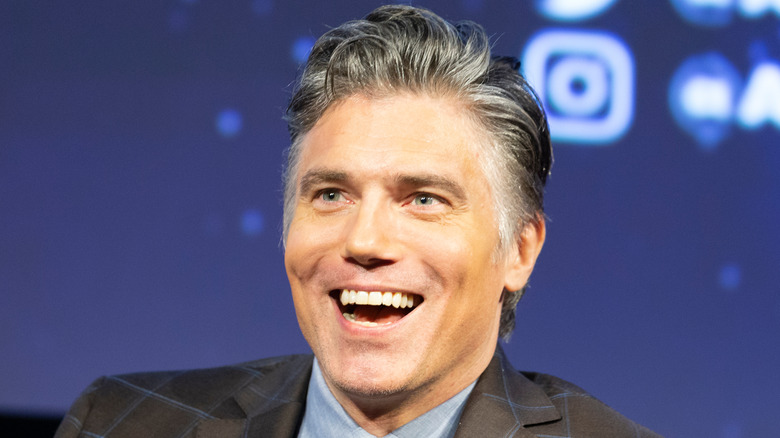 Lev Radin/Shutterstock
Though never unnoticed, Anson Mount's career has thus far flown pleasantly just below the threshold for universal acclaim. For the past two decades, he's worked on a number of projects across all mediums, such as the 2014 hit horror video game "The Evil Within," in which he voices Sebastian Castellanos, a detective trapped in a demented hellscape. Far more recently (and infinitely better publicized), Mount appeared in Marvel's "Doctor Strange in the Multiverse of Madness" as Black Bolt, a superhero from another universe with a devastatingly powerful voice, a role he reprised from the 2017 television series "Inhumans."
Outside of his acting work, Mount teaches the practical application of acting at Columbia University, of which he is an alumnus (via Cowboys & Indians). Mount described, "I teach them how to take what they've learned in class for the first two and a half years and apply that in situations they've never been in before." He also serves on the board of directors of METI (Messaging Extraterrestrial Intelligence), an organization whose goal is in the name.