Why Some Longtime Fans Can't Stand Modern Family Guy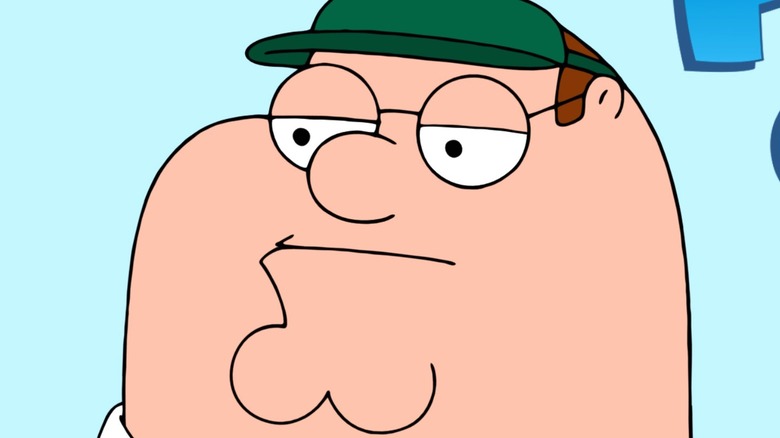 Fox
Created by Seth MacFarlane, who ended up voicing multiple characters on the series as well, Fox animated sitcom "Family Guy" premiered in 1999 and showcased the ridiculous adventures of Peter Griffin (MacFarlane), a lovable but crude Rhode Islander whose family puts up with his antics. This includes an alcoholic talking dog, Brian (MacFarlane), a homicidal genius baby, Stewie (Seth MacFarlane), dopey son Chris (Seth Green), resentful daughter Meg (Mila Kunis), and Peter's long-suffering wife Lois (Alex Borstein). "Family Guy" was accused of ripping off "The Simpsons," but the show quickly set itself apart with pitch-black humor and absurd cutaway gags.
Despite its cult success, however, the raunchy animated sitcom was axed by the network after only 3 seasons. Then, after best-selling DVD box sets, successful reruns on Adult Swim, and considerable fan outcry, Fox decided to reverse their decision (via The A.V. Club). "Family Guy" returned to the air in 2005 with Season 4 and has continued to produce new episodes ever since. The show even had spin-offs like "The Cleveland Show."
But some fans feel the more recent seasons can't compare to earlier episodes of the sitcom. Here's why viewers don't like the current incarnation of "Family Guy." 
The quality of the show got worse
When someone asked the r/television subreddit why people didn't seem to like "Family Guy" anymore, the most consistent answer given was that the show's quality, much like that of many television series that remain on air for a long time, had declined with age. r/randomnightmare wrote, "This downward trend of the quality has been going on for years and isn't something that just showed up recently, at least for me."
u/GeorgeLuasHasNoChin, like others, compared "Family Guy" to "The Simpsons," but for different reasons than you'd expect: "Much like the Simpsons, the early seasons were much better in quality and the writing was alot [sic] tighter and clever," they wrote. In fact, the observation from u/BryceKKelly that newer "Family Guy" is "following its own format in the way that a copycat show completely missing the point might" is similar to criticisms later "Simpsons" episodes would receive.
Other Redditors noticed that the cutaway gags, which were so distinctive that they were parodied on "South Park," lost their freshness. u/JaredUnzipped noticed how "the show just became too reliant upon that one gimmick," and u/amorousCephalopod summed it up: "The cutaway formula grew old incredibly fast."
The creator isn't as involved with Family Guy now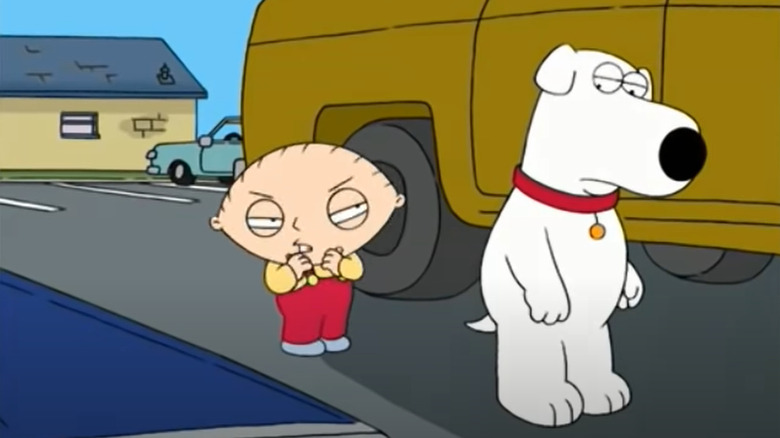 Fox/YouTube
Another big reason that the show might have run out of steam is creator Seth MacFarlane's lack of involvement with writing or producing newer "Family Guy" episodes, as u/AF2005 pointed out. MacFarlane still voices many of the show's characters, including Peter, Brian, and Stewie, but revealed in a 2017 Reddit AMA that he hasn't worked on any scripts for the series since 2010.
Instead, the actor, writer, and director began a television and film empire after "Family Guy" was revived. This includes another animated comedy, "American Dad!," now airing on TBS, plus the hit films "Ted" and "Ted 2," where MacFarlane was the voice of a talking teddy bear alongside Mark Wahlberg. Also, he currently stars in the space dramedy "The Orville," which he also created. It's no wonder then that "Family Guy" has felt different to viewers since MacFarlane stopped having a hand in the material.
Still, as u/BryceKKelly wrote, "To be fair to the show, it's been on for so long that it'd be really weird if it wasn't played out." Eventually, comedies just run out of new jokes or fresh takes on the characters. "Family Guy" did receive a recent renewal into Season 20 from Fox (via NME), so viewers will just have to see if the show can find it's footing again with newer episodes.