The Beloved Character Fans Hope Returns To Family Guy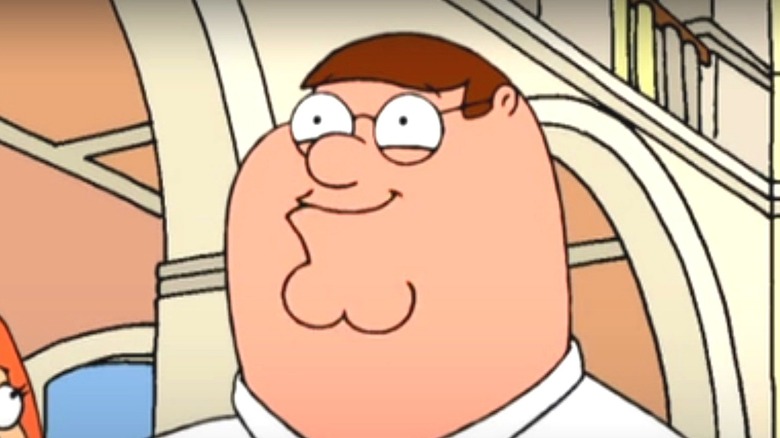 20th Century Fox Television
It's hard to believe Fox's long-running animation hit "Family Guy" first aired in 1999. Now in its 20th season (it was canceled for a few years and then returned after strong DVD sales), the Seth MacFarlane-created show continues to anchor the Sunday night lineup in the 9:30 p.m. slot. Featuring the voice talents of MacFarlane, Alex Borstein, Seth Green, and Mila Kunis, every episode is a crazy new adventure for the Griffin household that is certain to either amuse or offend everyone — maybe both. If zany is your thing, this is a show you need to be watching.
With frequent inside jokes and random humor, plots range from Peter (MacFarlane) feeling violated from a prostate exam to his wife, Lois (Borstein), becoming a professional boxer, to the entire family ending up in space. Along for the ride are dog Brian and baby Stewie, both voiced by MacFarlane, who wears more hats than most baseball teams. The comedy often pushes boundaries, but the laughs are all the better for it.
There are many memorable regulars among the "Family Guy" cast and others who make occasional appearances. Fans all have their favorite lesser-known faces — be it loopy Mayor Adam West, Herbert the pervert, Peter's crusty boss Angela (voiced by the late Carrie Fisher), wacky inflatable tube guy salesman Al Harrington, or one of dozens more. It's hard to know when (or if) these comic foils will show up, but there's one whom many viewers are always eager to see make a return to the fray.
The Giant Chicken is a scene-stealer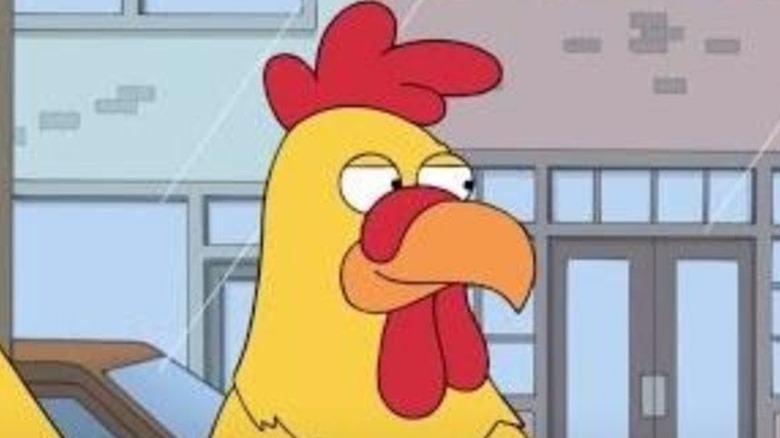 20th Century Fox Television
In the Season 2 episode "Da Boom," which originally aired December 26, 1999, Peter first encountered The Giant Chicken, whose real name is "Ernie" for some reason. The Giant Chicken was attempting to give Peter an expired coupon, which Peter took exception to, and it escalated into a real fight — the first of many on "Family Guy," as it would turn out.
Over the years, Peter has continued to run into his chicken nemesis in various situations, and the fight quickly resumes — usually elevating things to a whole new level. All this is despite the fact that sometimes they try to avoid the inevitable conflict, even going as far as dining together to make peace, during which they struggle to recall what they're even fighting about. But naturally, they end up fighting over the check, and soon enough, they are back to smashing, kicking, clawing, and looking for a blowtorch.
It's a running (and punching) joke that has taken on a life of its own on "Family Guy." The moment the two characters bump into each other, their eyes narrow, and then, the fireworks begin. Whatever else may be happening in the story is paused, and lengthy combat begins. One time, Peter stopped mid-sentence to engage The Giant Chicken, having to finish his thought upon eventually returning and acting as if nothing happened.
It's easy to see why fans love The Giant Chicken so much — multiple Reddit threads back this up, with one user writing that they wish he was a "side character" instead of a merely recurring one. Another Redditor, u/RonnieLiquor, remarked that the Peter vs. Giant Chicken fights are the "most epic." Although some, such as u/chrnos, have come to find the fights "boring and annoying," it seems that most viewers would rather see more of the Chicken on "Family Guy."