Bob Saget's Friends Have The Perfect Send-Off For The Late Comedian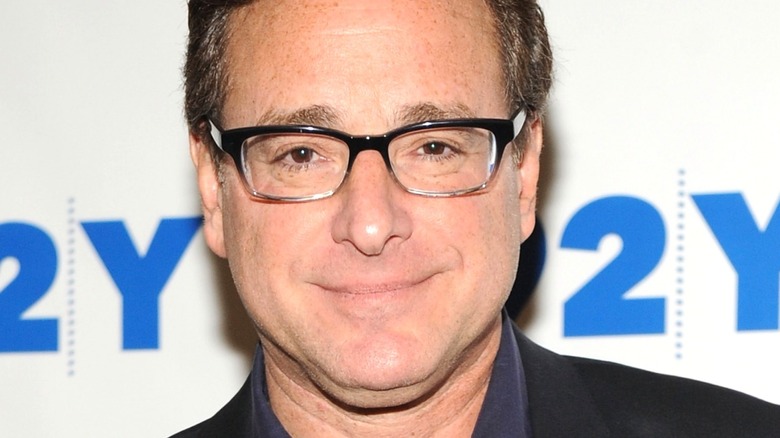 Brad Barket/Getty
On January 9, the general public learned about the death of iconic sitcom actor and vulgar stand-up comic Bob Saget. Naturally, given his considerable and wide-ranging body of work, many of his fellow entertainers from various corners of the comedy world paid tribute to Saget in the coming hours and days. Celebrities who publicly mourned Saget's death on social media include Patton Oswalt, B.J. Novak, Kathy Griffin, and Jason Alexander, among numerous others.
Of course, some of Saget's peers honored him off of social media too. Perhaps most notably, the Comedy Store in West Hollywood, CA — a comedy club frequented by countless well-known comics, including Saget at the start of his career — hosted a memorial event in late January. John Stamos, John Mayer, and Jeff Ross, all of whom were close with Saget, emceed the show (via The Hollywood Reporter). The LA Times also published in text a lengthy speech that Stamos gave at the event.
Then, in May, Netflix announced that it would release a recording of the memorial event to its subscribers. Now, just before its premiere, the streaming service released a trailer for the special, giving those unable to attend in person their first look at this star-studded tribute to the late comic.
Big names in comedy honor Bob Saget in Dirty Daddy: The Bob Saget Tribute
On June 8, Netflix posted a trailer to its Youtube channel for its recording of Bob Saget's memorial event at the Comedy Store, called "Dirty Daddy: The Bob Saget Tribute." This title, of course, evokes both Saget's raunchy sense of humor and the wholesome sitcom dads he portrayed on TV over the course of his career.
The trailer opens on a clip of Jim Carrey discussing Saget in front of that night's Comedy Store audience. Footage of some of his friends and family members, like Jeff Ross, Kelly Rizzo-Saget, Seth Green, and Chris Rock then follows. This is interspersed with archival footage and photos of Saget taken from various points throughout his life.
Fittingly, the tone of each of these speakers fluctuates between sincere and tongue-in-cheek, honoring Saget both as a human and as a comic. For example, a few different speakers highlighted at the end of the trailer poke fun at the fact that Saget seems to have counted a considerable number of his peers as among his closest friends.
Those interested in watching this tribute to Saget in full can do so when it premieres on Netflix on June 10.