What You Need To Remember Before Watching Stranger Things Season 4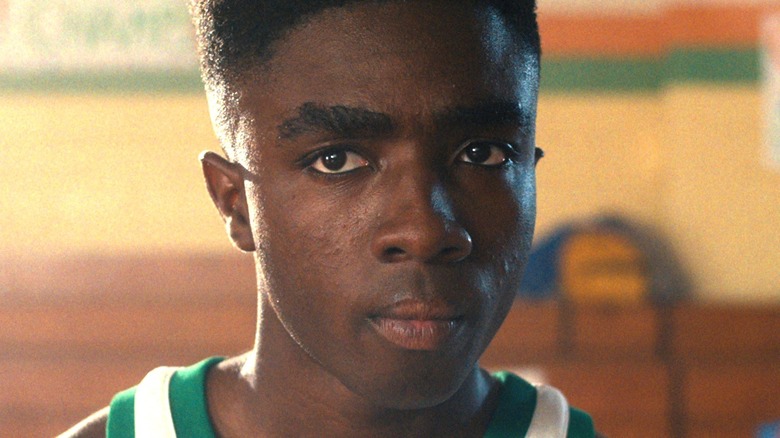 Netflix
"Stranger Things 4" premieres on Netflix on May 27, 2022, in a new format for the streaming platform's flagship horror-adventure series. The fourth season of the 1980s pop culture send-up promises to be bigger than ever, with nine episodes making for its longest season yet. In a letter to fans, The Duffer Brothers even promised that the new season's runtime is almost twice as long as any previous season (via Twitter). To accommodate the longer runtime, Netflix is opting to release the season in two parts: one on May 27 and another on July 1. The show's creators also promised that Season 4 will be the show's penultimate installment; a fifth season looms ahead in the future. 
According to Netflix, the show's fourth season picks up six months after Season 3's finale "The Battle of Starcourt." The season's official trailer features voiceover from Max (Sadie Sink) as the character speaks to her brother Billy's (Dacre Montgomery) grave. She affirms that life in Hawkins has been a total disaster since he died at the end of Season 3. It seems Eleven (Millie Bobby Brown), the Byers, and the rest of the show's cast are recruited to help stop something (or someone) from the Upside Down again in the new season.
Before you dive into "Stranger Things 4," here is a refresher on all that went on in the zany, action-packed third season of the Netflix original.
Steve and Robin's friendship blossoms as they uncover a Soviet base
Hawkins, Indiana is depicted as a small American town, but it receives some international attention in Season 3. Much of the season takes place in Hawkins' newest commercial asset, the brand new Starcourt Mall. The younger teenagers spend time hanging out there, while Steve (Joe Keery) and Robin (Maya Hawke) work at an ice cream shop within the mall itself. The mall grows into a pivotal setting for the entire season; when Dustin (Gaten Matarazzo) accidentally intercepts a Russian radio signal while trying to reach his long-distance girlfriend via a homemade radio tower, he takes the coded message to Steve and Robin at the ice cream shop.
Steve, Dustin, Robin, and Lucas' (Caleb McLaughlin) younger sister Erica (Priah Ferguson) slowly realize that the entire mall is a front for a secret base underneath, where the Soviets are attempting to create a portal to the Upside Down. Jim Hopper (David Harbour) comes to this conclusion in his own story arc, too, as he learns that the Russians bribed Hawkins's mayor Larry Kline (Cary Elwes) to allow them to purchase unused properties across the town and create the mall as a masquerade.
The group's adventures beneath the Starcourt Mall culminate in a hilarious and heartwarming sequence in which Steve starts to confess romantic feelings for Robin. Robin reveals that she's actually gay, cementing their new friendship for good — and completing Steve's series-long arc from cliché '80s bully to an unlikely hero. At the season's end, Robin and Steve get jobs at a video store in the wake of the mall's destruction.
Dustin gets a (real) girlfriend at summer camp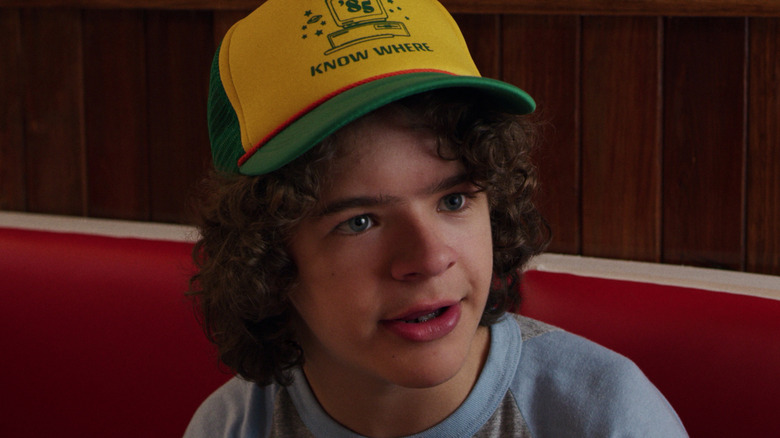 Netflix
Episode 1 of Season 3, "Suzie, Do You Copy?" establishes that Dustin starts dating a girl named Suzie during his month-long stay at science camp. The rest of the teenage gang can hardly believe that Suzie exists when he first tells them about her after arriving home; conveniently, she lives in Utah, and when Dustin first tries to reach her via his homemade long-distance radio tower, it doesn't seem to work. This creates a question throughout the season of whether or not Suzie actually exists. Indeed, Dustin's description of her does perfectly meet the cliché "girlfriend from summer camp" model that indicates he's just trying to fit in with his friends, who are also dating.
Rest assured, readers: Dustin would never lie. The Season 3 finale reveals that Suzie is, in fact, real; Dustin and Erica finally manage to reach her from the radio tower while otherwise directing Joyce (Winona Ryder) and Hopper through the Soviet base to close the Upside Down portal. Suzie (Gabriella Pizzolo) provides Dustin with Planck's constant, the number Hopper needs to open a specific safe that will help close the portal, but only after they sing the theme song to 1984's "The NeverEnding Story" together for everyone else to hear via radio. The song provides some comedic relief within an otherwise action-packed, horror-filled season. And in 2019, Entertainment Weekly reported that the moment came about to make Suzie's reveal more dramatic, and to give the talented singer Gaten Matarazzo an opportunity to sing in the show.
The Mind Flayer possesses Billy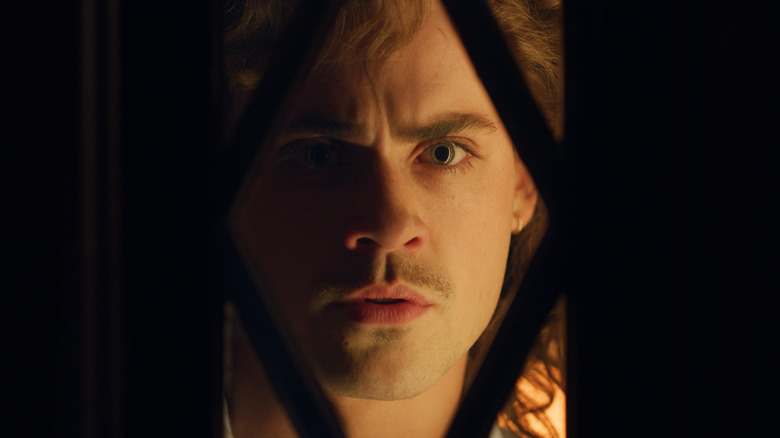 Netflix
Billy is first presented to "Stranger Things" fans in Season 2 as Max's violent, bullying, even sadistic older stepbrother. He emerges as something of a minor villain throughout that season, even as it's revealed that his rage toward Max and her new friends comes as a result of his own father's abuse of him.
Billy gets a bit of a different arc in "Stranger Things 3." He starts the season as the lifeguard at the town's public pool, where Karen Wheeler (Cara Buono) and other local women flirt with him. Billy is possessed by the Mind Flayer at the end of the season's first episode, and he spends the rest of the season helping the monster possess other Hawkins residents and fighting with the young teenagers. Eleven probes Billy's mind at times throughout the season, revealing a tragic backstory involving his mother leaving his abusive father that finally humanizes the character. Eleven finally reaches Billy and breaks him free of the Mind Flayer's control in the Season 3 finale. He sacrifices himself to the Mind Flayer to save his step-sister's life, along with Eleven and Mike (Finn Wolfhard) at the mall.
While Billy does appear to definitively die in "Stranger Things 3," IMDb lists Dacre Montgomery as appearing in three episodes of the new and upcoming season as Billy. The actor's recent cryptic Instagram posts have fans theorizing he could return as a villain yet again.
The Byers family and a now-powerless Eleven leave Hawkins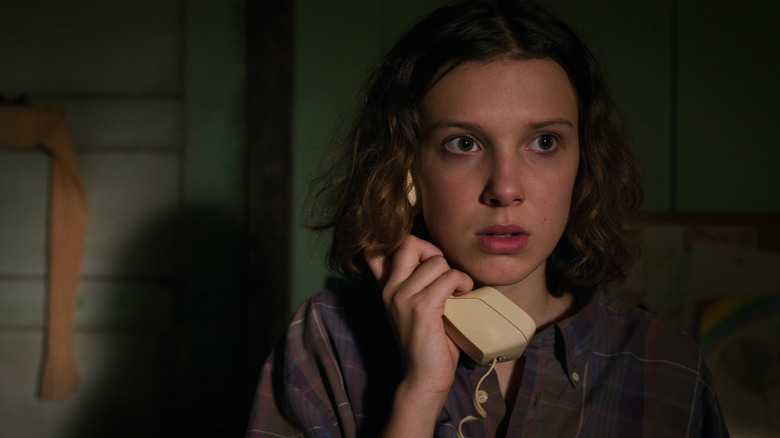 Netflix
In the aftermath of the terrifying conclusion to Season 3, Joyce does the one thing she can to protect her family: leave Hawkins. It seems a reasonable move for a family traumatized by supernatural monsters (and the Soviet Union) three times over, but given that Season 4 exists, surely the terror isn't over for Joyce, Will (Noah Schnapp), Jonathan (Charlie Heaton), and Eleven — who decides to leave with the Byers family after Hopper's disappearance.
The move fractures several of the series' key romantic relationships, as Jonathan and Nancy (Natalia Dyer) and Mike and Eleven are forced into long-distance: Mike and Eleven even say "I love you" to each other for the first time as they prepare for future visits. Though many of the characters part ways, their relationships appear stronger than ever by the time the Byers move. Will starts the season concerned that his friends have moved on to bigger and better things and no longer find interest in playing Dungeons & Dragons together, but when Mike asks if Will might find a new D&D party in his new town, Will asserts that isn't possible.
Eleven, who always serves as the group's best fighter due to her telekinetic powers, actually loses those powers when she removes the wound the Mind Flayer deals her in Season 3's "The Bite." She still doesn't have those powers by the end of the season, though Mike says he expects that they will return at some point.
Hopper is trapped in Russia after closing the portal to the Upside Down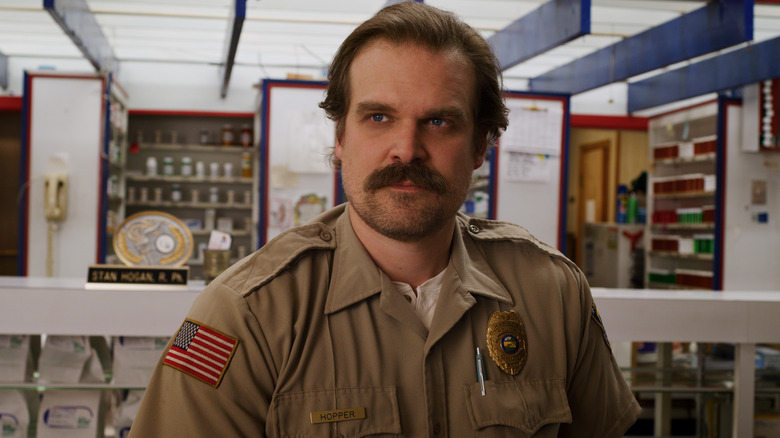 Netflix
By the start of Season 3, Hopper has officially adopted Eleven, though he's dismayed at her fledgling relationship with Mike to the point that he tries to intimidate him into stopping seeing her. Hopper uncovers another vast Hawkins conspiracy in his fights with Grigori (Andrey Ivchenko) and revelation that the town's mayor is under Soviet influence. The season briefly explores a potential romantic connection between Hopper and Joyce, but that potential is seemingly undone when he sacrifices himself to close the Soviet-made portal to the Upside Down.
Season 3 concludes with Eleven reading the speech Hopper intended to give to her and Mike to express his support for their relationship, along with his feelings about the parental bond he's developed with her. His final reminder? Just leave the door open three inches. Of course, while Hopper disappears at the end of the season, he's not yet dead.
The season finale's post-credits scene hints that Hopper somehow survived the incident at the mall; in Kamchatka, Russia, soldiers feed prisoners to a Demogorgon that they've captured, though they are instructed not to harm an American prisoner there. This Easter egg leaves the door open just three inches for Hopper's return. The series made the interesting decision to confirm that Hopper is still alive just months after Season 3 was released on Netflix in a short video showing him and other prisoners in Russia building a railroad (via YouTube).