The Creative Touch In Disney+'s Ms. Marvel That Fans Are Absolutely Loving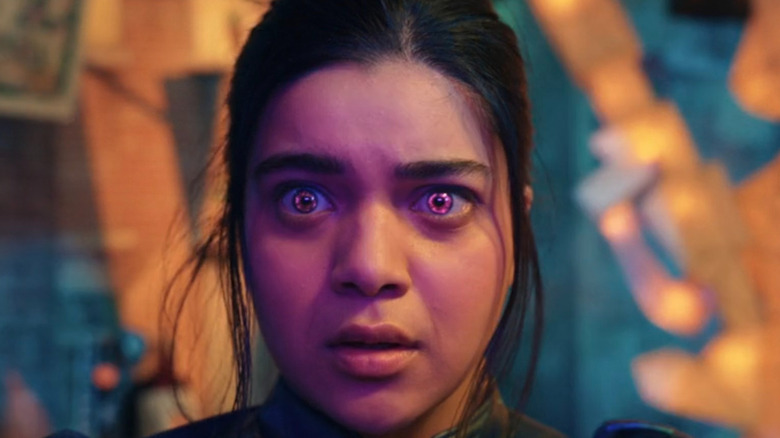 Marvel Studios/Disney+
Marvel and Disney have taken some fairly big swings with their television shows thus far. Whether it was how shockingly gritty they allowed series like "The Punisher" and "Daredevil" to be or how trippy and mind-bending they've made shows like "WandaVision" and "Loki," they have used the television format to really experiment with their movie formula. They've also had a strong success rate so far. Their latest, "Ms. Marvel," already has fans talking, and it has won near-universal praise from critics with a 95% fresh rating on Rotten Tomatoes (per Rotten Tomatoes). 
"Ms. Marvel" follows a young outcast who also happens to be an Avengers superfan. Kamala Khan (Iman Vellani) is especially an admirer of Carol Danvers/Captain Marvel. Her life gets flipped upside down when she suddenly discovers she has powers just like her favorite comic, er, real superheroes. The spin of centering on a child fan of the heroes actual fans have been watching for years definitely makes "Ms. Marvel" one of Disney's more ambitious and unique efforts. What's also surprising about the series is how visually engaging it is, with one specific aspect of the show's look winning huge praise from fans. Whether you're a Marvel fan or not, there is no denying that cinema has struggled to make this everyday action for most people visually engaging. 
Texting in Ms. Marvel is different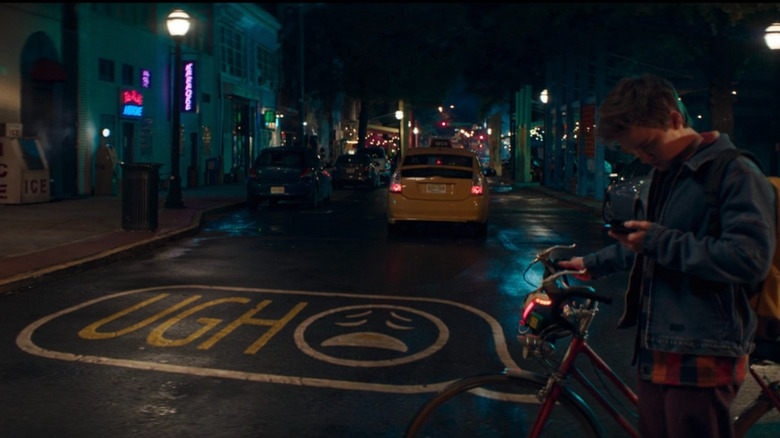 Marvel Studios/Disney+
Let's be honest. Filmmakers haven't quite figured out how to present texting onscreen in a way that's exciting. Most works go with showing the green-and-white bubbles with text people see on their iPhones. You can find plenty of criticisms of texting in films and television shows around the web. This, however, is where "Ms. Marvel" deserves a lot of credit. In the show's first episode ("Generation Why"), Kamala Khan texts her friend Bruno Carrelli (Matt Lintz), and instead of letting viewers just see text pop up on the screen, directors Adil El Arbi and Bilall Fallah incorporate the conversation into the world of the show. 
The conversation starts with Kamala turning on a starry night lamp, and her first text is displayed in the reflection of the light emanating in her room. The next text pops up as street art while Bruno is walking outside and responding to Kamala. From there, we follow Bruno and see the texts between him and Kamala — complete with emoji — shown in transforming signs and lights in a shop's windows, on a brick wall, and more. It's an incredibly unique way to show texting cinematically, and fans are absolutely loving it. 
Part of the inspiration for Arbi and Fallah on the series was actually the animated "Spider-Man: Into the Spider-Verse," which was unquestionably a visually striking movie with a unique flavor. This helps explain the common mix of animation and practicality in "Ms. Marvel" (per Insider). 
Fans are praising the visuals after only one episode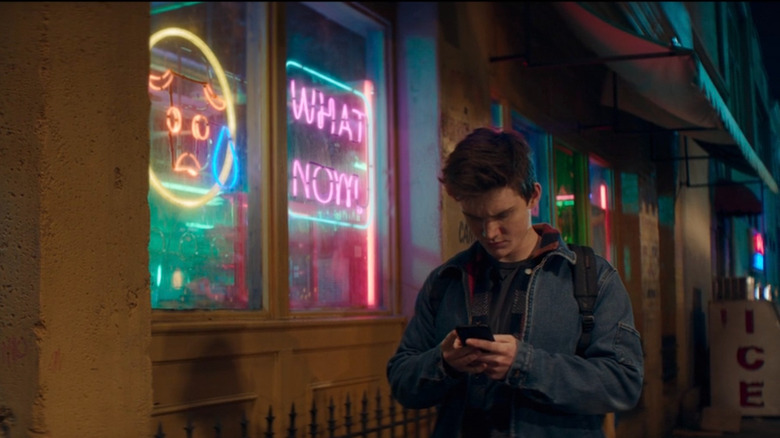 Marvel Studios/Disney+
In a Reddit thread reacting to the first episode of "Ms. Marvel," fans gave glowing praises to the onscreen depiction of text messaging in the latest Disney+ series. "Wow. Artistically this series is so unique. Kamala and her friend texting and the signs and street art adapting their conversations is so trippy and amazing. This series has a really interesting directing and I can't wait for more!" u/Ahsiqa wrote.
Others noted how texting has thus far been a difficult visual for directors to present in their works, praising Arbi and Fallah — who also directed "Bad Boys for Life" on top of plenty of other work — for coming up with something new. "I love when shows find creative ways to show texting on screen. It's such a common part of our lives now, but very hard to make interesting on screen. They really did something unique with this, I love it," u/ComebackShane commented.
"More often than not, a lot of movies and TV shows that try to integrate texting onscreen have broken my immersion. The creative way they did it in this episode ensured that didn't happen," u/YellowHammerDown added. 
For those who enjoy the visual style Arbi and Fallah are bringing to "Ms. Marvel," they also directed the sixth and final episode of the show's first season, which is set to premiere on July 13 (via Newsweek).