Simu Liu Has A Beautiful Reaction To Ms. Marvel's Debut
Eugene Powers/Shutterstock
On June 8, the first episode of Marvel Cinematic Universe TV series "Ms. Marvel" premiered on Disney+. The debut of this latest franchise entry is significant for numerous reasons to the ever-growing MCU, both in-fiction and concerning its production.
For one, "Ms. Marvel" is a hit with critics. A number of reviewers specifically highlighted the show's coming-of-age story and high school setting as among its biggest strengths, given that no prior MCU film or TV series has been so explicitly targeted at younger audiences. Meanwhile, as is typical of any new Marvel release, its story ties up a few notable loose ends that were previously lingering in MCU canon. For example, the series includes one of the first major acknowledgements of the personal sacrifice original Avenger Black Widow (Scarlett Johansson) made to stop Thanos (Josh Brolin).
Arguably the most notable addition to the MCU in "Ms. Marvel," however, is its titular character, named Kamala Khan and portrayed by new star Iman Vellani. During a promotional event, Vellani herself highlighted the fact that Kamala is uniquely relatable due to being a fan of the Avengers team as most viewers presumably are. Fellow MCU star Simu Liu, meanwhile, celebrated Vellani's performance as one of the series' strengths in a Tweet just prior to its premiere.
Simu Liu thinks that Iman Vellani has staying power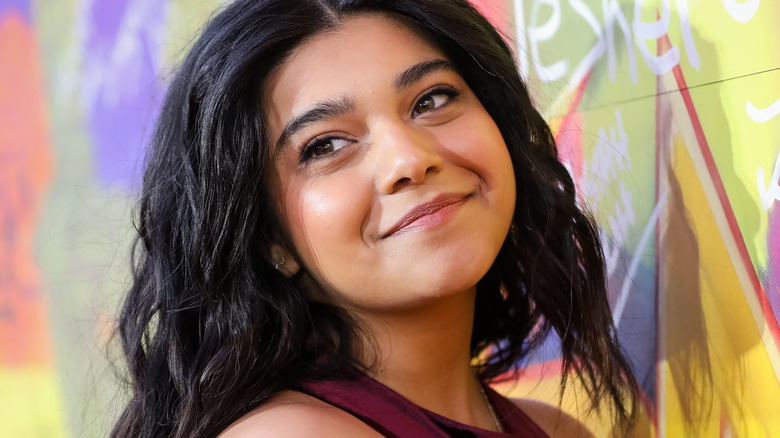 Tristan Fewings/Getty Images
On the night of June 7, shortly before Episode 1 of "Ms. Marvel" was set to drop on Disney+, "Shang-Chi and the Legend of the Ten Rings" star Simu Liu tweeted a sincere congratulations to Iman Vellani for her work on the latest MCU series. "I'm so unbelievably proud of this young woman. Welcome to the MCU #MsMarvel! People are going to be watching you for a long, long time," Liu wrote.
His Tweet also quotes a post by the website Elite Daily, linking to an interview with Vellani about "Ms. Marvel" and its significance to both her own career and the TV landscape at large. "The fact that people are going to know my name and associate my name with other famous people is crazy," Vellani told Elite Daily, who included this quote in their Tweet that Liu reposted. Liu's congratulations effectively proves that her name is indeed already associated with other famous people.
Liu isn't the only one praising Vellani's performance either. Kingo actor Kumail Nanjiani, for example, tweeted, "Iman Vellani is a super star." Another Tweet by a fan with the handle @dragonevenstar reads, "Iman Vellani is the absolute PERFECT Kamala Khan, I'm so in love with her." It was liked more than 3,000 times.
Judging by these early reactions to her performance, then, Vellani very well may have a lengthy Hollywood career ahead of her as Liu and others have suggested, should she so choose.