Ms. Marvel Finally Gives This Original Avenger Their Due
"Ms. Marvel" is set to continue a growing Marvel Cinematic Universe trend.
Similar to "Hawkeye" and "Moon Knight," the Disney+ superhero series promises to bring a popular comic book character into the MCU for the very first time in the form of Kamala Khan (Iman Vellani). Kamala has become a fan-favorite Marvel hero among comic book readers in recent years, and now, she has the chance to similarly win over MCU obsessives everywhere. But just because "Ms. Marvel" will tell the origin story of a brand new MCU superhero doesn't mean the Disney+ original series isn't going to acknowledge the heroes who have come before Kamala.
Previous trailers for "Ms. Marvel" have focused heavily on how Vellani's Kamala idolizes Carol Danvers AKA Captain Marvel (Brie Larson), and her admiration for Carol promises to play a central role in Kamala's MCU origin story. In fact, Kamala is even expected to wear a homemade recreation of Carol Danvers' MCU costume in "Ms. Marvel." However, if one unexpected Easter egg in the Disney+ series is any indication, it looks like Captain Marvel isn't the only female MCU superhero who is going to be honored in "Ms. Marvel."
Ms. Marvel pays tribute to Black Widow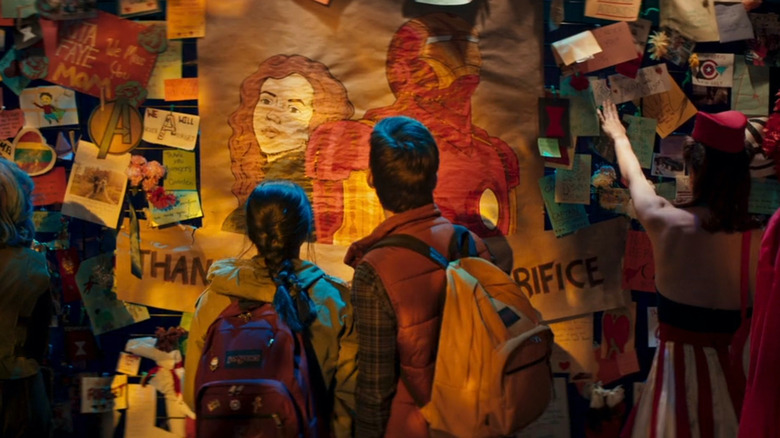 Marvel Studios/Disney+
Ahead of the show's premiere, Disney+ released a documentary short titled "A Fan's Guide to 'Ms. Marvel.'" The short, notably, includes a brief shot from "Ms. Marvel" that shows Iman Vellani's Kamala Khan and her best friend, Bruno Carrelli (Matt Lintz), standing in front of a poster that depicts Natasha Romanoff (Scarlett Johansson) standing back-to-back with Tony Stark (Robert Downey Jr.). Underneath the two heroes is a painted banner that reads, "Thank you for your sacrifice."
The poster is, of course, a tribute to Natasha and Tony, both of whom gave their lives in order to stop Thanos (Josh Brolin) in "Avengers: Endgame." However, it's the painting's inclusion of Natasha that has Marvel fans falling in love with it.
"Endgame" famously climaxes with every prominent, living member of the MCU gathering together to attend Tony's funeral. Unfortunately, Vision (Paul Bettany) and Natasha's deaths are only fleetingly acknowledged at Tony's funeral during a lakeside conversation between Wanda Maximoff (Elizabeth Olsen) and Clint Barton (Jeremy Renner). As a result, Marvel fans have long believed that Natasha hasn't received the kind of tribute in the MCU that she deserves.
Fortunately, it looks like "Ms. Marvel" is going to do its part to try and rectify that. In case there was any question about whether the poster's inclusion of Natasha was intentional too, "Ms. Marvel" creator Bisha K. Ali acknowledged the Easter egg on Twitter after MCU fans began to take note of it. The "Ms. Marvel" writer addressed Natasha's presence in the painting, writing, "Honestly [after] the way I went off about the tragedy of Natasha Romanoff in the writersroom [sic]... we had to."
In other words, it's clear that even those involved in the MCU believe Natasha Romanoff deserves to be honored more for her sacrifice in "Endgame."