Elsa Pataky Reveals The Stunt She Never Got To Do In Fast And Furious - Exclusive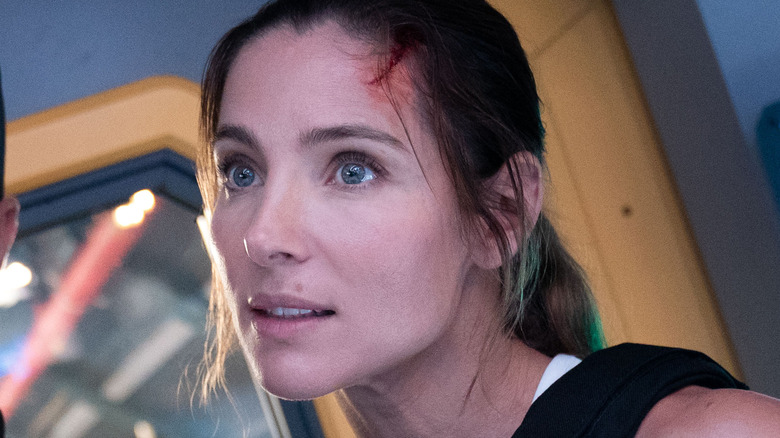 Brook Rushton/Netflix
Fans of the "Fast & Furious" franchise first met actress Elsa Pataky in 2011's "Fast Five." In her first appearance, she is introduced as Elena Neves, an officer of Rio de Janeiro's military police. Although she initially works as a part of the task force charged with putting Dominic Torreto (Vin Diesel) and Brian O'Conner (Paul Walker) in prison, Elena subsequently chooses to switch sides, joining forces with Dom's team of criminals and forging a romantic relationship with the group's leader.
In 2013, Pataky reprised her role as Elena in "Fast & Furious 6," but the character's story arc quickly takes a different direction when it is revealed that Dom's former girlfriend, the once presumed dead Letty Ortiz (Michelle Rodriguez), is actually still alive. In response to this revelation, Elena encourages Dom to seek Letty out. Tragically, she is forced to accept that Dom ultimately chooses Letty over her. At the end of the film, Elena joins the Diplomatic Security Service, where she remains working with Luke Hobbs (Dwayne Johnson) through her appearance in 2015's "Furious 7." Sadly, Pataky's role in the franchise came to an abrupt end in 2017's "Fate of the Furious." In that film, Cipher (Charlize Theron) orders Connor Rhodes (Kristofer Hivju) to murder Elena in front of Dom, leaving Elena and Dom's infant child with only one living parent. 
Throughout her time in the series, Pataky had the opportunity to work on a number of different intense fight and chase scenes. In addition to chasing Dom through the streets of Rio de Janeiro in "Fast Five," Elena also helps defend Hobbs during an attack on the Los Angeles DSS office in "Furious 7." In an exclusive interview with Looper to promote her upcoming Netflix movie "Interceptor," Pataky dished on her time in the "Fast & Furious" franchise and explained the one type of stunt she never got the opportunity to pull off.
Elsa Pataky really wanted to ride a motorcycle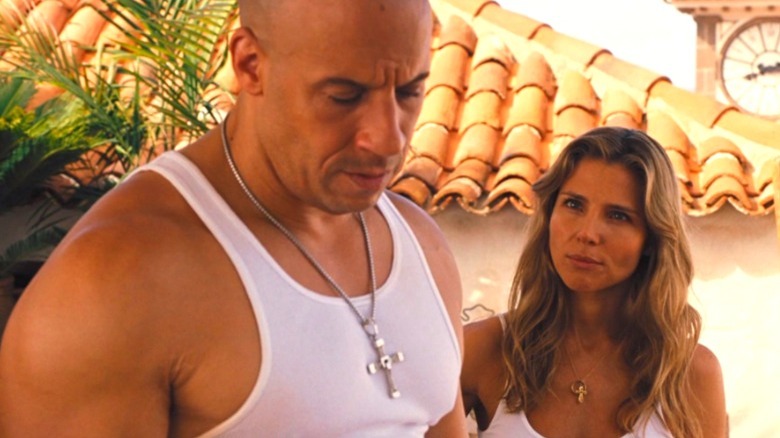 Universal Pictures
Although the character Elena Neves is certainly no stranger to action sequences in "Fast & Furious," there are actually only a handful of scenes in the series that portray Elsa Pataky behind the wheel of a vehicle. Of course, in real life, Pataky is a model and an actress, not a federal agent. However, that doesn't mean she doesn't also enjoy a bit of real-life vehicular action. 
During Looper's interview with Pataky, she described herself as a "motorcycle person," and she certainly has the background to prove it. According to Pataky's Instagram (via Daily Mail), she and her three children are avid dirt bike riders. Notably, Pataky's history with motorbikes extends well before her marriage to actor Chris Hemsworth. According to another piece in Daily Mail, Pataky previously traveled through parts of India on a chrome motorbike. She later documented her trip in a post to her Glamour blog. In the years since, she and Hemsworth have returned to the country on similar adventures (via Indian Express). 
However, despite her wide breadth of experience with motorcycles, she never got an opportunity to apply it to her "Fast & Furious" character. "I was always trying to get them to just give me a motorcycle, and have fun with it, but I couldn't convince them," Pataky said with a laugh, later remarking that Gal Gadot spent up all the motorcycle time. Still, Pataky insisted that she enjoyed her time in the action franchise, professing her love for everyone in the cast and crew. "Those movies are fun," Pataky said. "It's like a little family that you get in ... I enjoyed that time we had ... It was a great experience working with them."
"Interceptor" is available for streaming on Netflix.