Elsa Pataky Talks About Working With Husband Chris Hemsworth On Interceptor - Exclusive Interview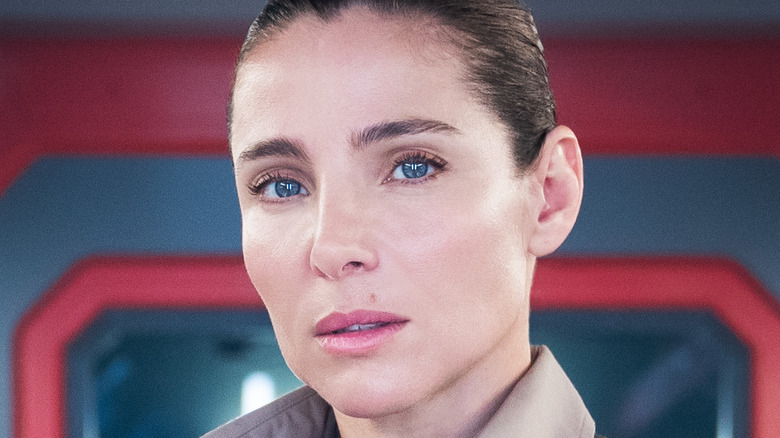 Brook Rushton/Netflix
For fans of the "Fast & Furious" franchise, Elsa Pataky needs little to no introduction. Dedicated movie viewers will no doubt recognize the actress from her role as Diplomatic Security Service Agent Elena Neves. First introduced in 2011's "Fast Five" as a part of the team tasked with arresting Dominic Toretto (Vin Diesel) and Brian O'Conner (Paul Walker), Elena quickly becomes one of the most important members of the "Fast & Furious" family. In the years since her debut as the character, Pataky has appeared in a total of four "Fast & Furious" films (via IMDb).
Pataky also has close ties to another beloved cinematic universe: She is married to "Thor" actor Chris Hemsworth. In fact, if Marvel fans look closely while watching Netflix's latest action film, they might even recognize a cameo appearance by a certain former King of Asgard. According to E! Online, the couple first met in 2010 and married later that same year. They share three children and have acted on screen together a number of times. In addition to a stealth cameo from Pataky in 2013's "Thor: The Dark World" (via New York Daily News), the two also shared screen time in the 2018 Netflix film "12 Strong," in which Hemsworth plays Captain Mitch Nelson, and Pataky portrays his wife, Jean. 
Notably, the two also worked together during the production of Netflix's "Interceptor," a film that tells the story of one woman's fight to protect the United States against nuclear armageddon. In an exclusive interview with Looper, Pataky talked about the intense training required for her role in "Interceptor," what it was like working with her husband on the movie, her memories of time spent with actors like Vin Diesel and Dwayne Johnson in the "Fast & Furious" saga, and the one character she would like to play in the Marvel Cinematic Universe.
Chris Hemsworth served as a producer on Interceptor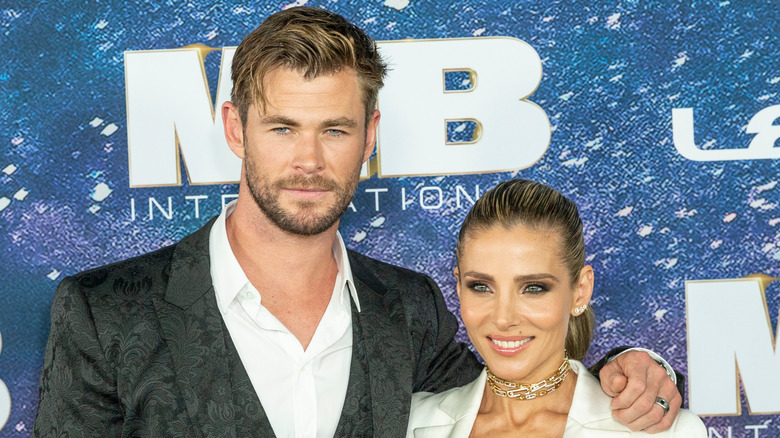 lev radin/Shutterstock
This movie includes a ton of action. Can you talk a little bit about what you did to prepare for all that?
It was a long process. The whole training was maybe six months, but just with the tactical training, and that was three months before the movie. I was doing lots of military training and doing gym and physically changing my body a little bit, because I wanted to portray that strength and physicality that a character like this will have in real life as a combat, military girl. Then we have to learn all the movements, all the fights — it was like 800 moves that you have to get in your head.
It was a lot of training, every day, three hours of getting into all those fights and moving and learning them. Then, in the afternoons, we'll go on and get into the gym and work out and do chin-ups and weights. [I was] eating a lot, having a diet to create that muscle that I really wanted to create and to feel that strength myself as a strong woman.
What was it like collaborating with Chris [Hemsworth] on this project?
The relationship with the executives is very gentle, you see them, like, "Hi" ... [They're] more like an advisor. Especially with it being an action movie, he's a professional already in this kind of movie. He knows everything, so it was really good to have him on my side, watching it and looking at it and [saying] what he thinks and giving advice about it. That was great.
Pataky's role in the Fast & Furious franchise helped prepare her for Interceptor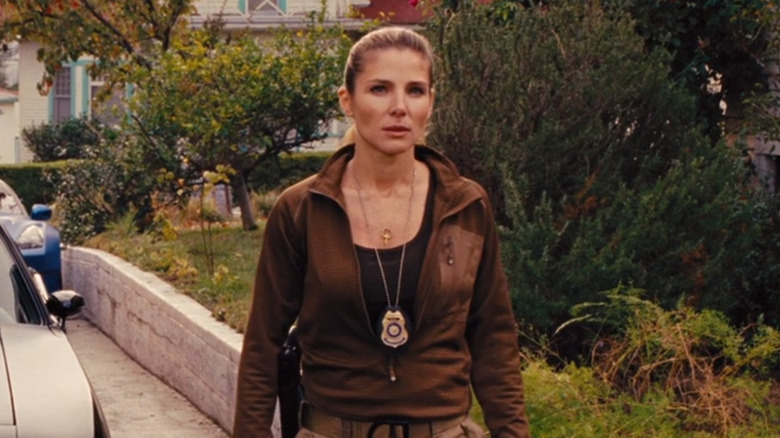 Universal Pictures
This isn't the first time you have played a badass in a movie. Can you tell me a little bit about your experience working with Vin Diesel and Dwayne Johnson in "Fast & Furious"?
Well, it is always fun. I've always been a fan of action movies. I love them. My character was also another military girl in that "Fast & Furious" I did — it was number five and it was so fun. Those movies are fun. It's like a little family that you get in. 
It's cars — I'm a very motorcycle person, so I was always trying to get them to give me a motorcycle and have fun with it, but I couldn't convince them. It was Gal [Gadot] who got that when we were working together. But it was a great experience working with them, and I enjoyed that time we had. We shot in Puerto Rico, so it was actually a great, great experience, and it got me ready for this one.
I'm sure Marvel fans are going to be excited about one particular cameo. If you could play a Marvel superhero, who would it be and why?
Wow. I don't know. I couldn't tell you which one of them. There's so many interesting ... I should think about that. I always don't know ... Give me an option. Give me one that you like.
Rogue or any of the X-Men? I like those, personally.
Maybe Spider-Woman.
You can catch "Interceptor" on Netflix starting June 3.
This interview has been edited for clarity.