The Madonna Biopic Taps This Ozark Alum To Play The Pop Superstar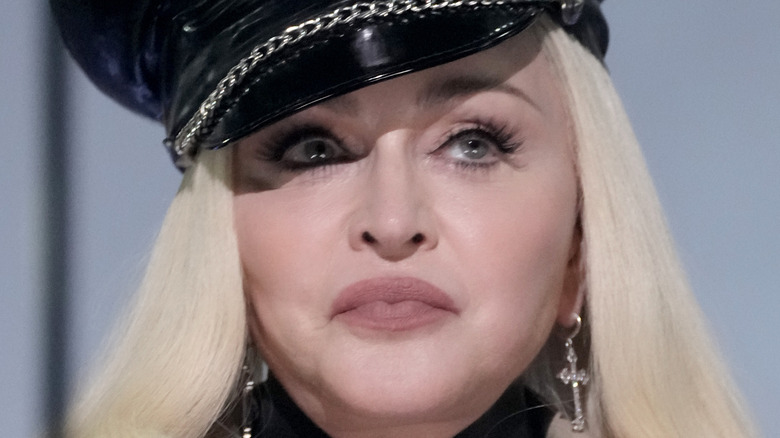 Jeff Kravitz/mtv Vmas 2021/Getty Images
We may receive a commission on purchases made from links.
The upcoming Madonna biopic, which will be directed by the singer herself, has found its lead actress after what sounds like an intensive search. In March, The Hollywood Reporter revealed several high-profile actresses were going through some trying auditions with the role, requiring not just a powerful thespian who can inhabit the role of an icon, but one who can also match the "Vogue" singer's dancing and singing skills. Celebs who were once up for the role previously included "Black Widow" star Florence Pugh, musician Bebe Rexha, and "Euphoria" performer Alexa Demie. 
This week, an actress has reportedly finally come out on top, getting an offer for the main role in a feature that has the potential to be a massive film, and not just because it's about arguably one of the biggest pop stars to ever live. Music biopics have been something of a trend recently, especially after flicks like "Bohemian Rhapsody" and "Rocket Man" proved box office juggernauts. Other musical icons with their own movies in various stages of development include everyone from Bob Dylan to Boy George as Hollywood attempts to feed what is clearly a hunger in the marketplace by seeing some of today's biggest stars perform yesterday's biggest hits (per Entertainment Weekly).
Madonna is certainly unique in that she will be the one behind the camera as well as the subject in front of the lens, but she's already made a strong choice in casting, well, herself. 
Julia Garner has been offered the role of Madonna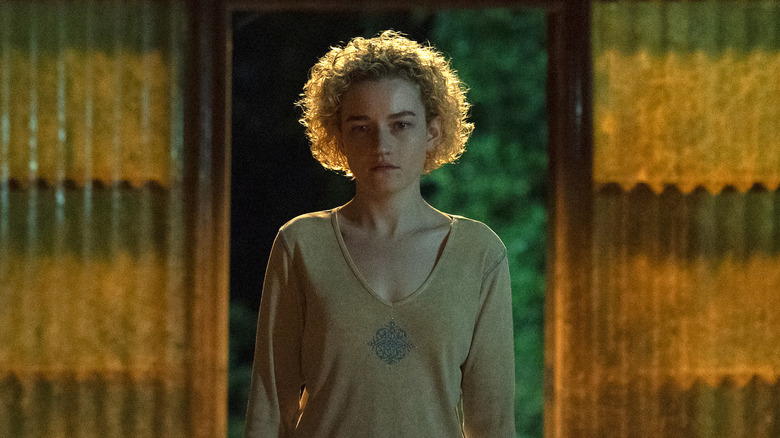 Tina Rowden/Netflix
On June 7, Variety reported that "Ozark" star Julia Garner has been offered the role of Madonna, and she is expected to accept it, according to people familiar with the long audition process. Garner is likely best known for her role as Ruth Langmore on Netflix's "Ozark." She won Emmy Awards in 2019 and 2020 for her work on the dark drama (per IMDb).
Garner has an eclectic filmography beyond the hit Netflix show and has worked with some incredibly skilled filmmakers over the years. Per her IMDb profile, she's appeared in everything from Robert Rodriguez's "Sin City: A Dame to Kill For" to the Paramount Network miniseries "Waco," starring Taylor Kitsch and Michael Shannon. Most recently, Garner played Anna Delvey in the Shondaland Netflix limited series "Inventing Anna." She is an actress who has been ready for a massive role like this for quite some time.
Madonna seemed to predict the grueling audition process for actresses when the project was first announced in September 2020, making it clear the focus of the film would be on the music, meaning there was a lot more to bring to the table than just acting and star power. "The focus of this film will always be music. Music has kept me going, and art has kept me alive. There are so many untold and inspiring stories, and who better to tell it than me. It's essential to share the roller coaster ride of my life with my voice and vision," she said on her official website.
Madonna has already proven herself a capable film director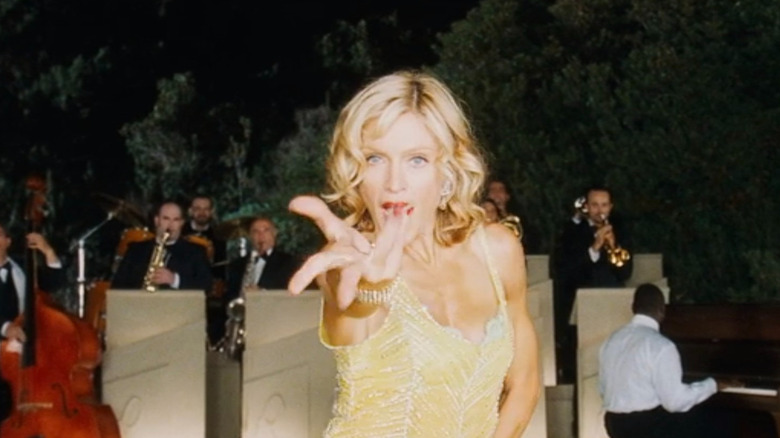 Screen Gems/Sony Pictures Releasing
Directing a movie about yourself is a tad unusual, even for Madonna. The singer-actress, however, has experience behind the camera. Her most notable work is 2011's "W.E." The film stars Oscar Issac, Abbie Cornish, James D'Arcy, and Andrea Riseborough but, unfortunately, it didn't impress critics too much. "W.E." earned a 12% rotten rating on Rotten Tomatoes and only 48% from the audience. Still, it's an ambitious picture, straddling two timelines as it follows the tumultuous relationship of Wallis Simpson and Edward VIII and the modern-day woman who finds solace in their love story
Madonna also directed the 2008 movie "Filth and Wisdom," which is currently available in the U.S. on Prime Video with an AMC+ video subscription. The iconic pop star's IMDb profile reminds us she has also worked with some of the biggest directors in the business, from Warren Beatty on 1990's "Dick Tracy" to Alan Parker on "Evita" in 1996 to ex-husband Guy Ritchie with "Swept Away" in 2002. 
Madonna has been involved in the writing of her own story (you know, beyond living it and everything) for the better part of two years. In September 2020, Rolling Stone reported she was co-writing the script with Academy Award-winning "Juno" writer Diablo Cody. In a 2021 Instagram update on the script, she tagged "Secretary" screenwriter Erin Cressida Wilson. Whoever ends up getting the screenwriter credit, it's clear Madonna is doing one thing right as director of this project so far: surrounding herself with some immensely talented people.