Will There Be A Follow-Up To Space Jam: A New Legacy?
What happens when you combine basketball, the Looney Tunes, and too many Warner Brothers properties to count? None other than 2021's "Space Jam: A New Legacy," the sequel to the 1996 classic "Space Jam." The follow-up sees basketball star LeBron James leading the cast and teaming up with the Looney Tunes to take on a super-powered team of basketball players assembled by a rogue AI, one that has captured James' son. With the original film seen as a nostalgic favorite of '90s kids, "A New Legacy" was highly anticipated. However, after its release in both theaters and HBO Max, it wasn't quite a slam dunk. The film received harsh reviews, with a 26% Tomatometer score on Rotten Tomatoes, mostly going towards its shameless IP-driven branding and weak story that felt derivative of its predecessor. And whereas the original film won an Annie Award for Technical Achievement, its sequel won three Razzies, including Worst Actor for James.
A "Space Jam" sequel had been trying to get off the ground since the box office success of the first film. As animator Bob Camp told Animated Views, a sequel was scheduled, but due with Michael Jordan dropping out, the project was shut down. Several other attempts, including "Spy Jam" starring Jackie Chan and the NASCAR collaboration "Race Jam," were all squashed before the creation of 2003's more-acclaimed yet financially unsuccessful "Looney Tunes: Back in Action." So between "A New Legacy" receiving such disdain from critics and the already-arduous task of getting a sequel to the first "Space Jam" going, is there any chance we will see a follow-up?
A few wild ideas have been pitched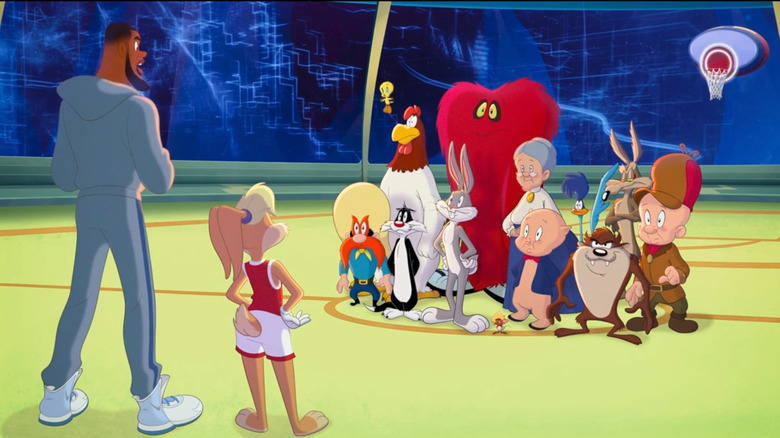 Warner Brothers
As of now, Warner Brothers has not announced any sequel to "Space Jam: A New Legacy." That hasn't stopped a few ideas from circling around. NBA star Baron Davis had an idea in mind, which would involve even more basketball stars. "I created this world called Nearth where Nearthians exist, and they protect against pollution, things like that," Davis told The New York Times around the film's July 2021 release. "And basically, LeBron, Steph, all the major stars, they'd go down to Nearth and realize that we're ruining our planet." Davis pitched it to Lebron James and Stephen Curry, who both said no.
Malcolm D. Lee, the director of "A New Legacy," discusses the possibility of another entry with Entertainment Weekly, also during the film's initial release. "I never say never," Lee says. "But I think the bar has been set so high ... Who is that next person to put into that universe? And then you've got to find a script and story that's good enough to not repeat what's been done but will capture the spirit of it and keep it going."
When asked who could step up to the star power of Michael Jordan or Lebron James, Lee offers an enticing option. "Dwayne Johnson would be an interesting choice," he comments. "It would be different. I'm not exactly sure what his skill set would be, maybe he goes back to wrestling." With Johnson having a sports background and being one of the high-grossing actors working today (via Forbes), it isn't too far out of reason to see the a story about The Rock working out. 
Time will tell if another "Space Jam" will ever see the light of day. But for now, we can say "That's all folks!" and let the franchise rest.