Things Only Adults Notice In Space Jam: A New Legacy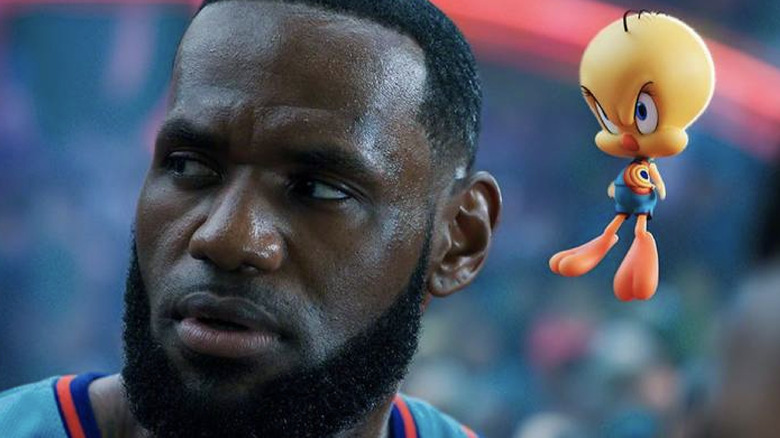 Warner Bros.
Love it or hate it, it's safe to say there has never been a film quite like "Space Jam: A New Legacy."
The flick stars a bunch of cartoon characters, which would indicate it's for children. But Porky Pig engages in a rap battle that seems inspired by 2002's "8 Mile," in which he calls himself "The Notorious PIG" (referencing a rapper who died in 1997) and points out that he predates the internet and has been around since 1935.
It also stars a half-dozen real life NBA and WNBA stars, which would seem to indicate it's for teens. But how many of them will understand LeBron James' desire to have the Iron Giant play center on his all-star team?
Throughout "Legacy" there are moments featuring characters from the '60s, movies from the '90s, and guest stars who rose to fame in the 2000s. Many of these moments feel destined to blow past children like a point guard, all fabrics in a quilt of the film's general looniness. But if your pop culture awareness is finely honed, you might just find yourself enjoying the film on an almost transcendent level, one your kids won't appreciate unless they revisit the film in a few decades.
Sure, the original "Space Jam" had a similar adult-leaning frame of reference at times; but since this film is set in the Warner Bros. "ServerVerse," a digital land within the lot where all WB content resides, it sets the stage for obscurities that will delight, confuse and/or blow you away.
Here are some of the many things only adults will notice in "Space Jam: A New Legacy." Prepare yourself for copious spoilers — and lots of explaining of the below to any child in your life who might be accompanying you to the theater (or cuddled up on the couch watching HBO Max).
The other basketball stars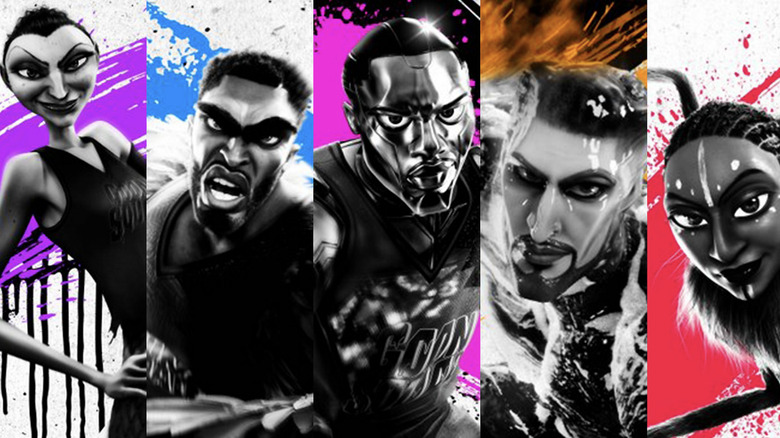 Warner Bros.
Sure, LeBron has his name above the title here, much like Michael Jordan did in the original "Space Jam." But, also like that 1996 film, the villain team is comprised of mutated versions of basketball superstars.
This time around, rather than the Monstars, we get the Goon Squad. This team, assembled by ServerVerse overlord Al G. Rhythm (Don Cheadle) and manipulated inside the game interface by LeBron's game-designing son Dom (Cedric Joe), includes both NBA and WNBA star players, albeit with some significant upgrades.
Klay Thompson becomes "Wet-Fire," a Goon who has aquakinesis (the ability to control water) and pyrokinesis (the ability to manipulate fire). The nature of the character is a reference to the "Splash Brothers," a moniker given to Thompson and Stephen Curry because of their ability to "splash" the ball with three-point shots (and a riff on the old "Bash Brothers" nickname bestowed upon '80s baseball superstars Jose Canseco and Mark McGwire).
Anthony Davis is the Brow, a winged creature with a unibrow. Also based on a real nickname, Davis has gained notoriety not only for his skills on the court, but for the hirsute, vaguely-defined line of delineation between his eyes and forehead.
Diana Taurasi appears as White Mamba, a snake-like being. The character name is a reference to one the late Kobe Bryant bestowed upon her years ago, praising her skills on the court by riffing off his own "Black Mamba" moniker.
Damian Lillard becomes Chronos, perhaps the most powerful of the Goon Squad. His robot-like visage allows him to speed up and slow down time to his liking, allowing him to run laps around opposing players like the Road Runner — although Granny later discovers a way to take him down, AARP-style. The character's inspiration comes from "Dame Time," a phrase that has followed Lillard since he was 13, referring to his ability to stay calm under pressure and seemingly control time as he casually blows past the competition.
Finally, WNBA Sparks forward Nneka Ogwumike is the scary Arachnneka, a spider-like Goon with six arms, two legs and braided hair. In the movie, her character steals the ball from LeBron and then bounces the ball off his face repeatedly — in real life, she told the L.A. Times recently, she obsessed over the original "Space Jam" as a child.
The city-switching references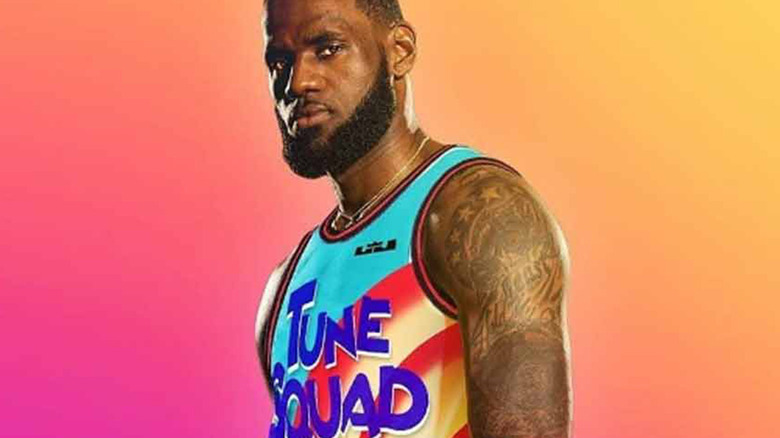 Warner Bros.
There are a ton of jokes in "Legacy" about LeBron's near-constant movement from one basketball team to the next. Since his 2003 debut, despite being a four-time Most Valuable Player and 17-time all-star, he has played for the Cleveland Cavaliers, the Miami Heat, the Cleveland Cavaliers (again), and now the Los Angeles Lakers — who, even Al G. Rhythm jokes, better not get too used to him.
Bugs' chosen nickname for King James is "Cleveland," not only a reference to his Ohio-upbringing but also the city that has loved (and hated) and loved (and hated) him as he has come and gone over the years.
The funny thing is, at one time LeBron planned to use a "Legacy" announcement to break Cleveland's heart once again. In 2018, as the world waited to see where the free agent would land next, a teaser trailer was prepared that reportedly had the Looney Tunes characters stealing sports memorabilia, with LeBron retrieving the memorabilia and then appearing in full Lakers gear. It would have served the dual purpose of teasing the film and announcing James' new home — but was ultimately scuttled at the last minute.
That Michael Jordan joke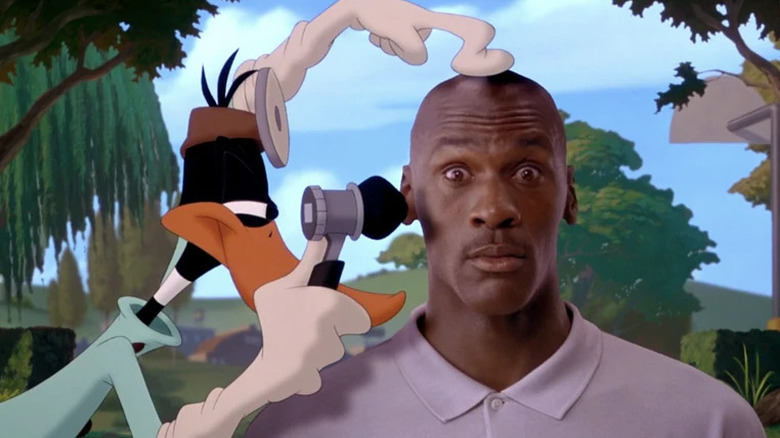 Warner Bros
There's a good chance your child may have seen the original "Space Jam," and if so there's also a good chance they remember the name Michael Jordan (after all, the Lucas brothers once hilariously referred to it as "The Citizen Kane of Michael Jordan movies"). That would help with the funniest scene of "A New Legacy," when Sylvester the cat announces at halftime that the lopsided score is okay, because he just found another basketball great to join the team — none other than Michael Jordan.
After watching the lower half of a mysterious figure enter the room to great anticipation, the reveal is that the toons have accidentally recruited Michael B. Jordan — the actor — to help out. He looks confused, a lot of popcorn gets tossed around, and then he heads back to his seat to watch the conclusion of the game.
It's a funny joke, but you can already imagine parents all over the world saying "You know, from 'Black Panther!' The 'Creed' movies? Um, 'Fantastic Four?' No, the other one." Oh well, someday they'll grow up and find it really funny.
Bugs Bunny on Game Boy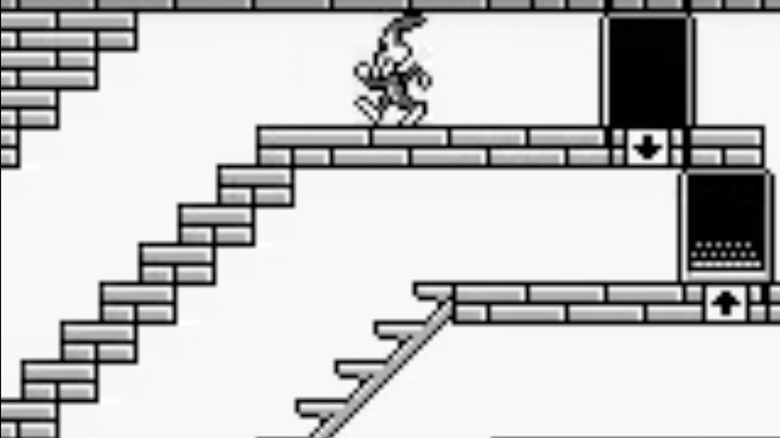 Nintendo
Early in the film, we flashback to Ohio in the '90s, when a young LeBron learns the value of hard work on the court — and of not wasting his time on video games.
It's a cruel lesson, but one with a basis in reality. In real life, the now primitive-looking but beloved-at-the-time Game Boy was all the rage from its introduction in 1989 until the late '90s (Nintendo ceased production in 2003). The game we see LeBron playing is 1990's "Bugs Bunny Crazy Castle," which featured the titular Looney Tune scampering up ladders and being sucked through tunnels Mario-style while grabbing carrots and avoiding the likes of Yosemite Sam, Wile E. Coyote, and Sylvester.
Decades later, perhaps basketball fans can be thankful that LeBron put away his childish things. But still, tossing a Game Boy in the trash? In the '90s, such behavior would've been viewed by most kids as nothing short of a criminal act.
So many background characters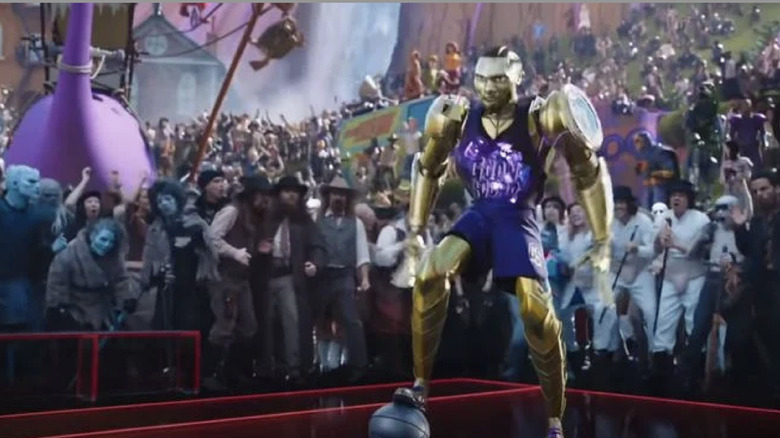 Warner Bros
If you see "Legacy" with a child, don't be surprised if they have lots of questions about the people in the background. Why were there two Penguins from Batman? Why were there three Jokers? What was with the ice guy, or the men dressed in white with their underwear on the outside?
As Al G. Rhythm explains, the crowd for the big basketball game is made up of half "everyday people" sucked into the ServerVerse by LeBron James' social media, and half "iconic Warner Bros. characters" who make up their own WB universe.
The result is one of the coolest things about the movie — if admittedly, done before in movies and TV shows like "Ready Player One" (which also prominently features the Iron Giant) and South Park's "Imaginationland" trilogy.
The background of the final act is constantly populated by characters ranging from Dorothy and the Wicked Witch of the West (from "The Wizard of Oz") to the Night King (from "Game of Thrones") to the Droogs from "A Clockwork Orange." A nice touch, if you're sharp-eyed enough to spot it, is that in certain shots the same character is hanging out with other versions of himself — so you get both Burgess Meredith's Penguin (from the classic "Batman" TV Show) and Danny DeVito's Penguin (from the 1992 Tim Burton film "Batman Returns"), although of course, the roles are played by well-made-up extras rather than those original stars.
If your kid catches the reference to the nun (who is from Ken Russell's 1971 trippy 17th-century nightmare flick "The Devils"), consider us impressed.
So many background cartoons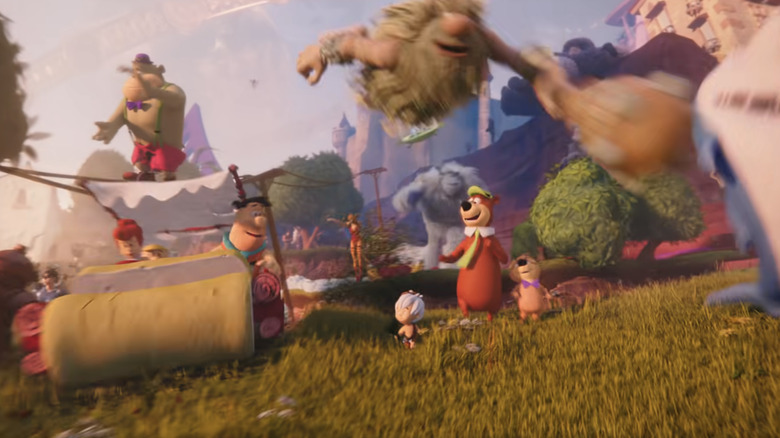 Warner Bros.
There are also lots of WB cartoon characters in the background of those basketball game scenes — so kids should have no problem identifying them, right? Think again.
While your child might be able to point out the Flintstones, The Jetsons, or maybe Yogi Bear, it seems highly unlikely that a kid in the year 2021 is going to geek out over the Herculoids — but protoplasmic creatures Gloop and Gleep from the 1967 series are right there, cheering on the Tune Squad in multiple scenes.
Peter Potamus can be seen floating above the court in his magic flying balloon (presumably looking for that thing he sent you), flanked by the likes of Space Ghost, Jabberjaw, the Great Gazoo, Magilla Gorilla, Captain Caveman, and others that kids most likely won't recognize unless they're allowed to watch [adult swim]. If they're hip, they might recognize "Rick and Morty"; if they watched the 2020 Animaniacs reboot on Hulu, they might be delighted to spot Yakko, Wakko, and Dot hanging around. But if they don't recognize the Scooby-Doo gang and their Mystery Machine, well, it sounds like your family has some cartoons to watch.
Old movies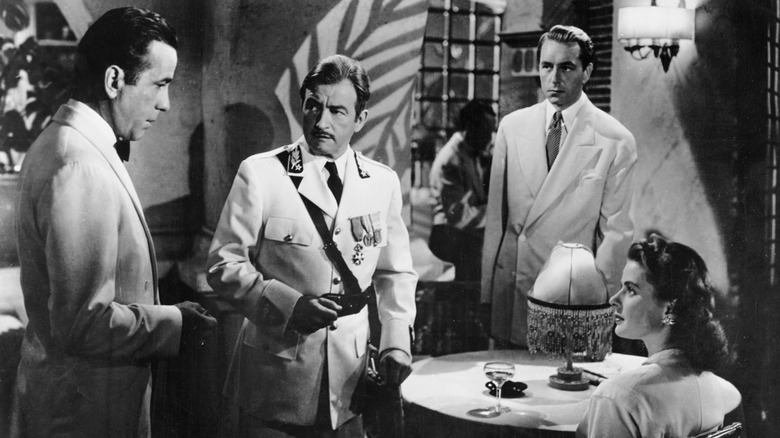 Warner Bros.
One fun element of "Legacy" is that Bugs and LeBron must put together their team by roaming the ServerVerse, finding Looney Tunes characters who reside on planets themed around classic WB movies. These sequences are orchestrated using classic footage from said films, with Looney Tunes characters inserted in via "Who Framed Roger Rabbit"-like techniques. To an adult, the revelations are gold — to a kid, some explanation may be required.
The duo visit a DC-themed planet, where Superman and other Justice League heroes are glimpsed as Daffy Duck and Porky Pig are recruited — most kids, one would think, would understand those references. After that, however, they enter the 2015 blockbuster "Mad Max: Fury Road," which earned a hard "R" rating and most likely isn't in rotation for kids alongside "PAW Patrol" and "Bluey."
The recruitment team also travels to a black-and-white "Casablanca" world, where "Play it again, Sam" takes on a whole new meaning. Although film star Humphrey Bogart appeared alongside Bugs in the classic cartoon "8 Ball Bunny" (and by himself in the amazing Looney Tunes star-studded short "Hollywood Steps Out"), the legendary actor doesn't appear in this version (indeed, many of the major stars of these movies seem to be avoided, likely a rights issue). While seeing such prominent recognition of the 1942 movie (often considered among the best films ever made) is wonderful, the scene might soar over the heads of kids like LeBron going for a dunk.
Perhaps most enjoyable is a visit to a "Matrix" planet, where Granny and Tweety have become a couple of bullet-dodging badasses. Then there's the Austin Powers planet, where Elmer Fudd has become a Mini-Me of Dr. Evil and poor Sylvester has been shaven to become the villain's new hairless pet cat.
Real people cameos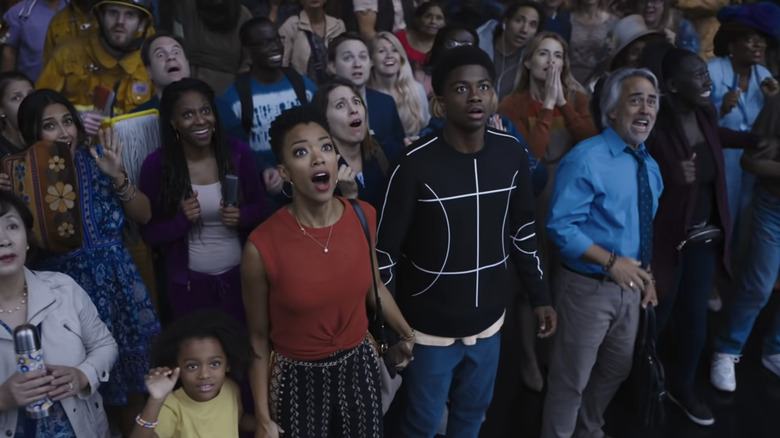 Warner Bros
As an adult, you might be jazzed to spot Avon Barksdale from "The Wire" playing LeBron's no-nonsense childhood coach. But chances are, the children in your life will be much more preoccupied looking for Taz.
Other adult-friendly cameos in "Legacy" include Sarah Silverman, stifling her famously foul mouth temporarily to portray a duplicitous WB executive. Alongside Silverman is recent Oscar nominee (for "Minari") Steven Yeun, as another eager exec. LeBron's wife is played by "Star Trek" and "Walking Dead" series vet Sonequa Martin-Green.
Then there are the basketball game announcers, sucked in via their cellphones and told that unless the Tune Squad wins, they'll become stuck in the ServerVerse forever. The guy in the bowtie is Ernie Johnson — a smooth-voiced sportscaster who has called MLB games on TBS, hosted "Inside the NBA" on TNT and covered NCAA Division 1 Men's Basketball, among other gigs in his more than 40 years in broadcasting. To his left is Lil Rel Howery, a funny supporting actor known for films like "Get Out" and the TV series "Rel," and most recently stealing scenes in the Kevin Hart Netflix movie "Fatherhood."
Also worth mentioning is Zendaya as the new voice of Lola Bunny, and funnyman Gabriel Iglesias vocalizing Speedy Gonzales.
Classic Looney Tunes cartoons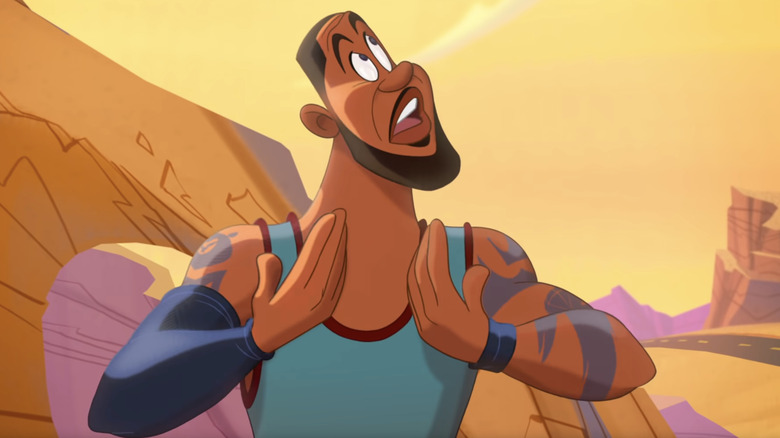 Warner Bros.
Adult and child fans of the classic Looney Tunes cartoons alike will be rewarded for their hours spent before the boob tube, as certain moments in "Legacy" recall classic shorts.
When LeBron first encounters Bugs Bunny, the wascally wabbit shoves a hunter's cap and a shotgun onto the basketball star, insisting that he act out a scene. LeBron goes through a few physical transformations as he becomes a cartoon, one resembling the "early version" of Elmer Fudd seen in cartoons like 1942's "The Wacky Wabbit."
Bugs and LeBron also keep tearing "Rabbit Season" and "Duck Season" signs off the tree, re-creating one of the most iconic cartoon sequences ever committed to film: the Bugs and Daffy square-off in 1951's "Rabbit Fire."
While LeBron attempts to explain his dilemma to Bugs — his son Dom has been kidnapped by Al G. Rhythm and he needs to recruit a basketball team to get him back — Bugs puts the basketball star through a series of torturous cartoon moments. Perhaps the most recognizable is the barbershop sequence from 1950's "The Rabbit of Seville," with Bugs shaving and spinning his unwitting victim in a barber chair.
Lots of other classic Looney Tunes bits are littered throughout the film, from Marvin the Martian's "You have made me very angry!" to the Coyote's backfiring Acme products to Bugs Bunny burrowing in the ground — but these are more general character traits than specific episode references. Somewhere, Chuck Jones is smiling.