This Legacy Character Won't Be Returning For Scream 6
The "Scream" movie franchise began back in 1996 when the first film, titled "Scream" and directed by horror legend Wes Craven, was released in theaters. The film — which chronicles a group of teens who face off against a masked serial killer known as Ghostface — was a commercial success (via Box Office Mojo), and it wasn't long before a sequel was in the works. Since then, four more "Scream" films have come out, with the most recent chapter premiering in February 2022. Notably, it was also given the simple title of "Scream." The new "Scream feature made over $140 million at the box office, making way for the announcement of "Scream 6" (via The Hollywood Reporter).
The "Scream" cast has generally remained unchanged over the years, with some new characters introduced along the way as the franchise has evolved and the story took the survivors of the first series of Woodsboro murders to new locations. In fact, only three actors have been in all five "Scream" films: Neve Campbell, Courteney Cox, and David Arquette. Campbell plays original protagonist Sidney Prescott, while Cox and Arquette play news reporter Gale Weathers and Sheriff Dewey Riley, respectively.
Unfortunately for "Scream" fans, it has just been announced that one of the three legacy characters will not be returning for "Scream 6."
Neve Campbell will not be in Scream 6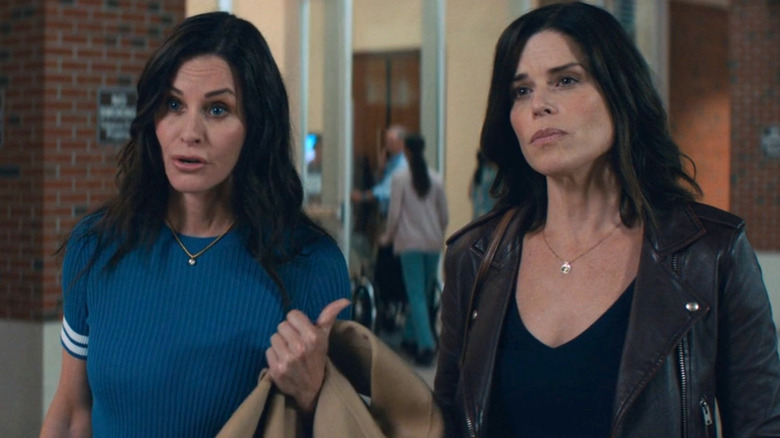 Paramount Pictures
In early June, just four months after she was announced as part of the "Scream 6" cast, Neve Campbell confirmed that she will not, in fact, be returning for the next installment in the horror franchise. In a statement shared with Deadline, Campbell stated, "Sadly I won't be making the next 'Scream' film." As for the reasoning, the "Scream" legacy star revealed that it came down to a salary dispute. The actor explained, "As a woman, I have had to work extremely hard in my career to establish my value, especially when it comes to 'Scream.' I felt the offer that was presented to me did not equate to the value I have brought to the franchise." Exact details about the offer made to Campbell, as well as the number she was looking for, have not been made public at the time of reporting.
While Campbell will not be in "Scream 6," the next film will see a slew of other alumni from the franchise returning, including original cast member Courtney Cox (via Collider). Additionally, Hayden Panettiere, whose character Kirby Reed was introduced in "Scream 4," will return alongside 2022's "Scream" actors Jenna Ortega, Melissa Barrera, Mason Gooding, and Jasmin Savoy Brown. Just a few days before news of Campbell's exit was reported, we learned Dermot Mulroney had joined the cast.
Regarding her decision not to return, Campbell noted that it was a tough call to make and concluded with a message to her fans: "To all my 'Scream' fans, I love you. You've always been so incredibly supportive to me. I'm forever grateful to you and to what this franchise has given me over the past 25 years."